Rice Cooker
Zha Cai and Beef Rice
Make this hearty and savory Asian inspired beef bowl in just a few easy steps in your rice cooker.
Servings

2

Preparation
Cooking
Ingredients
2 cups White rice (supplied measuring cup)
½ lbs Beef
2 ½ oz Shredded zha cai (preserved mustard stems)
1 tbsp Soy sauce
¾ tbsp Corn starch
¾ tbsp Sugar
1 tsp Sesame oil
Directions
Clean the shredded zha cai and dry it by draining the water.
Slice the beef and mix with the condiments. Soak in the refrigerator for a while.
Load the tacook cooking plate with the beef and place the shredded zha cai on top.
Put the washed rice and water in the inner pot and place it in the rice cooker.
Set the cooking plate in the inner pot. Select the [Synchro-Cooking] menu and press the [Start] key.
When cooking is complete, place the cooked rice in a serving bowl and top it off with the beef.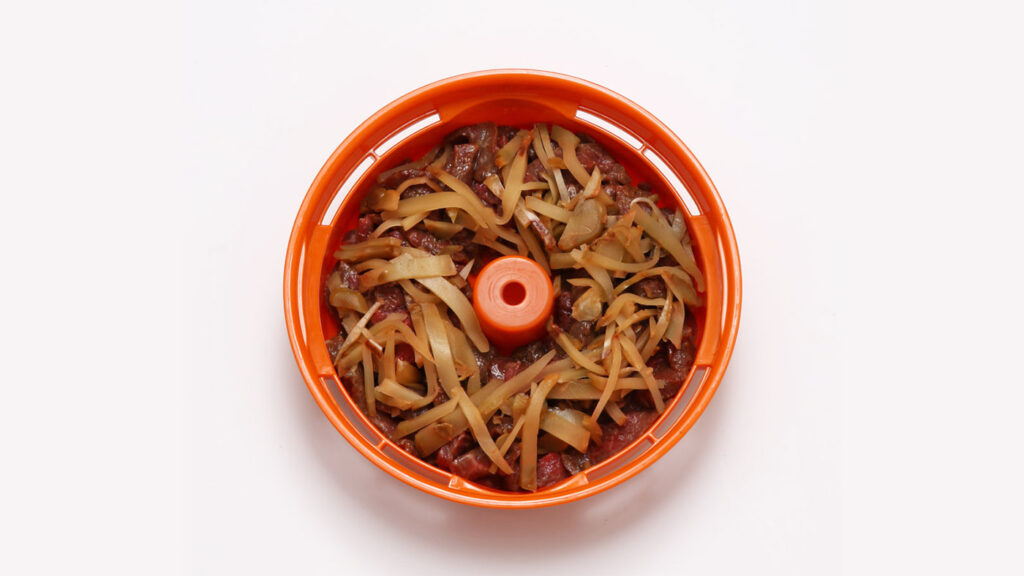 A DELICIOUS BEEF AND CHINESE PICKLED VEGETABLE RECIPE
We've said it before, and we'll say it again: a beef bowl is next level deliciousness.
And whether it's this classic Japanese gyudon, this herbaceous Italian beef bowl – or this savory Vietnamese style beef with rice, there's nothing quite as satisfying a rice bowl topped with beef and veggies.
Well, this delicious zha cai and beef rice is cut from the same cloth. We think you're going to love the savory, umami nuttiness of beef that has been marinated in soy sauce and sesame oil.
And the zha cai adds a spicy zing to the mix, truly making this beef recipe one of a kind!
WHAT IS ZHA CAI?
Zha cai (榨菜) is the stem of the mustard plant that has been pickled in a combination of salt and red chili paste. This Szechuan vegetable has a flavor profile that is salty, spicy, sour and slightly sweet.
Pro tip: if you are sensitive to spice, it's a good idea to rinse zha cai under cold water prior to using. This step will remove much of the red chili paste used in the pickling process.
This delicious Chinese pickled vegetable adds an unreal depth of flavor and crunchy texture to this savory rice bowl.
And you're not going to believe how easy it is to make at home!
HOW TO MAKE A BEEF BOWL IN A RICE COOKER
By now, you probably know that your Tiger rice cooker can do way more than just make perfect rice.
Thanks to the tacook cooking plate, you can make both the rice AND the zha cai + beef mixture in the same machine at the same time!
When you use the Synchro-Cooking setting, the vapor created by the cooking rice steams your beef and veggies to perfection. It's a real time saver after a busy day – and since everything was cooked in the same multicooker, super easy on the person that gets stuck on cleanup duty after dinner!
Products used in this recipe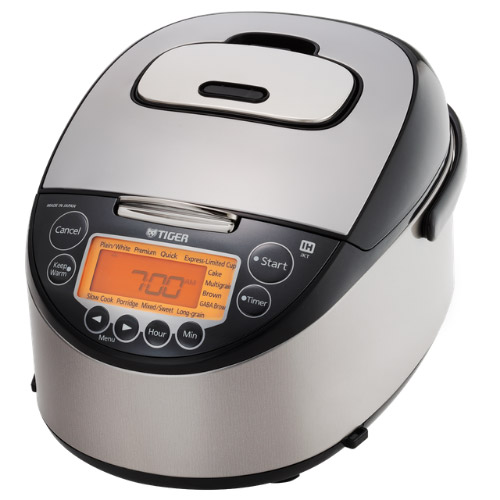 Induction Heating Rice Cooker JKT-D10U/18U
Made in Japan The TIGER JKT-D multi-functional induction heating (IH) electric rice cooker allows yo […]
LEARN MORE