Rice Cooker
Vietnamese Style Beef with Rice
Grab your spoons and get ready to dig into this savory, robust and filling Vietnamese style beef bowl.
And since you'll be using your rice cooker to whip up this hearty feast, dinner will be ready with the press of a button!
Servings

2

Preparation
Cooking
Ingredients
2 cup White rice
½ lbs Beef
½ oz Shallots
½ oz Garlic
¼ medium Onion
¾ oz Peanuts (chopped)
1 tbsp Lemon juice
½ tbsp Soy sauce
½ tbsp Fish sauce
1 tsp Sugar
A pinch Salt
Green onion for garnish
Directions
Slice the beef into bite-sized pieces. Mince the garlic and shallot.
Mix the beef, garlic and shallots with the marinade and refrigerate for a while.
Slice the onion thinly.
Place the marinated beef in the tacook cooking plate and top it with the onions and the crushed peanuts.
Put the washed rice and water in the inner pot and set it in the rice cooker.
Insert the tacook cooking plate in the inner pot and select the [Synchro-Cooking] menu. Press the [Start] key.
When cooking is complete, place the cooked rice on a serving plate and serve it with beef on the side. Sprinkle chopped green onions on top.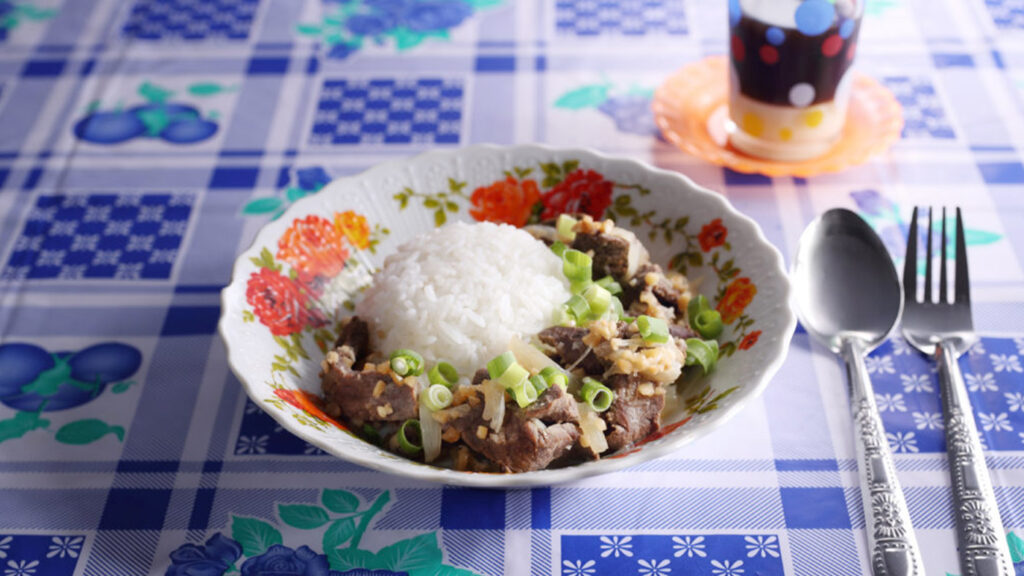 A DELICIOUS VIETNAMESE BEEF RICE BOWL
This yummy beef and rice recipe has all the flavors of your favorite Vietnamese style beef stir fry without the need to break out the wok.
Beef, garlic and shallots are marinated in a heady mixture of lemon juice, fish sauce, sugar and soy sauce.
It's somewhat similar to the flavor profile of Vietnam's most famous beef dish: bo luc lac (aka: shaking beef).
However, the main difference between that iconic Vietnamese recipe and this easy rice cooker recipe is that we've left the copious amounts of black pepper out of our recipe – and have added chopped peanuts for a pop of nutty crunch.
And you won't believe how easy it is to make!
HOW TO MAKE VIETNAMESE STYLE BEEF IN A RICE COOKER
Your Tiger rice cooker is the perfect kitchen appliance to rely on when you need dinner that's both delicious and easy to make.
And there's nothing more hearty and satisfying than a beef and rice bowl.
In fact, whether you're making this Vietnamese beef and rice – or going for something like this Japanese beef bowl recipe (gyudon) – or even this Mediterranean inspired Italian beef bowl, your Tiger multicooker is always ready to do the heavy lifting in the kitchen.
And the reason for that is the tacook cooking plate, which allows you to cook rice AND a composed dish at the same time.
Therefore to make this delicious Vietnamese recipe, simply place your marinated beef in the tacook cooking plate – and set atop the inner pot (containing your rinsed rice and water) and hit the Start key. The Synchro-Cooking setting will ensure that both your rice and Vietnamese style beef are cooked to perfection.
Between bites, everyone at the dinner table will be praising the chef. Hey… that's you!
And since you used your rice cooker to prepare dinner, cleanup will be a breeze.
Bon appetit 🍲😋
Products used in this recipe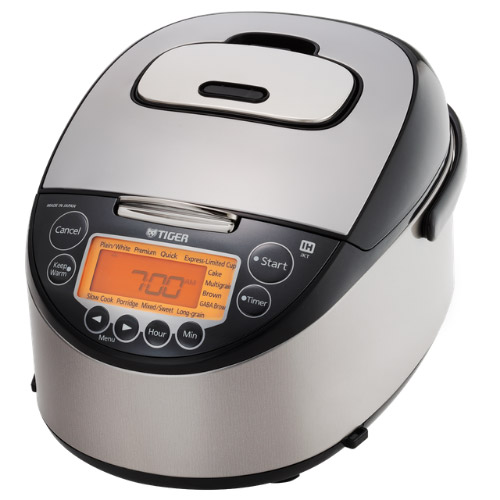 Induction Heating Rice Cooker JKT-D10U/18U
Made in Japan The TIGER JKT-D multi-functional induction heating (IH) electric rice cooker allows yo […]
LEARN MORE