Rice Cooker
Tomato Chicken Melt
Hearty chicken, a few fresh veggies like zucchini and red bell pepper – tomato sauce and a bit of shredded cheese are all you'll need to whip up this delicious tomato chicken melt.
It's a recipe that requires minimal effort, yet yields maximum flavor!
Servings

2

Preparation
Cooking
Ingredients
2 cups (supplied measuring cup) of white rice
 1/3 lb Chicken thigh
1 1/2 inches Zucchini
1/2 Red bell pepper
1/2 cup Tomato sauce
1/3 cup Shredded cheese
Directions
Cut the chicken thigh into bite size pieces. Cut the zucchini into rounds of 1/4 inch (5 mm) thicknesses, and the red bell pepper into thin strips.
Place the vegetables and chicken in the tacook cooking plate. Top with the tomato sauce and shredded cheese.
Put the washed rice and water in the inner pot and place in the rice cooker.
Set the cooking plate in the inner pot. Select the [Synchro-Cooking] menu and press the [Start] key.
When cooking is complete, place the dish on a serving plate.
AN EASY CHICKEN RECIPE THAT TASTES LIKE YOU WORKED ON IT ALL DAY
At the end of a long day, the last thing you need is a labor intensive recipe with 20 steps to follow before you can get dinner on the table!
Busy schedules – and the desire to eat well despite those schedules – have prompted us to create simple chicken recipes we can all whip up in no time.
And, whether it's an Asian inspired bang bang chicken, a comfort-food classic slow cooker chicken pot pie – or this saucy, cheese smothered chicken and vegetables recipe, the goal is the same…
Food that tastes great without the typical struggle in the kitchen required to make great tasting food.
A few easy steps is all it takes to make this tomato chicken melt.
You've got this!
A VEGGIE LOADED CHEESY CHICKEN AND RICE RECIPE YOU CAN MAKE IN YOUR RICE COOKER
Full disclosure: we have an ace up our collective sleeve.
You see, this cheese topped tomatoey chicken recipe isn't being made in the oven like a casserole. Nope.
For this healthy dinner recipe, you can use your Tiger rice cooker.
And, it's tailor made for the task!
All you have to do is put the veggies, chicken, sauce and cheese in the Tacook cooking plate. Then, place it on top of the inner pot of your rice cooker.
Simply use the Synchro-Cooking setting and your rice AND tomato chicken melt will both cook at the same time.
Plus, there's no need to check to see if it's done. Your rice cooker is pre-programmed to make sure the chicken will be as tender and perfect as the rice is. Once the timer goes off, dinner is served!
You'll love how easy it is to make this cheesy chicken and rice recipe.
And your family will love how it tastes!
Products used in this recipe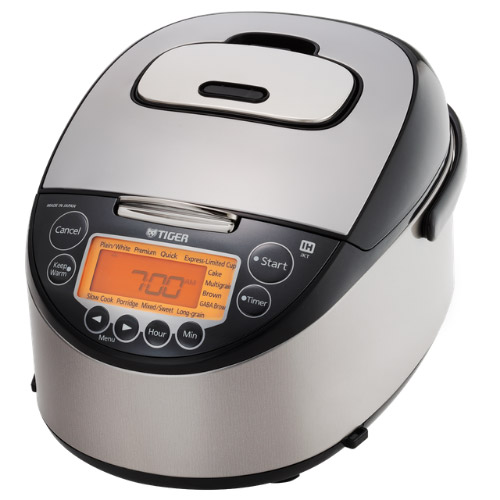 Induction Heating Rice Cooker JKT-D10U/18U
Made in Japan The TIGER JKT-D multi-functional induction heating (IH) electric rice cooker allows yo […]
LEARN MORE