Rice Cooker
Slow Cooker Gobo and Yamaimo Soup
Not only is this savory slow cooker spare ribs, gobo and yamaimo soup loaded with flavor – it's also packed with the healthy goodness only veggies can bring to the table.
Best part: you can easily make this delicious soup in your rice cooker!
Servings

3-4

Preparation

15 min

Cooking

40 min
Ingredients
1 cup Gobo (burdock root)
1/2 cup Yamaimo (mountain yam)
1/2 cup Carrot
1/2 lbs Pork spare ribs
3 slices Ginger
1 tsp Salt
3 3/4 cup Chicken broth
Directions
Cut gobo, yamaimo, carrots and pork in bit-size pieces.
Place all ingredients in the inner pot and set in rice cooker.  Select the [Slow Cook] menu option, set to 40 minutes and press the [Start] key.
When cooking is complete, place on the dish on serving bowl.
WHAT IS GOBO?
Gobo (aka: burdock) is a Japanese root vegetable.
Commonly used as an ingredient in Japanese, Chinese and Korean cuisine, this delicious veggie is super crisp – with a mild almost natural sweetness.
Loaded with potassium and calcium – and a great source of dietary fiber – this biennial root is the perfect addition to this spare rib, carrot and yamaimo slow cooker soup!
WHAT IS YAMAIMO?
Yamaimo is a Japanese mountain yam. This underground tuber has… how shall we say this… a somewhat slimy texture. But we'd say the sweet, garden fresh flavor is the real draw here!
And while you can grate raw mountain yam atop soba noodles or cooked Japanese rice, it also tastes wonderful grilled or chopped and served in this slow cooker soup.
Now, this Japanese yam is also an excellent source of B vitamins, dietary fiber and vitamin C.
We guess it's fair to say that this soup not only tastes great – but is healthy and good for what ails ya!
HOW TO USE YOUR RICE COOKER AS A SLOW COOKER
As you probably already know, your Tiger rice cooker is loaded with cooking presets that make it also great for cooking things other than perfect rice.
So whether it's this this apple butter recipe or this curry flavored pork belly recipe, your Tiger multicooker is ready for whatever you feel like making for breakfast, lunch or dinner.
For this simple pork, burdock and mountain yam slow cooker soup, just place all the ingredients in the inner pot. Use the Slow Cook setting for 40 minutes and… voila, dinner is served!
We think you'll be shocked at the deep flavor that develops in such a short time. And clean up will be a breeze!
Enjoy 🍲
Products used in this recipe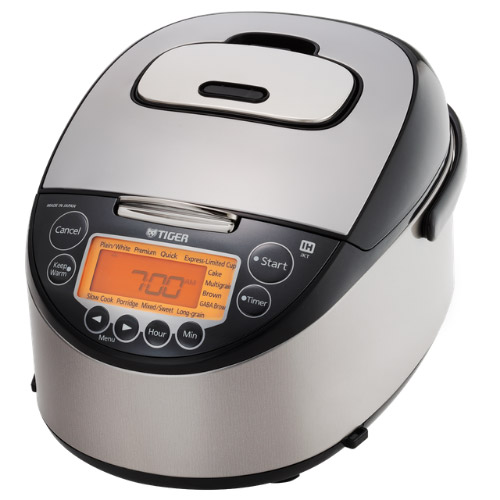 Induction Heating Rice Cooker JKT-D10U/18U
Made in Japan The TIGER JKT-D multi-functional induction heating (IH) electric rice cooker allows yo […]
LEARN MORE