Rice Cooker
Rice Cooker Vegetable Thai Curry
Make this exotic and fragrant Thai curry recipe with minimal fuss in your rice cooker. This easy vegetable curry tastes better than takeout!
Servings

3-4

Preparation

15 min

Cooking

40 min
Ingredients
1 small onion, chopped
1 medium carrot, peeled and chopped
1 red bell pepper, seeded and chopped
1 cup snow peas
3 tablespoons Thai red or yellow curry paste
1 cup water
1 tablespoon brown sugar
1 ½ cup chopped broccoli
1 cup coconut milk
1 tablespoon fish sauce
Directions
Add onion, carrot, bell pepper, snow peas, curry paste, water, and sugar in the rice cooker's inner pot and choose the [Slow Cook] function. Set the timer to 40 minutes.
Add broccoli, coconut milk, and fish sauce when there's 10 minutes left to the cooking process.
Stir well before serving.
WHAT IS CURRY?
Curry is a mixture of spices and herbs that form the flavors of many of the dishes we love – from the Indian subcontinent to Southeast Asia and beyond.
And while many Indian curries rely on warming spices like cumin, corriander, turmeric and ginger – this Thai red curry is a bit different.
You see Thai red curry paste typically contains a deft mixture of things like red chilis, tomato, garlic, galangal and shrimp paste. It's wonderful!
That said, you can totally use a Thai yellow curry paste if you prefer. Either way, the aggressively seasoned curry paste is tempered by the mildly sweet addition of coconut milk.
But we'd say the most important ingredient in this coconut curry is definitely fish sauce. Considered the table salt of Southeast Asia, this whiskey-colored condiment delivers a funky, savory and deeply satisfying blast of pungent umami to the dish.
We're using carrots, red bell peppers, snow peas and broccoli in this veggie loaded Thai curry – but feel free to use what you have handy in the fridge. Making Thai vegetable curry at home can be a great crisper-clearing recipe.
HOW TO MAKE THAI CURRY IN A RICE COOKER
This is the easy part!
Add all your ingredients for your Thai red curry (EXCEPT the broccoli, fish sauce and coconut milk) to the inner pot of your Tiger multi-functional rice cooker. Select the Slow Cook function and set for 40 minutes.
When there's 10 minutes left to cook, add everything else.
Dinner will be on the table in less than an hour from start to finish – and will taste like a trip to Bangkok… No airline miles required.
このレシピで使用した製品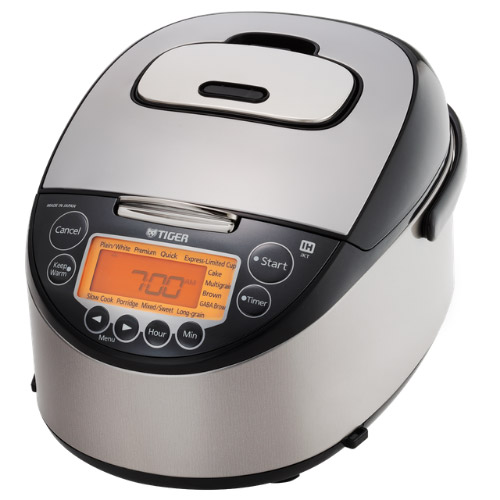 Induction Heating Rice Cooker JKT-D10U/18U
Made in Japan The TIGER JKT-D multi-functional induction heating (IH) electric rice cooker allows yo […]
LEARN MORE