Rice Cooker
Rice Cooker Thai Strawberry Sticky Rice
This rice cooker Thai strawberry sticky rice recipe has the perfect blend of tart, tropical sweetness. Let your sweet-tooth know that its new favorite dessert is here!
Servings

3-4

Preparation
Cooking
Ingredients
2 cups Sweet rice (also called Thai sticky rice)
2 ½ cup Water
Pinch salt
1 cup Coconut milk
¼ Condensed milk
6-8 Fresh strawberries, chopped
Mint leaves, optional
Directions
Place the sweet rice, water, and salt, in the rice cooker inner pot and let sit for 30 minutes.
Select the [Plain] function and press start.
Meanwhile mix the coconut milk and condensed milk in a bowl, and set aside.
When the rice is cooked, divide the rice among 4-6 bowls. Add about ¼ cup coconut milk sauce over the rice and top with strawberries and mint leaves. Serve.
STRAWBERRY STICKY RICE: A THAI INSPIRED DESSERT
One of our all-time favorite desserts is Thai sticky rice topped with coconut milk, condensed milk and mango. It's a must when visiting the land of smiles – or just having dinner at your favorite neighborhood Thai joint.
Well, this rice cooker Thai strawberry sticky rice recipe is a nod to that perfect dessert in every way. Except we're using fresh strawberries instead of mango. The strawberries introduce just a hint of tartness to an otherwise sweet dish. It's absolute perfection!
But aside from the fruit, this dessert is all about the sticky rice.
WHAT IS STICKY RICE?
Sticky rice is a glutinous rice with opaque grains that have a close, sticky texture when cooked. Also called sweet rice, this grain is popular all throughout Asia – however is most widely cultivated and eaten in Southeast Asia.
It is used in both savory and sweet preparations… everything from Laotian nam khao (crispy rice salad) to Thai khao niao mamuang (sweetened coconut sticky rice with ripe mango).
As mentioned, this Thai inspired rice cooker strawberry sticky rice recipe is very similar to the aforementioned Thai mango sticky rice.
HOW TO MAKE A STICKY RICE DESSERT IN A RICE COOKER
To start, place your sweet rice, water and a pinch of salt into the inner pot of your Tiger multifunctional rice cooker. Let it soak for 30 minutes – and then close the lid and select the Plain cooking preset.
In a separate bowl, mix your condensed milk and coconut milk together (exact amounts are in the ingredients tab on this page).
Once the rice is cooked, divide into serving bowls and top each bowl with a drizzle of the coconut milk sauce, strawberries and fresh mint leaves.
This tropical sticky rice dessert is sure to be one of your new favorites!
Products used in this recipe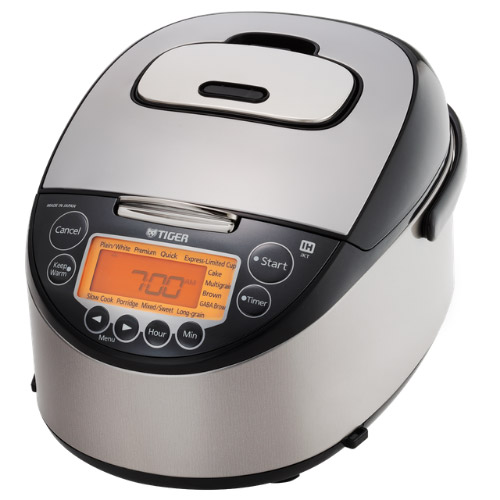 Induction Heating Rice Cooker JKT-D10U/18U
Made in Japan The TIGER JKT-D multi-functional induction heating (IH) electric rice cooker allows yo […]
LEARN MORE