Rice Cooker
Rice Cooker Sriracha Mac and Cheese
OMG! This sriracha mac and cheese takes the flavor meter to 11 (out of 10) – and is so easy to make in your rice cooker. If you like a little heat in your macaroni and cheese, this one's for you!
Servings

3-4

Preparation

10 min

Cooking

40 min
Ingredients
2 cups elbow macaroni, dry
2 cups water
1 cup milk
4 oz shredded cheddar cheese
4 oz shredded parmesan cheese
1 ½ tablespoons sriracha sauce, or 2 ½ tablespoons for very spicy 
1 ½ tablespoons soy sauce
2 scallions, finely chopped
Directions
Put the macaroni and water in the rice cooker inner pot and close the lid.
Select the [Slow Cook] function and set the timer for 30 minutes. Close the lid and press start.
Open the lid and add milk, cheese, sriracha sauce, soy sauce, and salt, and stir well, until the cheese has melted.
Close the lid and leave for 10 minutes. Stir and serve with scallions on top.
ARE YOU READY FOR SRIRACHA MAC AND CHEESE?
We've always been suckers for mac and cheese. Whether it was the boxed stuff after school – or a bubbling casserole dish filled with grandma's baked mac and cheese – there's nothing more comforting and moreish than pasta in a creamy sauce.
Well, let's hear it for hearty, satisfying classics with a little twist!
We've taken the essence of the original and ratcheted up the flavors with two common and delicious pantry staples.
Sriracha delivers a punch of sweet heat to the mix without overpowering the entire dish. And soy sauce comes correct with a level of savory, umami goodness that elevates the entire thing to new heights.
Now, we're using a combination of cheddar cheese and Parmesan, but you can use whatever cheese you prefer. It's so great with gruyère too… just sayin'.
And we've stuck with the informal and easy origins of this recipe – because you'll never guess how easy it is to make this homemade mac and cheese in your rice cooker!
HOW TO MAKE MAC AND CHEESE IN A RICE COOKER
To make rice cooker mac and cheese, first you'll want to cook your pasta. Just place your macaroni and water into the inner pot of your Tiger multifunctional rice cooker – and select the Slow Cook setting for 30 minutes.
Once your pasta is done, open the lid and stir in your cheese, milk, sriracha and soy sauce (see the ingredients tab on this page for exact measurements). Then close the lid again and wait for 10 minutes so everything gets melted and ooey-gooey. Trust us, the wait will be worth it!
Finally, open the lid and serve it up! We top ours with chopped scallions (yum!).
The entire family will love the spicy, umami creaminess. Make this sriracha mac and cheese your new easy go-to weeknight recipe.
Products used in this recipe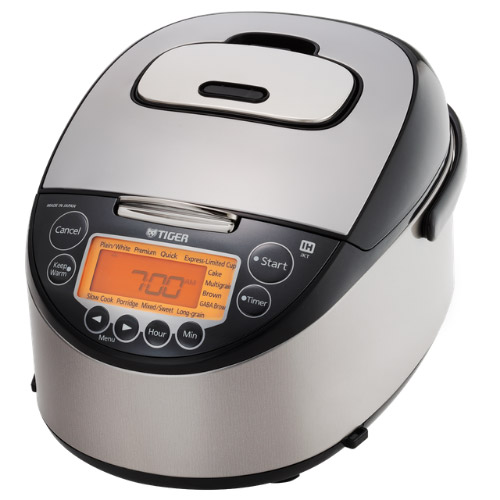 Induction Heating Rice Cooker JKT-D10U/18U
Made in Japan The TIGER JKT-D multi-functional induction heating (IH) electric rice cooker allows yo […]
LEARN MORE