Rice Cooker
Rice Cooker Marinara Sauce
Ready to try the best marinara sauce? Whether you're making pasta, meat or fish for dinner, this rice cooker marinara sauce is loaded with flavor – and so easy to make from scratch!
Servings

3-4

Preparation

10 min

Cooking

90 min
Ingredients
2 28oz. cans crushed tomatoes
2 celery stalks, chopped
1 medium carrot, chopped
½ cup onion, finely chopped
2 garlic cloves, minced
1 ½ tablespoon tomato paste
1 teaspoon dried oregano
½ teaspoon dried thyme
Salt and pepper, to taste
Directions
Put all the ingredients in the rice cooker inner pot and stir. 
Close the lid and select the [Slow Cook] function. Set the timer to 90 minutes and press start. 
When the cooking is done, transfer the sauce to a blender and blend until smooth.
LET'S MAKE HOMEMADE MARINARA!
Whether you're making ragu as a topper for spaghetti, or a sauce for your favorite meatball sub or decadent chicken parm, this rice cooker marinara sauce will be your new go-to recipe!
There's the brightness of tomatoes, along with a delicious trinity of chopped carrots, onions and celery. Oregano and thyme introduce a verdant, garden-freshness to the sauce. And don't forget the garlic of course!
The depth of flavor in this homemade marinara is second to none – and blows the store-bought jar of pasta sauce out of the water.
Bonus: making this homemade tomato sauce from scratch is as easy as it gets!
HOW TO MAKE MARINARA SAUCE IN A RICE COOKER
Just add all your marinara sauce ingredients to the inner pot of your Tiger multifunctional rice cooker and give it all a good stir.
Select the Slow Cook function for 90 minutes and press the Start button. That's basically it!
When you use your rice cooker, there's no standing over a bubbling pot on the stovetop, wondering if your spaghetti sauce is ready – or if it needs more time to develop the deep, rich flavors you're looking for. We've taken the guesswork out of the equation!
When the timer on your rice cooker sounds off, transfer your pasta sauce to a blender or food processor and blend until smooth.
This all purpose marinara sauce keeps well covered in the fridge. So you can keep it on hand for an impromptu pasta dinner or late night eggplant Parmesan craving!
Products used in this recipe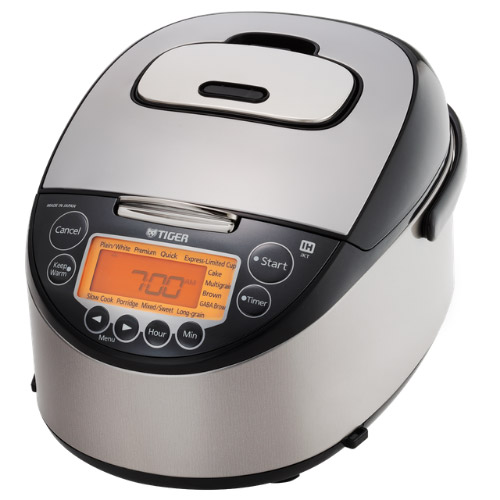 Induction Heating Rice Cooker JKT-D10U/18U
Made in Japan The TIGER JKT-D multi-functional induction heating (IH) electric rice cooker allows yo […]
LEARN MORE