Rice Cooker
Natto Roll
Japanese
Plain
Vegetarian
Get your bamboo rolling mat and your chef's knife – and try your hand at making an iconic natto roll!
Ingredients
3 cups Cooked Japanese rice
40 ml Rice vinegar
1 tablespoon Sugar
3/4 teaspoon Salt
Directions
Place cooked rice in a container and add rice vinegar, sugar and salt. Mix well.
Wrap bamboo mat with plastic wrap and have a bowl of water mixed with a little rice vinegar on the side.
Lay a nori sheet with the shiny side facing down on the bamboo mat. Add 1 cup of rice to the center of the nori sheet and wet your fingers with vinegar water.
Spread the rice using your fingers, evenly across the nori sheet.
Scoop up about 1 heaping tablespoon natto and lay it horizontally on top of rice.
Grab the bottom edges of the mat with your thumbs and hold on to the toppings with your other fingers.
Roll into a tight cylinder and lift the edges of the bamboo mat to prevent it from rolling into the roll together with the filling. The mat should look like the letter C from the side as you roll forward. Keep rolling forward using a little pressure and let go when the roll is done.
Cut the roll in half and then into thirds.
Serve with soy sauce and wasabi.
A NATTO ROLL YOU CAN MAKE AT HOME
We LOVE sushi night at home. And, while you could call for delivery, why not try your hand at making sushi rolls in your own kitchen?! It's a fun project that even the kids will enjoy.
And if you've ever wondered how to make sushi rolls at home, well… this one's for you! Now, you can follow along with the step-by-step instructions on this page – or you can check this video out for the general basics on making sushi rice and the mechanics of rolling.
WHAT IS NATTO?
Natto (納豆) refers to fermented soybeans that are – historically speaking – a Japanese breakfast food. Often topped with things like soy sauce, karashi mustard and chopped scallions, natto has a… sliiiiightly challenging texture.
You see, while many people absolutely love it (us included), natto has a texture that could be described as slimy and sticky.
In our experience you either love it or hate it… but you never know until you try, right!?
This natto roll is the perfect opportunity to try natto for the first time – or to revisit it in a new form if you're already a fan!
WHAT DOES NATTO TASTE LIKE?
On its own, natto has a pungent, nutty and almost sweet flavor profile. However, much of what people taste when eating natto comes from the added flavoring agents used.
We'd say this natto roll recipe is savory and umami once dipped in soy sauce – with a bit of heat if you use wasabi, and a pop of garden freshness from the chopped scallions.
For a deeper dive on all things natto related, check out this post about natto on Pickled Plum.
HOW TO MAKE SUSHI RICE
Making sushi rice is as simple as adding rice vinegar, sugar and salt to cooked short-grain Japanese rice and mixing well. The inclusion of those ingredients gives the sushi roll (maki) a little boost of tart, savory and sweet flavors that play super nicely when dipped in soy sauce and wasabi.
Whether you're making a California roll or a Spicy tuna roll – or even a Philadelphia roll – properly seasoned sushi rice will elevate the flavor to restaurant quality status!
Itadakimasu🥢
Products used in this recipe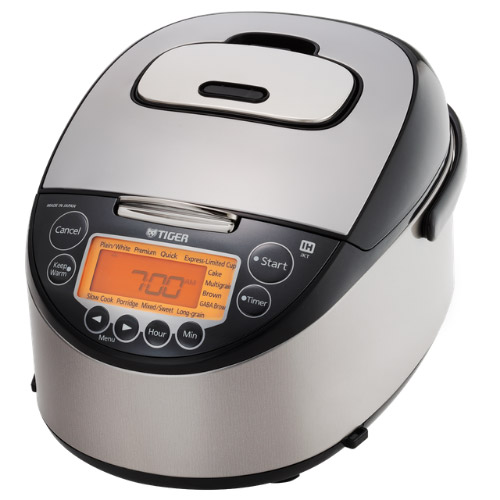 Induction Heating Rice Cooker JKT-D10U/18U
Made in Japan The TIGER JKT-D multi-functional induction heating (IH) electric rice cooker allows yo […]
LEARN MORE