The sweetness of cake – with a tangy and bright hit of lemon. Yep, this lemon cake has all the flavors.
And it's a yummy dessert you can easily make in your rice cooker!
Servings

1 cake

Preparation

20 min

Cooking
Ingredients
2 Lemons
2 cups All-purpose flour
2 tsp Baking powder
8 tbsp Unsalted butter
10 tbsp Sugar
3 Eggs
Directions
Grate the skin and squeeze the juice for 1 lemon.
Place the butter in a container and heat in the microwave 30 seconds.
Place the eggs and sugar in a bowl. Mix well.
Add the melted butter and mix.
Sift the flour and baking powder and add in the bowl.
Add the lemon skin and juice and mix until batter is smooth
Pour the batter in the inner pot. Place the inner pot in the rice cooker and select the [Plain] menu. Press the [Start] key. Once the cooking is complete, place a chopstick in the middle to check if the cake is done. If not, press [Start] key again to cook.
When the cake is cooked, remove the cake from the inner pot and let cool.
Once cooled to room temperature, place sliced lemon on top of the cake. Slice and place on serving plate.
WHEN LIFE GIVES YOU LEMONS, MAKE LEMON CAKE
Sure, you might say dessert is our favorite dinner course!
Ending a meal with the sweetness of a slice of cake is wonderful indeed. But sometimes the tangy and cleansing notes of a good sorbet are in order.
Well, this is one of those lemon recipes that honors the tart, bright essence of citrus fruit – while using it in a sweeter dessert preparation.
It's the best of both worlds from a flavor perspective. And we'd be remiss if we didn't tell you that this lemon cake is as easy to make as it is delicious.
So let's cook!
HOW TO MAKE LEMON CAKE IN A RICE COOKER
Now, before we get started, we're just going to put it out there: this will likely be the best lemon cake recipe you've ever made in your rice cooker.
And even though it may in fact be the only lemon cake recipe you've ever whipped up in your rice cooker, it's a delicious dessert to behold!
Since your Tiger multi-functional rice cooker is loaded with settings for all types of dishes, you can make this rice cooker cake with real lemon – and then turn around and use it to make anything from vegetarian chili to garlic shrimp – and all things in between.
It really is a versatile powerhouse of a kitchen appliance!
So to make this lemon cake, simply place your batter into the inner pot and cook using the PLAIN setting.
Even though that's a cooking setting for preparing rice, it also happens to be the perfect time and temperature for this moist, sweet and tart lemon cake!
There's nothing quite as easy as cooking with the press of a button. Oh – and cleanup will be a breeze as well!
Products used in this recipe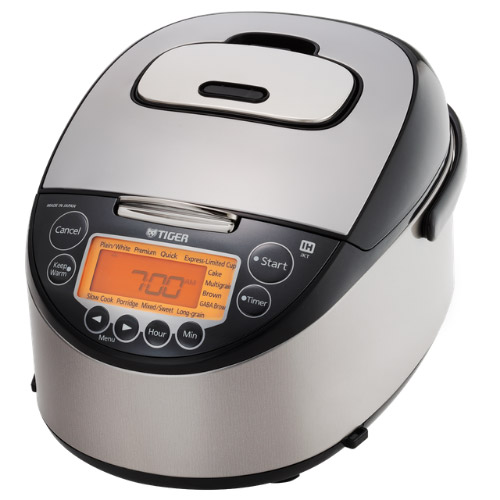 Induction Heating Rice Cooker JKT-D10U/18U
Made in Japan The TIGER JKT-D multi-functional induction heating (IH) electric rice cooker allows yo […]
LEARN MORE