Rice Cooker
Leek and Celeriac Soup
One bite of this velvety smooth leek and celeriac soup, and you'll be hurrying to finish your bowl so you can refill it. Say hello to your new favorite soup!
Servings

3-4

Preparation

10 min

Cooking

60 min
Ingredients
2 tbsp Butter
2 Leeks, finely chopped, white parts only
1 tsp Dried thyme
1 pound Celeriac
1 Medium red apple such as honey crisp, peeled and chopped
4 ¼ cups Chicken or vegetable broth
Salt and pepper, to taste
Directions
Add the butter, leeks, thyme, celeriac, apple, and chicken broth to the rice cooker inner pot, and close the lid.
Select the [Slow Cook] function and set the timer for 60 minutes. Press start.
When the cooking is done, transfer the soup to a blender – you may need to do this in batches – and blend until smooth.
Stir in 1 cup water. If you find the texture too thick, add an additional ½ cup of water.
Return the soup to the inner pot and season with salt and pepper. Serve.
A VELVETY SMOOTH LEEK AND CELERIAC SOUP
We all love a hearty, chunky soup. But sometimes you need a velvety, blended soup in your recipe arsenal. They somehow just seem, shall we say… more fancy?
Well, this leek and celeriac soup has a savory base of chicken or vegetable stock (your choice) which is fortified with butter, leeks and the sweetness of chopped apples.
Dried thyme adds a little garden freshness. But we'd say the star of the show is definitely the celeriac.
WHAT IS CELERIAC?
Celeriac is a root vegetable with a subtle, nutty flavor. If you guessed that it also tastes mildly of celery because of the name, you'd be right!
Well, in this leek and celeriac soup recipe, it delivers an understated earthiness – and the best texture for a blended soup. And it's so easy to make in your rice cooker.
HOW TO MAKE LEEK AND CELERIAC SOUP IN A RICE COOKER
Just add all your soup ingredients to the inner pot of your Tiger multifunctional rice cooker. You'll be using the Slow Cook function for an hour.
The savory, sweet and fresh ingredients will be ready in no time! When you use your rice cooker to make this healthy soup, there's no need to keep an eye on the soup pot.
There's just one final step after cooking. Transfer your cooked soup to a blender and blend until smooth. If it's a little thick, just add a bit of water (our recommendations are in the directions tab on this page).
You're going to love the silky perfection – and your entire family will clean their bowls!
Products used in this recipe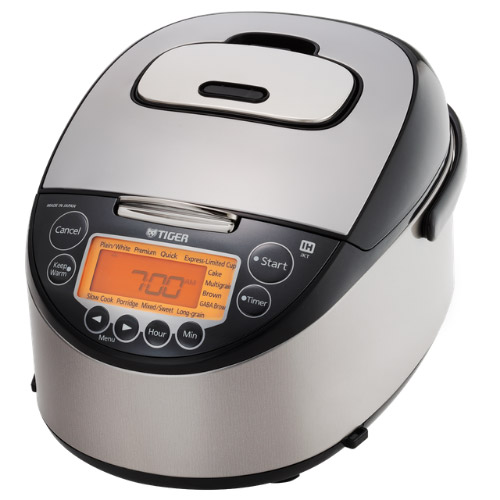 Induction Heating Rice Cooker JKT-D10U/18U
Made in Japan The TIGER JKT-D multi-functional induction heating (IH) electric rice cooker allows yo […]
LEARN MORE