Rice Cooker
Homemade Sausage and Cabbage
Make this smoky and savory homemade sausage and cabbage recipe from scratch in no time by utilizing our time-saving sausage hack!
And use your rice cooker to prepare every part of this indulgent meal from start to finish.
Happy cooking!
Servings

2

Preparation
Cooking
Ingredients
2 cups (supplied measuring cup) of white rice
3 Cabbage leaves
1 Potato (small)
4 Cherry tomatoes
1/2 Soup stock cube
A dash Salt and pepper
Parsley, finely chopped for garnish
Mustard for flavor
4 Pork loin (thinly sliced)
1/8 lb Ground pork
1 Bacon slice
1/4 tsp Garlic, finely chopped
1/2 tsp Parsley, finely chopped
A dash Salt and pepper
Directions
Chop the bacon finely and mix with the ground pork, garlic and parsley. Season with salt and pepper. Wrap with a slice of pork.
Cut the cabbage into 1-1/4 inches cubes. Peel the potatoes and cut them into 1/3 inch thick rounds. Remove the stems from the cherry tomatoes.
Place the sausage and vegetables on the tacook cooking plate. Season with the crushed soup stock and salt and pepper.
Put the washed rice and water in the inner pot and place in the rice cooker.
Set the cooking plate in the inner pot. Select the [Synchro-Cooking] menu and press the [Start] key.
When cooking is complete, place the dish on a serving plate. Serve with finely chopped parsley and serve with some mustard.
HOW TO MAKE HOMEMADE SAUSAGE
Recipes for making homemade sausage abound.
And with a little online research, a few ingredients and a TON of time you can make anything from authentic Polish links to breakfast sausage patties at home these days.
Well, we're here to tell you about an easy time saving hack for making homemade sausage that doesn't so much reinvent the wheel as just drive around it 🙂
To start, we whip up a mixture of chopped bacon, ground pork, garlic and parsley.
But instead of relying on traditional sausage casings, we wrap that savory, meaty mixture in thinly sliced pork loin.
That's right, slices of paper thin pork act as a casing for the smoky, herbaceous sausage mixture – while creating a tender outer layer. It makes this sausage even MORE meaty.
And it's the perfect protein to mix with delicate cabbage leaves and sliced potatoes.
It's one of our all time favorite recipes with sausage. And we hope it'll be your new fave as well!
HOW TO MAKE CABBAGE AND SAUSAGE IN A RICE COOKER
You know we're big fans of making pork and cabbage recipes in our rice cookers. Whether it's this bacon stuffed napa cabbage or this pork and napa cabbage mille feuille, your Tiger multi cooker welcomes the opportunity to make food-other-than-rice with open arms.
Therefore, this delicious homemade sausage and cabbage recipe is a welcome addition!
Once you've crafted your homemade sausages, simply place them in the Tacook cooking plate along with the cabbage, cherry tomatoes and sliced potato.
Then select the Synchro-Cooking setting and press the Start key. Your rice will steam to perfection in the inner pot – while your cabbage and homemade sausage recipe cooks simultaneously.
We think you'll love how easy it is to make homemade sausage and cabbage for dinner. And we KNOW you'll fall for the flavor!
Products used in this recipe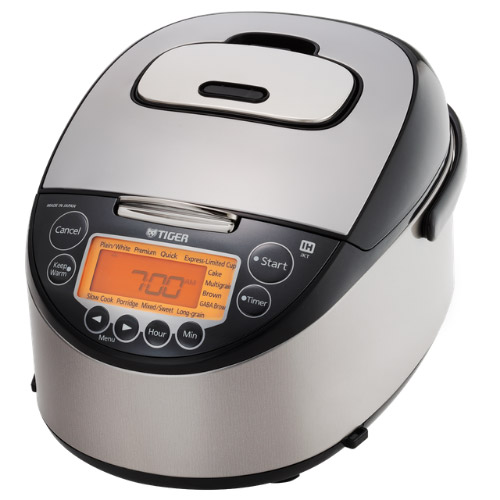 Induction Heating Rice Cooker JKT-D10U/18U
Made in Japan The TIGER JKT-D multi-functional induction heating (IH) electric rice cooker allows yo […]
LEARN MORE