Rice Cooker
Bacon Stuffed Napa Cabbage
Some ingredient combinations just work so well together.
Cabbage and pork is one such combination that seems to walk hand in hand right into our hearts (and stomachs!) at dinnertime.
Whether it's a rustic, easy recipe you're looking for on a cold winter evening after a long day at work – or a savory, relaxing meal you plan to make on a lazy weekend, this bacon and napa cabbage recipe ticks all the boxes.
It's easy to make, looks impressive – and tastes AMAZING!
We promise… you're going to love it!
Servings

3

Preparation
Cooking
Ingredients
2 cups (supplied measuring cup) of white rice
2 napa cabbage leaves
2 bacons
1/2 soup cube stock
dash of corn starch
dash of salt and pepper
Grated Parmesan cheese for flavor
Parsley (finely chopped) for garnish
Directions
On a flat surface, lay out a napa cabbage leaf, sprinkle corn starch and place a slice of bacon on top to cover the leaf. Repeat this step to create another layer.
Roll layered cabbage and bacon into a circle and cut into 1 1/4 inch thickness.
Season the cabbage and bacon with crushed soup cube stock and salt and pepper. Place in tacook cooking plate.
Put the washed rice and water in the inner pan, and set in the rice cooker.
Set the tacook cooking plate in the inner pan. Select the [Plain/Synchro-Cooking] menu and press the [Start] key.
When cooking is complete, serve the rice and dish on a plate. Sprinkle with grated cheese and finely chopped parsley.
WHAT IS NAPA CABBAGE?
Napa cabbage is a type of Chinese cabbage that has long light-green and white leaves, smooth near the center – and ruffled near the edges.
In Mandarin, napa cabbage is called dàbáicài (大白菜), which translates into 'big white vegetable'.
Very similarly, in Japanese napa cabbage is hakusai – or 白菜 – which means 'white vegetable'.
Aside from being the cabbaga of choice for use in Korean kimchi, it's also a very common ingredient in many Asian stir fry recipes, Japanese simmered dishes like nabe (hot pot) – and even this inventive pork and napa cabbage mille-feuille!
HOW TO COOK NAPA CABBAGE IN A RICE COOKER
This steamed cabbage recipe is super easy to prepare in your rice cooker. In fact, you can even cook your rice at the same time!
Just load your rinsed rice and water in the inner pot as usual.
You see, your Tiger multi cooker can pull double duty because of the Tacook cooking plate. Follow the recipe steps to form your pork and cabbage roll – and place your food inside that inventive cooking plate.
Next, simply set it on top of the inner pot, close the lid and select the Synchro-Cooking setting. As your rice simmers, the steam cooks your bacon stuffed cabbage roll at the same time.
It's pretty handy when you're looking for a yummy, satisfying and easy dinner – and want to keep clean up to a minimum afterwards.
And, oh yeah… most importantly, this napa cabbage with bacon recipe is delicious!
Products used in this recipe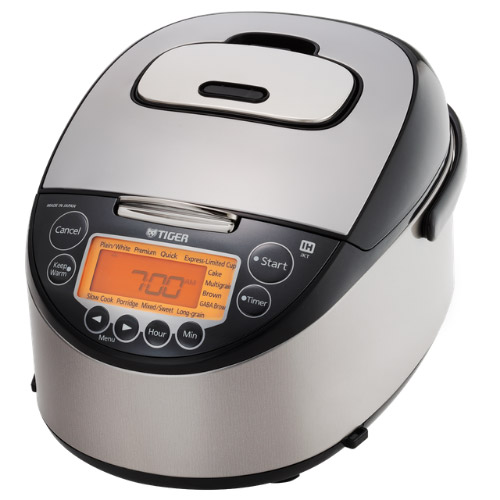 Induction Heating Rice Cooker JKT-D10U/18U
Made in Japan The TIGER JKT-D multi-functional induction heating (IH) electric rice cooker allows yo […]
LEARN MORE