Rice Cooker
Pork and Napa Cabbage Mille-Feuille With Mushroom Rice
We love playing with our food.
No, not in the food-fight sense, ha! But when it comes to getting a little whimsical and shaking things up, we're all for it.
Some of the most exciting recipes are conceived from a bit of intrepid experimentation mixed with an adherence to flavor combinations that just plain work well together.
For this delicious and savory layered recipe, we took the form of a classic French mille-feuille recipe – and used the tried and true flavor buddies of napa cabbage with pork to achieve something altogether new and fun!
Servings

3-4

Preparation
Cooking
Ingredients
3 cups (supplied measuring cup) white rice
2 cups dashi broth
1 abura-age (deep fried tofu), thinly sliced
3 oz shimeji-mushrooms, separated
3 oz maitake-mushrooms, separated
3 oz shiitake-mushrooms, sliced
1 tbsp minced ginger
3 tbsp sake
2 tbsp soy sauce
1 tbsp mirin
1/2 tsp salt
4 tbsp chopped green onion
4 boiled snap peas
4 medium napa cabbage leaves
1/2 lb sliced pork belly
2 tbsp sake
Pinch of salt and pepper
4 tbsp minced green onion
6 tbsp sesame oil
1/2 tsp salt
2 tbsp lemon juice
4 tbsp ponzu
2 tbsp grated Japanese radish
1 tsp Shichimi togarashi (seven flavor chili pepper)
Directions
Boil mushrooms and abura-age (deep fried tofu) briefly in hot water for 30 seconds and drain in strainer.
Place the washed white rice with mushrooms, ginger, abura-age (deep fried tofu) and seasoning in the inner pot.
Add the dashi broth up to level 3 in inner pot.
Layer the napa cabbage and sliced pork belly until you have a total of 7 layers, starting and finishing with a napa cabbage (4 cabbage and 3 sliced pork belly).
Cut these layered ingredients in approximately 2 inches and place in the tacook cooking plate. Start around the edge of the plate and fill toward the center so you can see the layers from the top
Pour sake into the tacook cooking plate.
Set the rice cooker with the tacook cooking plate on top
Select "Synchro-Cooking" menu and press the start key
When cooking is complete, sprinkle minced green onion and serve with the mixed dipping sauces
WHAT IS A MILLE-FEUILLE?
A traditional mille feuille (pronounced meal-foy) is actually a dessert! Made up of alternating layers of puff pastry and crème pâtissière, this sweet confection is also known as a Napoleon. The loose translation of millefeuille is one-thousand leaves (layers or sheets works as well).
Now, we jettisoned the sweet flavors of the original, but kept the basic architecture. However, think main course for this one.
Our savory pork and cabbage loaded mille-feuille is a nod to the structure of the original – with alternating sheets of thinly sliced pork belly and napa cabbage leaves delivering a satisfying yet subtle saltiness.
Bonus: We're making mushroom rice as a delicious umami-loaded side dish!
HOW TO MAKE A SAVORY, MEATY MILLE-FEUILLE AND A RICE SIDE DISH AT THE SAME TIME
Since you're using your Tiger rice cooker, you'll save a ton of time when it comes to the cooking process. In fact, with your Tacook equipped multicooker, you can make the rice and mushroom recipe at the same time as your pork and cabbage mille feuille.
Simply load all of your ingredients for the easy rice recipe in the inner pot of your rice cooker – and layer the ingredients for the mille feuille in the Tacook plate. Select the Syncro-Cooking setting and press Start. That's it!
So, how does it taste?
The perfectly cooked rice is loaded with the umami properties of dashi and mushrooms – and the delicate pork and cabbage is a savory flavor-marriage made in heaven!
Dip your and meaty mille-feuille in citrusy ponzu sauce – or garden fresh green onion sauce – for the full lip-smacking taste experience!
Products used in this recipe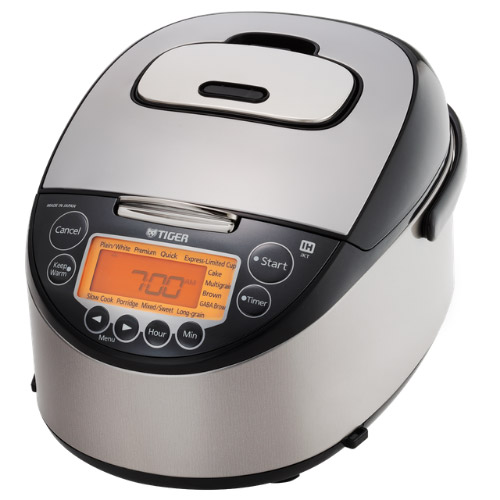 Induction Heating Rice Cooker JKT-D10U/18U
Made in Japan The TIGER JKT-D multi-functional induction heating (IH) electric rice cooker allows yo […]
LEARN MORE