Rice Cooker
Ginger Tofu and Peppers
Synchro Cooking
Vegetarian
Make this fragrant, savory and bright ginger tofu with peppers recipe in a flash in your rice cooker!
Servings

3-4

Preparation

20 min

Cooking
Ingredients
½ cup Japanese rice (supplied measuring cup)
Chicken stock
1 celery stalk, finely chopped
1 thumb size ginger, julienned
Scallions for topping (optional)
Directions
Rinse the rice under running water until the water and drain the cloudy water.
Place the rice, celery and ginger in the inner pot and pour enough chicken stock to reach the 0.5 Soft Porridge line.
Select the [Porridge] menu and set the heating time to 70 minutes. Press the [Start] key.
Serve topped with chopped scallions.
WHAT IS TOFU?
Tofu is made from soy milk. Created in a process somewhat similar to cheesemaking, the soy milk is curdled – and those curds are pressed into blocks… Therefore it's no surprise that tofu is also called bean curd.
It's the perfect blank slate for many recipes because the flavors you use while cooking dictate what the tofu will end up tasting like in the long run.
We're using firm tofu in this ginger tofu recipe with peppers – but bean curd comes in all types of textures, from silken to extra-firm.
A SIMPLE TOFU RECIPE THAT TASTES ANYTHING BUT SIMPLE
There's a savory base of flavor from chicken broth, soy sauce and oyster sauce – which is contrasted by the clean, bright and fiery piquancy of fresh ginger.
Think of this ginger tofu with peppers as a delicious tofu stir fry or a veggie stir fry recipe – without the actual stir frying! It's so easy to whip up in your rice cooker, you won't have to break out the pans.
HOW TO MAKE GINGER TOFU IN A RICE COOKER
We've got step-by-step instructions in the recipe tab on this page – but rest assured, you can make everything for this recipe with an absolute minimum of effort!
You see, it's a breeze to make rice and a completely composed dish at the same time in your Tiger multifunctional rice cooker.
Aside from Tiger's Automatic Cooking Logic™ – the real star of the show is the Tacook cooking plate that you can load up with the ingredients of your choice. While your rice cooks to fluffy perfection in the inner pot, the vapor from the rice steams the food in the upper tray. 
This all-in-one cooking method is a real time saver at dinnertime. And there's nothing easier than cooking with the press of a button!
Products used in this recipe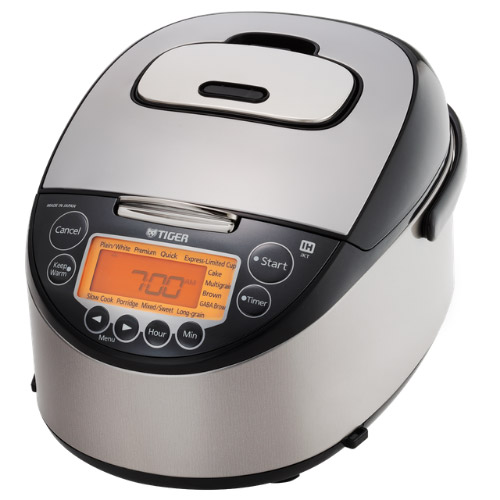 Induction Heating Rice Cooker JKT-D10U/18U
Made in Japan The TIGER JKT-D multi-functional induction heating (IH) electric rice cooker allows yo […]
LEARN MORE