Rice Cooker
Fragrant Jasmine Rice Pilaf
Savory, nutty and fragrant, this jasmine rice pilaf recipe is sure to be your go-to rice recipe when you need a quick and delicious side dish. Let's cook!
Ingredients
2 cups Jasmine rice
1 tbsp butter
1 tbsp Extra virgin olive oil
1 Shallot, chopped
½ tsp Cumin seeds
1 Small cinnamon stick
¾ tsp Kosher salt
2 ¼ cups Low-sodium chicken broth
¼ cup Chopped salted peanuts
¼ cup Chopped cilantro
Directions
Rinse the jasmine rice under cold running water a few times until the water runs clear.
Place the jasmine rice in the rice cooker's inner pot along with butter, olive oil, shallot, cumin seeds, cinnamon stick, and salt.
Stir in chicken broth and close the lid. Select [Quick] menu. Press [Start].
When complete, remove the cinnamon stick before serving and top with chopped peanuts and cilantro.
WHAT IS RICE PILAF?
Rice pilaf is essentially rice that has been cooked in broth instead of plain water. It's a simple upgrade that imparts the rice with a savory and complex flavor profile without having to resort to a long list of additional ingredients.
In the case of this jasmine rice pilaf, we're using chicken broth. We've also added shallots, cumin seeds and a cinnamon stick for a fragrant pop of herbaceousness.
Topped with chopped cilantro and peanuts, the overall flavor is a nuanced balance of nutty and savory garden freshness.
However, as always, we think the unsung hero of this yummy side dish is the rice itself!
WHAT IS JASMINE RICE?
Jasmine rice is a long grain rice, primarily grown and cultivated in Thailand and other parts of Southeast Asia. It has a delicate sweet, floral and botanical taste that some say is reminiscent of pandan.
When cooked, the texture is moist and soft with grains that are less sticky than Japanese rice.
Needless to say, jasmine rice has a perfect balance of tender texture and mild natural sweetness for this rice pilaf recipe.
And, it's so easy to make!
HOW TO MAKE RICE PILAF IN A RICE COOKER
Simply place all your ingredients (EXCEPT the cilantro and chopped peanuts) into the inner pot of your Tiger multi-functional rice cooker. Then select the Quick setting and press Start. That's it! Told you it was easy 😉
Your rice cooker will make sure your rice pilaf is fluffy and perfectly cooked. Remove the cinnamon stick and top your pilaf with anything you'd like. We went with chopped peanuts and cilantro for this recipe – but use your imagination and really make this rice recipe your own! Fried shallots would be amazing… Just sayin'.
Products used in this recipe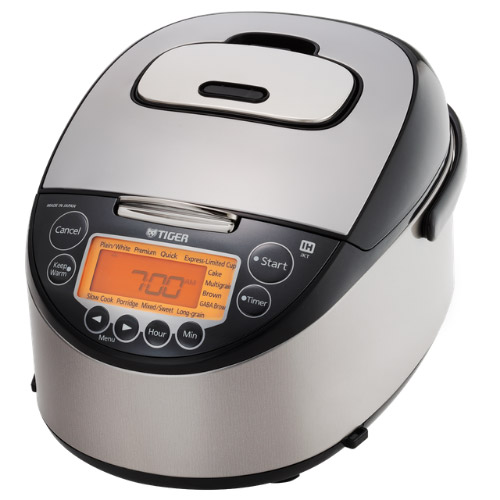 Induction Heating Rice Cooker JKT-D10U/18U
Made in Japan The TIGER JKT-D multi-functional induction heating (IH) electric rice cooker allows yo […]
LEARN MORE