Rice Cooker
Chili Lime Vegetables
Gluten Free
Synchro Cooking
Vegetarian
This chili lime vegetables over rice recipe fuses the brightness of citrus with the smokiness of chili powder. It's an easy recipe to make in your rice cooker, with flavor that punches way above its weight class!
Servings

3-4

Preparation

20 min

Cooking
Ingredients
1 1/2 Cup mixed vegetables such as chopped broccoli, cauliflower, and carrots.
2 Garlic cloves, minced
1 Small jalapeno pepper, thinly sliced
1 Tablespoon butter
1 Teaspoon chili powder
2 Tablespoons fresh lime juice
½ Teaspoon salt
1 Tablespoon extra virgin olive oil
Directions
Prepare the rice and set in inner pot.
Place the vegetables, garlic, jalapeno pepper, butter and chili powder in the Tacook cooking plate and mix well. 
Close the lid and choose the [Synchro-Cooking] function. Press start.
When the food is cooked, transfer the vegetables to a bowl and top with lime juice, salt, and olive oil. Eat together with the rice.
A SIMPLE VEGETABLES AND RICE RECIPE WITH ALL THE FLAVORS
We love a good rice bowl! Extra points when that rice bowl happens to be loaded with veggies – and enough flavor to bring smiles to our family and friends around the dinner table.
Well, this chili lime veggies over rice recipe definitely fits the bill! With a deceptively simple chili lime seasoning, your perfectly cooked veggies can sit atop a mound of fluffy rice with the press of a button.
Warning: this delicious flavor combination is addictive! People are going to be demanding seconds 🍲😋
HOW TO COOK RICE AND CHILI LIME VEGETABLES AT THE SAME TIME IN A RICE COOKER
Your Tiger multifunctional rice cooker is tailor-made for creating two dishes at once. You see, along with Automatic Cooking Logic™, we have another secret weapon: Tacook.
Your Tacook cooking tray allows you to prepare a composed dish – while your rice cooks to perfection in the inner pot below. The vapor created by the cooking rice steams the food in the upper tray at the same time. However, the flavors never intermix.
There's a bit of science at play… and more than a bit of cooking magic!
Therefore, for this rice and vegetables recipe, simply place your rinsed rice and water into the inner pot of your rice cooker as usual. Then, load the Tacook cooking tray with your veggies, garlic, jalapeno and butter.
When you select the Synchro-Cooking cooking preset and press the Start button, your work is done. Your rice cooker's internal computer will ensure that your rice is fluffy – and your veggies perfectly cooked.
Once cooking is complete, just add your chili lime seasoning (see the ingredients tab on this page for specific amounts) to the veggies – and you and your family have got a delicious rice bowl to devour!
Products used in this recipe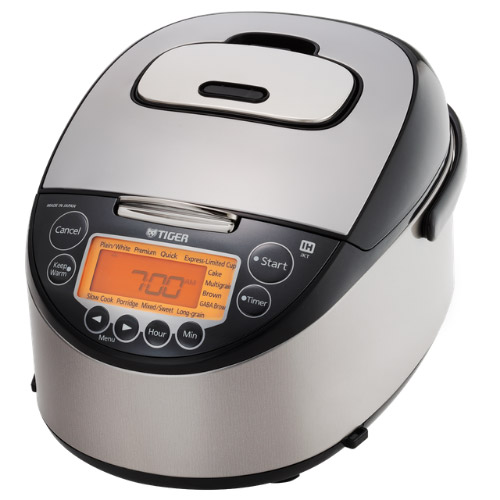 Induction Heating Rice Cooker JKT-D10U/18U
Made in Japan The TIGER JKT-D multi-functional induction heating (IH) electric rice cooker allows yo […]
LEARN MORE