Rice Cooker
Brown Rice Tomato and Kabocha Risotto
This brown rice tomato and kabocha risotto mixes savory, indulgent flavors with healthy ingredients for a dish that is truly the best of both worlds!
Ingredients
2 cups short grain brown rice
14.5 ounce can diced tomatoes
200ml low sodium chicken broth or vegetable broth
2 tablespoons ketchup
2 teaspoons plain rice vinegar
1 tablespoon extra virgin olive oil
½ cup onion, finely chopped
2 garlic cloves, minced
2 celery stalks, finely chopped
1 tablespoon extra virgin olive oil
1 cup, kabocha squash, peel and cut into bite size pieces
½ cup grated parmesan cheese
Salt and pepper, to taste
Directions
Briefly rinse the brown rice under water and drain well.
Add the brown rice to the rice cooker inner pot along with the tomatoes, broth, ketchup, vinegar, and olive oil, and stir. 
Add the onion, garlic, and celery, and stir to combine. 
Close the lid and choose the [Brown] rice function on the rice cooker. Press start.
Meanwhile, heat a medium size pan over medium heat and add the olive oil and kabocha squash. Cook for about 10 minutes, or until the kabocha is tender and slightly charred. Turn the heat off and transfer the kabocha to a plate. Set aside.
When the rice is done cooking, open the lid and stir in the kabocha squash and parmesan cheese. Season with salt and pepper and serve.
A KABOCHA RISOTTO RECIPE THE WHOLE FAMILY WILL ENJOY
When you utter the words brown rice risotto, some people get a little nervous. And we can totally see why.
Risotto is the ideal mixture of short grain rice, broth, butter, wine and cheese. It's perfection on a plate. So anyone wanting to mess with that creamy, savory, umami goodness deserves a raised eyebrow or two.
But, as you know, we're disruptors! We love re-conceptualizing recipes you wouldn't think could be on the healthier side of things. And, of course, we love making (almost) everything in a rice cooker!
This kabocha risotto recipe retains the traditional savory elements of the broth and Parmesan cheese. However, we're using brown rice for a nutty, toothsome bite – and introducing tomatoes and fresh kabocha squash for a subtle tangy sweetness, and all around deliciousness.
You're going to fall in love after the first bite. And we think you'll be pleasantly surprised by how easy it is to make in your rice cooker!
HOW TO MAKE RISOTTO IN A RICE COOKER
Place your rinsed short grain brown rice into the inner pot of your Tiger multifunctional rice cooker, along with your broth, tomatoes, ketchup, vinegar and olive oil.
Stir until well mixed – then add your diced onion, garlic and celery. Close the lid and select the Brown setting, then press the Start button.
While your brown rice risotto is cooking to perfection, prepare your kabocha squash on the stovetop (instructions in the recipe tab above).
When the timer on your rice cooker sounds off, just open the lid and stir in your grated Parmesan and your cooked kabocha.
Say hello to creamy, umami perfection!
Products used in this recipe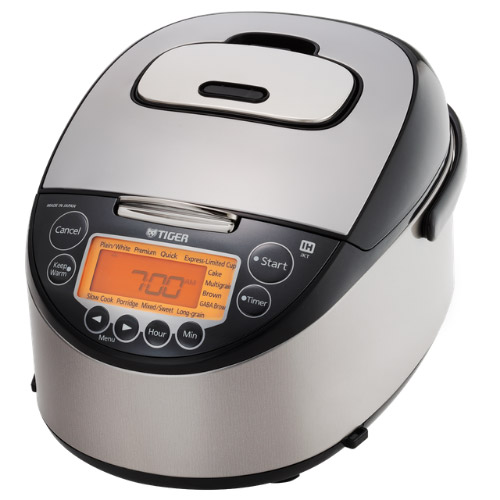 Induction Heating Rice Cooker JKT-D10U/18U
Made in Japan The TIGER JKT-D multi-functional induction heating (IH) electric rice cooker allows yo […]
LEARN MORE