Rice Cooker
Beef and Cauliflower Sauté
Keep it easy, hearty and healthy at dinnertime. This savory beef and cauliflower saute is super simple to make – and is a real crowd pleaser!
Servings

2

Preparation
Cooking
Ingredients
2 cups White rice
2/5 lbs Beef
1/3 oz Garlic
A pinch Black pepper
1/3 cup Cauliflower
½ Tomato
¼ medium Onion
½ tbsp Corn starch
½ tbsp Oyster sauce
½ Seasoning sauce
1 tsp Soy sauce
½ tsp Sugar
Directions
Slice the beef into bite-sized pieces. Rub the smashed garlic and black pepper into the beef, and mix with the marinade. Refrigerate the beef for a while.
Separate the cauliflower into small florets. Cut the onion into 1 cm thick slices. Cut the tomato into wedges.
Place beef in the tacook cooking plate and top it with the cauliflower, onion, and tomato.
Put the washed rice and water in the inner pot and set it in the rice cooker.
Insert the tacook cooking plate in the inner pot and select the [Synchro-Cooking] menu. Press the [Start] key.
When cooking is complete, place the dish on a serving plate.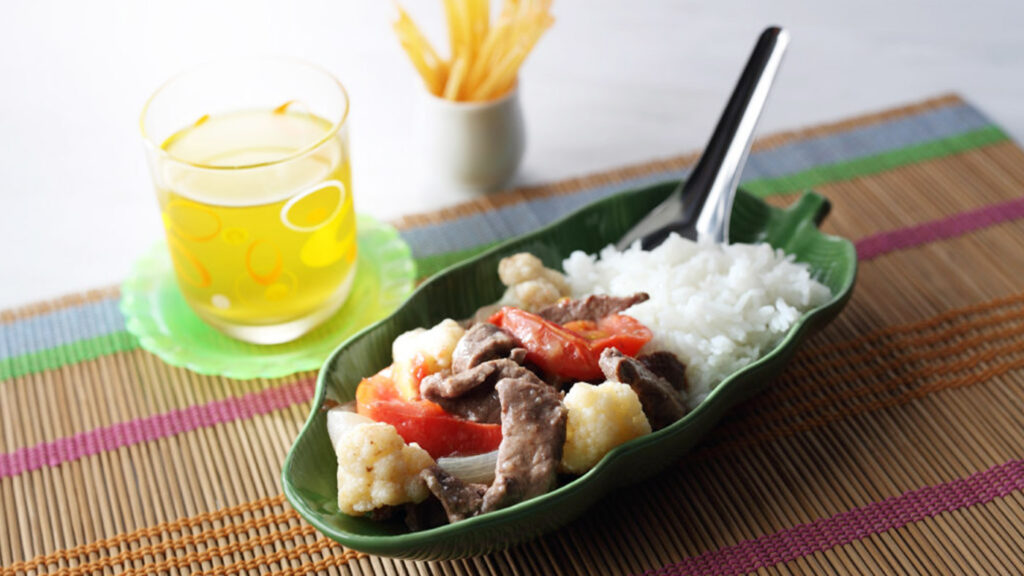 ALL THE FLAVORS OF A STIR FRY… SIMPLIFIED
When most of us hear the term saute used, we immediately think of the cooking method that calls for a protein or vegetable to be quickly pan-fried at high heat in a shallow pan with oil or fat.
And, yes, that technique runs some pretty serious parallels to the practice of stir frying (aside from the high-sided wok).
Well, we've got a superb recipe for you today that delivers on the overall deliciousness of an indulgent stir fry, without the need for oil or fat. And, hey – you can leave the wok in the kitchen cabinet as well!
You see, this delicious rice bowl is topped with a mixture of marinated beef and cauliflower that is steamed to perfection. And it's SO easy to make!
HOW TO MAKE BEEF AND CAULIFLOWER SAUTE IN A RICE COOKER
When you use the Synchro-Cooking preset on your Tiger rice cooker, the possibilities are endless. You see, you can use the tacook cooking plate for your meat and vegetables – which cook simultaneously with your rice.
So whether you're making Cajun turkey meatballs, or this garlic shrimp with herbed rice – your multicooker is a great tool for making dinner easy and delicious.
Plus, since we're using steam heat, there's less need to use cooking oils that can dramatically up the calorie count. Hey – we like it when delicious food just happens to be healthy as well!
For this savory beef and cauliflower saute, simply load your marinated beef, sliced cauliflower, onion and tomato into the tacook plate. That plate goes on top of the inner pot (which has your rinsed rice and water).
Then press the Start key – and you're good to go!
We think you'll love how easy it is to whip up a full dinner in your rice cooker. And we're sure your family is going to demand seconds of this yummy cauliflower and beef rice bowl!
Products used in this recipe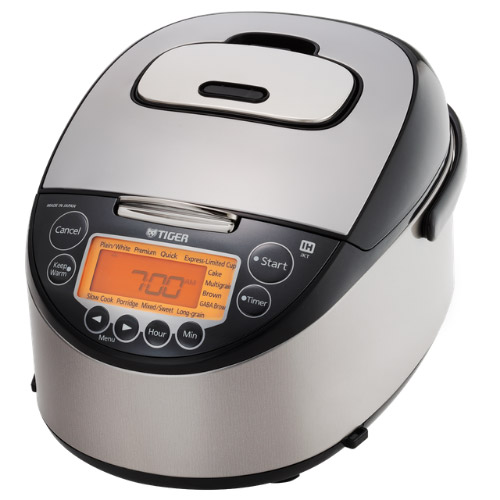 Induction Heating Rice Cooker JKT-D10U/18U
Made in Japan The TIGER JKT-D multi-functional induction heating (IH) electric rice cooker allows yo […]
LEARN MORE