Rice Cooker
Barbecue Tofu Steaks
Bring on the BBQ! These barbeque tofu steaks are plant based protein with the savory, tart and smoky flavors you'd expect at a backyard cookout.
Servings

3-4

Preparation

15 min

Cooking

45 min
Ingredients
⅓ cup ketchup
2 tablespoons apple cider vinegar
1 tablespoon brown sugar
1 tablespoon soy sauce
1 teaspoon gochugaru or red pepper flakes
1 teaspoon worcestershire sauce
Salt and pepper
Directions
Drain the tofu and wrap it in a paper towel. Place it on a plate and leave for 10 minutes.
Meanwhile, mix all the ingredients for the barbecue sauce in a bowl and pour the sauce in the rice cooker inner pot.
Unwrap the tofu and slice into bite size cubes.
Spray the bottom of the rice cooker inner pot with cooking spray.
Add the tofu pieces to the sauce in one layer so the steaks are side by side. Cover the tofu with a little sauce so each piece is evenly coated.
Close the lid and select the [Slow Cook] function. Set the timer to 45 minutes and press start.
Serve.
A DELICIOUS BEAN CURD IN BBQ SAUCE RECIPE THAT EATS LIKE MEAT
We love tofu!
And contrary to popular belief, it doesn't have to be a flavorless lump of protein sitting half-forgotten on a sad dinner plate.
Tofu (bean curd) is one of the cooking world's best blank slates. Since it takes on whatever flavor you prepare it with, we'd argue that it's one of the more exciting ingredients to cook with. Add a ton of plant based protein to that equation – and we say bring it on!
Like we said, the sauce is key. For these tofu steaks, we've created a flavor-forward barbeque palate to act as our tofu sauce.
Tomato ketchup and brown sugar bring natural sweetness – which is countered by the savory umami from soy sauce and worcestershire sauce. Apple cider vinegar introduces a tart element to the BBQ sauce profile.
But the secret weapon is gochugaru (Korean chili powder), which not only brings a bit of heat – but adds an unreal smokiness to the sauce.
WHAT IS A TOFU STEAK?
A tofu steak is actually a bit of a misnomer. It's a term used when firm bean curd is prepared in a way you'd normally cook a cut of meat (like beef steak). You'll oftentimes hear tofu steaks referred to as baked tofu, grilled tofu and pan-fried tofu as well.
For this recipe, you'll want to use extra firm tofu. It has a meatier texture and stands up to the barbeque sauce.
HOW TO MAKE TOFU STEAKS IN A RICE COOKER
To start, mix your BBQ sauce in a bowl – then add it to the inner pot of your Tiger multifunctional rice cooker.
Place your drained and sliced tofu pieces side by side in the pot in a single layer – and brush each piece with the barbeque sauce so they're all evenly coated.
Close the lid, select the Slow Cook setting for 60 minutes and press the Start button.
Your work is done! When the timer sounds off, serve and revel in the flavors of plant based backyard BBQ!
Products used in this recipe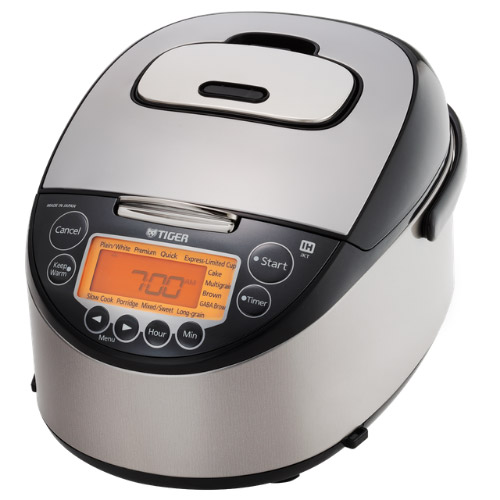 Induction Heating Rice Cooker JKT-D10U/18U
Made in Japan The TIGER JKT-D multi-functional induction heating (IH) electric rice cooker allows yo […]
LEARN MORE