Rice Cooker
Spicy Lentil and Vegetable Soup
Soup just makes everything better. Whether you're fighting a cold – or just need a little comforting, warming goodness in your belly, soup is that savory magic potion that can help.
This vegetable and lentil soup not only delivers on the savory, comfort-food aspect – it is also loaded with a ton of healthy ingredients your body needs to run like the well oiled machine it is. And sometimes, when we pack on a few extra winter pounds around the holidays, vegetable soup can help us shed that unwanted spare tire.
One thing is for sure: eating healthy has never tasted so good!
Servings

3-4

Preparation

15 min

Cooking

60 min
Ingredients
1 tablespoon extra-virgin olive oil
1 cup dried lentils
1/2 red or orange bell pepper, diced
1/2 cup carrot, diced
1/2 cup celery, diced
1/2 small zucchini, diced
1/2 small yellow squash, diced
One (14-ounce) can fire-roasted diced tomatoes
4 cups chicken or vegetable broth
1/2 teaspoon ground cumin
1/4 teaspoon cayenne pepper (or more to taste)
Kosher salt and freshly ground pepper
Directions
Rinse the lentils and drain well. Place the olive oil, lentils, diced bell pepper, diced carrot, diced celery, diced zucchini and diced yellow squash in the non-stick inner pot of the rice cooker. Add the can of diced tomatoes, with their juice, along with the broth, cumin, cayenne pepper and a liberal amount of salt and pepper.
Use the Menu button to set the rice cooker to the "Slow Cook" setting. Press the Minute button to shorten the cooking time to 60 minutes. Close the lid and press Start.
When the soup is done, taste to adjust the seasoning and serve.
A HEARTY HOMEMADE VEGETABLE SOUP WITH HEALTHY LENTILS
Now, if you use vegetable broth as the base for this vegetarian soup, it's actually a completely vegan soup recipe.
But feel free to use chicken broth if you prefer.
This lentil loaded vegetable soup gets a nice amount of heat from cayenne pepper and an earthy, nutty undercurrent from cumin.
And lentils are a heart healthy legume that just do an amazing job of lending real heft and substance to this healthy soup recipe.
While cooking lentils can sometimes be a guessing game in regards to achieving perfect doneness, when you make this easy soup recipe in your rice cooker, we've taken the guesswork out of the equation.
HOW TO MAKE SOUP IN A RICE COOKER
It doesn't get much more simple than this!
Just load all of your ingredients into the inner pot of your rice cooker, select the Slow Cook function for 60 minutes and press Start. That's it.
We told you it was easy!
Tiger rice cookers do so much, we're kinda fond of calling them multi cookers.
And, in case you were worried this lentil soup might be a one-off, we're here to tell you that you can make pretty much any soup recipe easier in your multi cooker. Check out this impossibly savory and easy Slow Cooker Chicken Vegetable Soup Recipe.
But no matter whether you're making hearty chicken soup – or this veggie loaded vegan lentil soup, we're pretty confident you'll like the ease of making it in your Tiger multi cooker.
And we know that you'll LOVE the flavor!
Products used in this recipe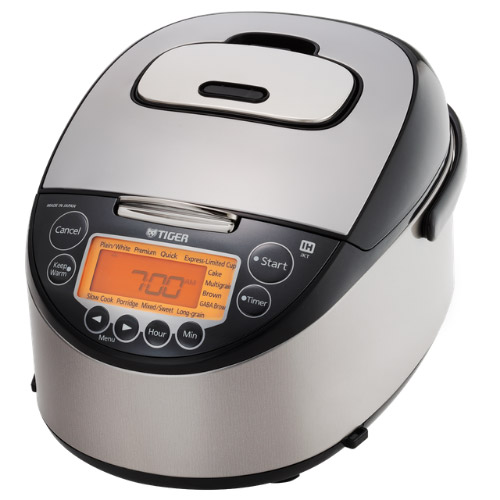 Induction Heating Rice Cooker JKT-D10U/18U
Made in Japan The TIGER JKT-D multi-functional induction heating (IH) electric rice cooker allows yo […]
LEARN MORE