Rice Cooker
Slow Cooker Corned Beef
This slow cooker corned beef and cabbage recipe is so easy to make in your Tiger rice cooker that you'll literally be cooking with the press of a button!
Servings

3-4

Preparation

20 min

Cooking

130 min
Ingredients
3 lbs Corned beef brisket
1 Pickling spice packet or 1 ½ tbsp pickling spice
1 Medium onion
3 Garlic cloves
2 ½ cup Apple juice
1 cup Beef broth
1 lbs New potatoes
3 Carrots
1 Head cabbage
Salt and pepper for flavor
2 tbsp Whole grain mustard
Directions
Rinse brisket with cold water and thoroughly pat dry with a paper towel
Slice the onions, chop garlic cloves, cut carrots in 3-inch pieces and cut the cabbage in 2-inch wedges. Place onions, garlic and pickling spice in the inner pot.
Place brisket on top of the onion mixture. Pour the apple juice and beef broth.
Place the inner pot in the rice cooker. Select the [Slow Cook] menu and set for 100 minutes. Press the [Start] key.
Once cooking is complete, remove the brisket from the inner pot.
Stir in potatoes and carrots. Place cabbage on top and season with salt and pepper.
Set the slow cook time for 40 minutes or until potatoes are soft.
Thinly slice the corned beef and serve with vegetables on a plate. Garnish with mustard if desired.
WHAT IS CORNED BEEF?
Corned beef is a cut of beef (usually brisket) that has been salt cured.
Well known in most of the North America and Europe, corned beef is most popularly represented in Jewish and Irish-American cuisines – although some of the best corned beef we've ever eaten was actually in Hong Kong!
Fun fact: although it can be a different cut of beef, pastrami is basically corned beef that has been smoked!
Now, corned beef pairs so naturally with cabbage that, if you asked a large group of people what their favorite cabbage recipe was, we'd wager many of those people might say corned beef and cabbage.
They're a natural foodie fit!
Well, this simple and delicious slow cooker corned beef recipe takes that pairing of beef and cabbage and adds a few potatoes and carrots for a full on healthy, savory and filling dinner.
And you'll absolutely love how easy it is to make!
HOW TO COOK CORNED BEEF BRISKET IN SLOW COOKER
If you've ever used a slow cooker to whip up a delicious beef brisket, you know just how liberating it can be to set it and forget it.
Well, if you're wondering how to cook corned beef and cabbage in a rice cooker, luckily most of the same rules apply!
In fact, when using the Slow Cook setting on your multi-functional rice cooker, you can make anything from these Korean beef lettuce wraps to healthier vegetarian lasagna to this warming chicken vegetable soup – and tons of other things!
Your Tiger multicooker is a super capable appliance to take care of the heavy lifting at dinnertime!
Anyway, once your corned beef and onions have slow cooked to perfection in your rice cooker, simply remove the brisket and stir in potatoes, carrots and cabbage to slow cook a while in the delicious braising liquid.
When you serve dinner, the silence around the table will mean everyone is too busy savoring their corned beef and cabbage to do much talking. Btw… we'd say that's the highest praise a chef can receive!
Bon appetit🍲
Products used in this recipe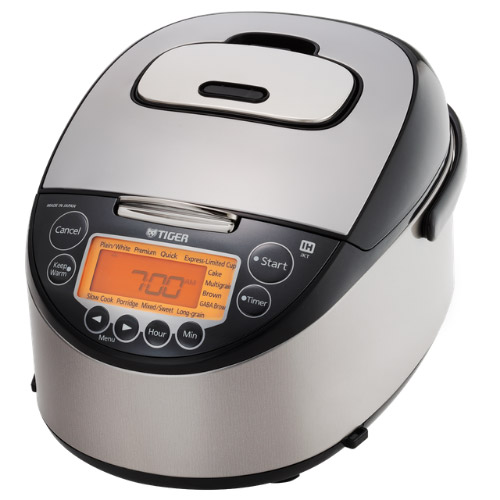 Induction Heating Rice Cooker JKT-D10U/18U
Made in Japan The TIGER JKT-D multi-functional induction heating (IH) electric rice cooker allows yo […]
LEARN MORE