Rice Cooker
Sekihan – 赤飯 – Japanese Sticky Rice With Azuki Beans
Gluten Free
Japanese
Mixed
Vegan
Everyone has a dish they associate with celebration!
Whether it's your favorite cake for your birthday – or a trip to the steakhouse to celebrate that big promotion, food is an accompaniment to good news and life's milestone moments.
And that's exactly what this delicious Japanese sticky rice and red beans recipe is!
Making sekihan at home?
Well, we'd say congratulations are probably in order!
Ingredients
3 cups sweet rice (supplied measuring cup)
1/2 cup azuki (red) beans
Dash of sesame and salt
Directions
Wash azuki beans, bring to a boil in 2 1/2 cups of water and then drain the water. Cook the beans in another 2 1/2 cups of water on high heat until the beans are boiled hard.
Separate the beans from the boiled water. Save boiled water in another bowl and let cool.
Wash the sweet rice in the inner pan. Add the water (used for boiling azuki beans) until level 3 as indicated on the inner pan for Sweet rice and mix well. If the water does not reach this level, add more water.
Place the azuki beans on top of the rice. Select the [Mixed • Sweet] menu and press the [Start] key.
When cooking is completed, mix all ingredients with soft strokes. Place in a serving bowl and sprinkle with some sesame and salt.
WHAT IS SEKIHAN
Sekihan (赤飯) is a dish served on special occasions throughout Japan, made of red azuki beans and sweet rice. Other names for sweet rice are mochigome, glutinous rice – and most commonly, sticky rice.
Fun fact: Sekihan literally translates into 'red rice'.
However, in common conversation, saying, "let's eat sekihan," pretty much means, "hey – let's celebrate!"
You see, this delicious dish typically accompanies birthdays, weddings, the birth of a new baby and regional festivals in Japan.
It's also very common to see sekihan served on New Year's Day as part of the osechi ryori feast.
Now, it's no secret that we're fans of breaking the mold when it comes to using our multi cookers to prepare everything from chicken soup to veggie lasagna (and all things in between).
So it should come as no surprise that we're going to cook beans in a rice cooker for this sekihan recipe!
WHAT ARE ADZUKI BEANS USED FOR?
Adzuki beans (or azuki beans) are red mung beans that are a crucial ingredient in many Japanese desserts.
For example, azuki beans are boiled with water and sugar to create a paste called anko.
Now, this paste is the delicious nutty, sweet filling used in our favorite dessert of all time: dorayaki (pancakes with red bean paste).
This paste is also used as a filling in manjū – and in sweet summer treats like red bean ice cream.
However, instead of making a paste of adzuki beans for this sekihan recipe, we'll be cooking them together with sticky rice in a rice cooker.
The delicious result will always be linked with the successes, celebrations and high water marks in life!
So, congratulations – and bon appetit!
Products used in this recipe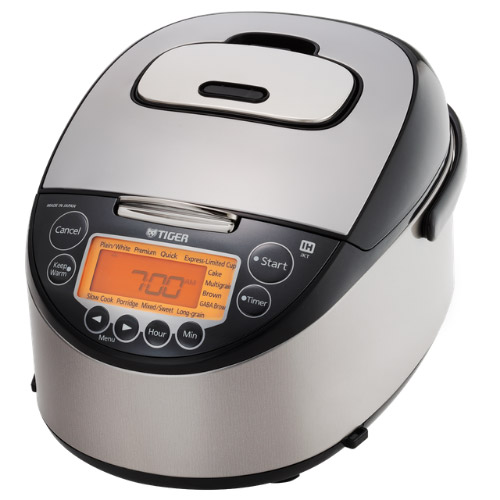 Induction Heating Rice Cooker JKT-D10U/18U
Made in Japan The TIGER JKT-D multi-functional induction heating (IH) electric rice cooker allows yo […]
LEARN MORE