Rice Cooker
Ginger Chicken Onigiri With Spicy Mayo
Life can just be SO busy. Sometimes a hectic day starts as soon as the alarm goes off in the morning – and continues until your head hits the pillow later that night. Hey, we feel your pain!
When you're planning to be on the go, but still want to be sure to have a healthy, delicious lunch (or a hearty snack) ready as soon as a free moment pops up…
Onigiri to the rescue 🍙
You see, onigiri is one of our all time favorite Japanese rice recipes. Plus, these Japanese chicken rice balls pack all the flavor of a ginger chicken stir fry – in an easy to carry form factor.
And, who doesn't LOVE spicy mayo?!
Ingredients
1/3 pound boneless chicken breast (preferably thinly sliced)
1 2 1/2 inch piece of ginger (about the size of your thumb), peeled and sliced into thin strips
1 small carrot, peeled, sliced in into thin strips the same length as the ginger
1 scallion, finely chopped (optional)
1 tbsp light soy sauce
1 tbsp sake
1 tbsp vegetable or canola oil
2 garlic cloves, finely chopped
2 cup cooked Japanese rice
2 tbsp mayonnaise
1 tbsp sri racha sauce
Nori sheets
Kosher salt
Directions
Put the washed rice and water in the inner pan, and set in the rice cooker. Place inner pot into the rice cooker.
Select the [Plain] menu and press the [Start] key.
Add chicken, garlic, soy sauce and sake in a bowl and mix well. Marinade for 15 minutes.
Meanwhile, mix mayonnaise and sriracha sauce together in a bowl and set aside.
Add salt to the rice and using a plastic or wooden spoon, fluff the rice (do not over mix or toss) until salt is evenly mixed in.
In a small pan over medium heat, add oil, carrots and ginger and fry for 2-3 minutes, until vegetables are soft but still yielding a slight crunch. Transfer to a plate and set aside.
Using the same pan, add chicken and cook on medium for 5 minutes, or until chicken is cooked through. Set aside.
Set a bowl of water next to your ingredients.
Wet your hands (this prevents the rice from sticking) and grab a small handful of rice. Flatten the rice and shape it into a triangle.
Make a dent in the center of the nigiri and spread a little sir racha mayonnaise all the way to the tip of the nigiri.
Place a few pieces of chopped scallions on top and follow with a few slices of ginger and carrots.
Finish by adding one or two pieces of chicken on top of the vegetables.
Lay the onigiri on top and in the center of a sheet of nori. Fold in half and serve onigiri individually or on together on a plate.
THE FLAVORS OF A CHICKEN STIR FRY, WRAPPED IN JAPANESE RICE
Whether you call them onigiri, musubi – or simply Japanese rice balls, this easy rice recipe just has ALL the flavors.
There's something super iconic about the harmony created when garlic and ginger meet in the same recipe. Fresh ginger has a slow burn to it that works so nicely with the garden fresh earthiness of garlic. Carrots introduce a fair bit of healthy sweetness to the mix. And the savory notes from the asian chicken marinade are punchy and assertive.
But it doesn't get much better than introducing the creaminess of Japanese mayo mixed with fiery sriracha sauce. This results in a spicy mayo that just brings the whole thing together from a flavor standpoint!
And, seriously – you can't beat the form factor of these ginger chicken rice balls!
Onigiri is the original grab-and-go lunch.
HOW TO MAKE ONIGIRI
First priority: make Japanese rice. Add your rinsed rice and water to your rice cooker and select the Plain setting.
Then, once you've prepared your garlic, sake and soy glazed chicken (and a nice bit of spicy mayo), it's time to assemble your onigiri.
Obviously, there are instructions on preparing perfectly sized rice balls in the margin. However, if you're like us – and are visual learners – have a look at the video posted on our Teriyaki Chicken Onigiri page. The video should help you with the general construction of your onigiri. Hey, don't worry… it's super easy!
Whether for lunch on a busy day, or a lazy weekend snack, you'll love the assertive flavors of a ginger chicken stir fry – all wrapped up in an easy-to-carry package of perfectly cooked rice.
Itadakimasu!
Products used in this recipe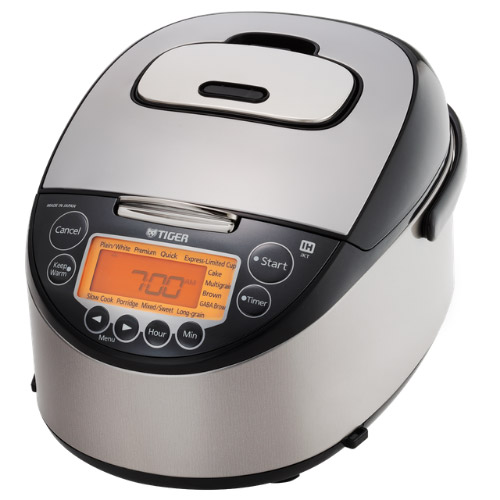 Induction Heating Rice Cooker JKT-D10U/18U
Made in Japan The TIGER JKT-D multi-functional induction heating (IH) electric rice cooker allows yo […]
LEARN MORE