Rice Cooker
Bacon and Tuna Rice Casserole
It's no secret: we're all about keeping it easy at dinnertime!
We think it's a necessity to have a stable of simple and delicious recipes in your back pocket. After a long day at work, baseball practice (and that piano recital you almost forgot about), it's such a relief to fall back on a home cooked meal that tastes amazing – without laborious prep steps and a long ingredients list.
Just as with this simple chicken and rice recipe, we think your whole family will fall in love with this cheesy bacon and tuna rice casserole.
Minimal effort / maximum deliciousness.
Win / win!
Servings

2

Preparation
Cooking
Ingredients
2 cups of rice
2 slices Bacon
1 oz (30 g) Broccoli
2-3/4 oz (80 g) Canned tuna
2 tbsp Tomato ketchup
2/3 cup (5 oz / 140 g) White sauce
1/3 cup (3 oz /90 g) Shredded cheese
Directions
Drain and crumble the tuna. Cut the broccoli into small bite size florets. Cut the bacon into bite size pieces.
Place in the Tacook cooking plate, add the tomato ketchup and white sauce and sprinkle cheese on top.
Place the washed rice and water in the inner pot and set in the rice cooker.
Set the cooking plate in the inner pot. Select the "Synchro-Cooking" menu and press the [Start/Rinse-free] key.
When cooking is complete, serve the dish over rice.
A SAVORY TUNA RICE CASSEROLE… JUST ADD BACON
We have a deep love in our hearts for mom's tuna casserole!
Tuna and rice are an iconic and comforting combination of ingredients.
Well, it's not too much of a stretch then to add a bit of bacon to the mix for a savory and hearty pop of flavor and texture.
Cover it all with melted cheese – and we'd say you have a winner on your hands!
HOW TO MAKE TUNA CASSEROLE IN A RICE COOKER
This is where you get to see just how easy it is to make this delicious tuna rice casserole.
And – hey… we get to show off a little too, ha!
You see, your Tiger rice cooker is definitely up to the task of cooking perfect rice AND the other elements of this easy tuna casserole at the same time.
To make this simple comfort food classic, simply place your rinsed rice and water in the inner pot of your multi-cooker. Then load the savory ingredients into the Tacook cooking plate.
When you select the Synchro-Cooking function, the steam generated from the cooking rice cooks everything else at the same time.
The result is an ooey gooey classic tuna, cheese and rice casserole – all made better with bacon!
You know there's nothing wrong with comfort food that's ready in a flash. And you'll love the minimal kitchen cleanup.
But, best of all… dinner will be absolutely delicious!
Products used in this recipe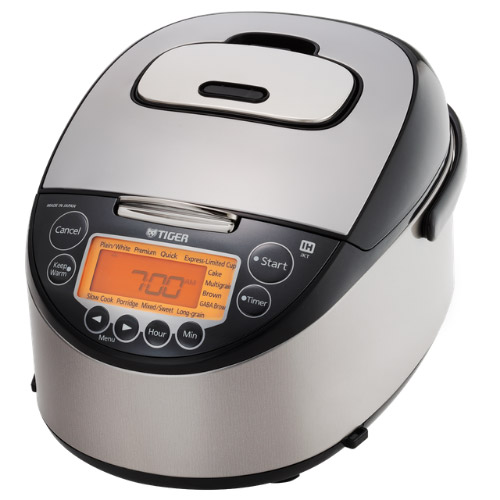 Induction Heating Rice Cooker JKT-D10U/18U
Made in Japan The TIGER JKT-D multi-functional induction heating (IH) electric rice cooker allows yo […]
LEARN MORE