Rice Cooker
Acqua Pazza
Gluten Free
Synchro Cooking
What's your favorite Italian recipe?
Sure, it can be tough to narrow it down. While we're huge fans of classics like lasagna and umami loaded Parmesan risotto, we also just can't get enough Italian seafood in our bellies!
Well, if you're anything like us, we've got a recipe that is sure to be a hit around your dinner table.
This acqua pazza recipe marries flaky cod with savory black olives and garden fresh string beans.
Best part: you can make this entire Mediterranean fish recipe in your rice cooker!
Servings

1

Preparation
Cooking
Ingredients
1 cups (supplied measuring cup) of  white rice
1 Cod fillet
A dash of salt and pepper·
3 tbsp onions (chopped finely
3 pcs of string beans
4 pcs of black olives
1 tsp olive oil
Thyme as desired
Lemon as desired
Directions
Season the cod with salt and pepper. Chop the onion finely and cut the string beans and black olives into halves.
Place 1 in the tacook cooking plate, drizzle with olive oil, and then sprinkle it with thyme.
Put the washed rice and water (up to indicated level) in the inner pot, and then put it in the rice cooker.
Set the cooking plate in the inner pot. Select the [Synchro-Cooking] menu and press the [Start] key.
When cooking is completed, place the dish on the serving plate. Serve with a slice of lemon.
WHAT IS ACQUA PAZZA?
Acqua pazza is an Italian dish consisting of poached white fish.
And while many variations call for this poached fish recipe to be served in everything from light, herby broths all the way to heavier tomato based sauces, there are actually a ton of permutations of this easy fish recipe.
Now, while this dish likely originated in the Neapolitan area of Italy – the name was coined in Tuscany.
And what a name it is!
Fun fact: acqua pazza literally means 'crazy water' in Italian.
HOW TO POACH FISH IN A RICE COOKER
When it comes to cooking a healthy fish recipe at home, we wouldn't fault you for not thinking of your rice cooker as your go-to appliance.
Hey – until recently, the technology just wasn't there.
Well, we're here to see if we can't change all that! You see, your Tiger rice cooker is totally up to the task of making this delicious and healthy acqua pazza recipe with no fuss!
You see, your multicooker comes with a Tacook cooking plate – which allows you to cook a composed dish at the same time your rice is cooking.
As the rice cooks away in the inner pot, that very same steam vapor rises and cooks your fish to tender, flaky perfection.
Simply select the Synchro-Cooking function and your dinner will be ready as soon as the timer sounds off.
Easy AND delicious😋
Buon Appetito!
Products used in this recipe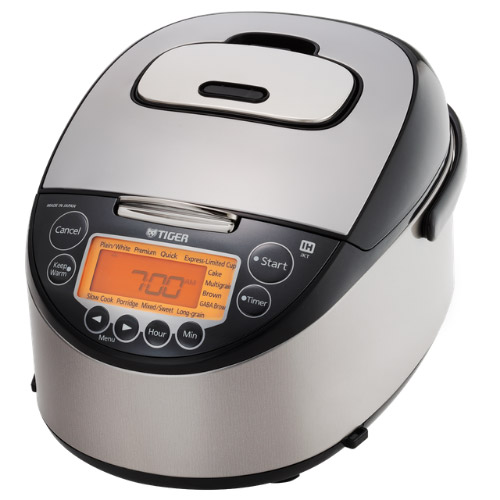 Induction Heating Rice Cooker JKT-D10U/18U
Made in Japan The TIGER JKT-D multi-functional induction heating (IH) electric rice cooker allows yo […]
LEARN MORE