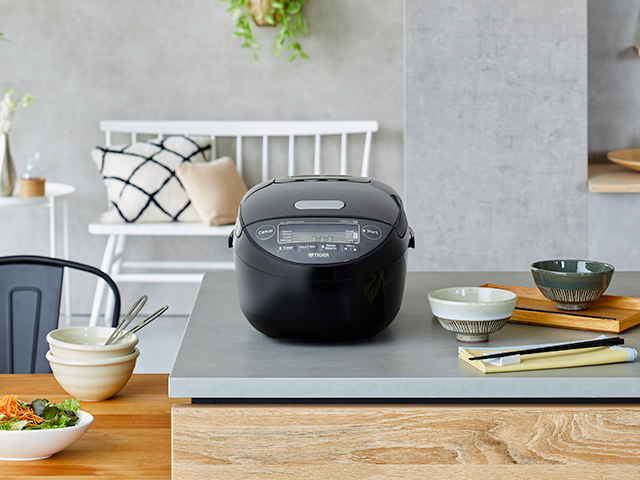 Pressure IH Rice Cooker JPM-H18V
PRODUCT CONCEPT
Enjoy delicious, fluffy rice with TIGER's "3 layer ceramic coating inner pot" and its pressure technology. It also offers a variety of cooking menus for your meals by simply putting the ingredients in to the rice cooker. It brings enjoyable meals to everyday living.
| | | |
| --- | --- | --- |
| Capacity | Model No. | Price |
| 1.8L | JPM-H18V | 14,990,000 ₫ |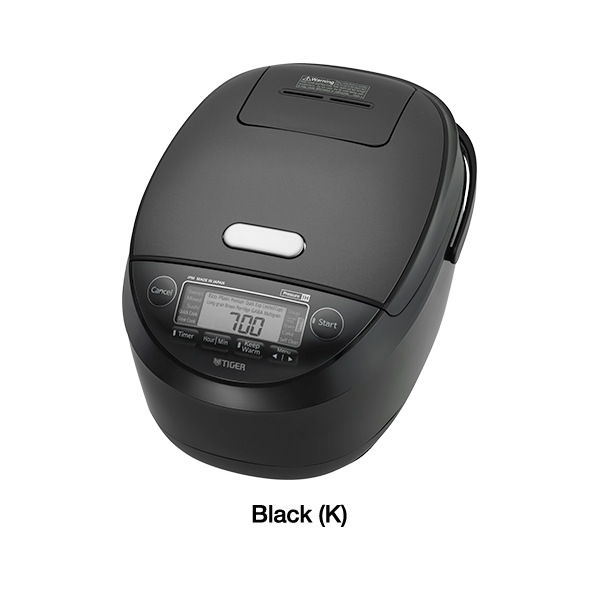 JPM-H18V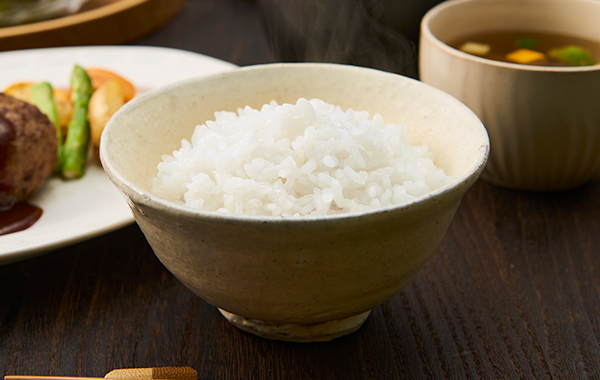 PRODUCT FEATURES
---
We have made it possible to cook delicious rice and variety of dishes.
We have achieved delicious, fluffy rice with the "3 layer ceramic-coating inner pot" and pressure IH technology. Simply putting the ingredients in to the rice cooker, it enables to make daily meals delicious and convenient with shorter cooking hours or with slow cooking menu.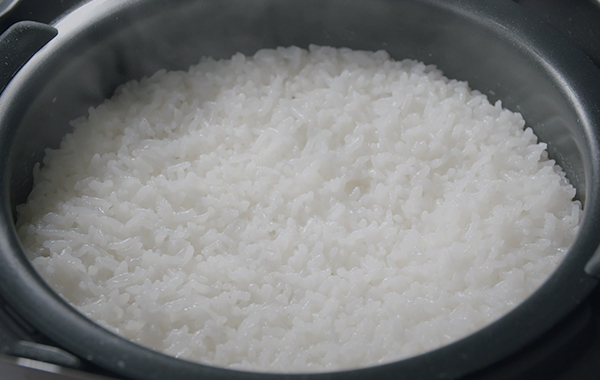 1. The secret of the deliciousness
---
"Induction heating", "3 layer ceramic coating inner pot" and "Pressure" realize to cook delicious rice.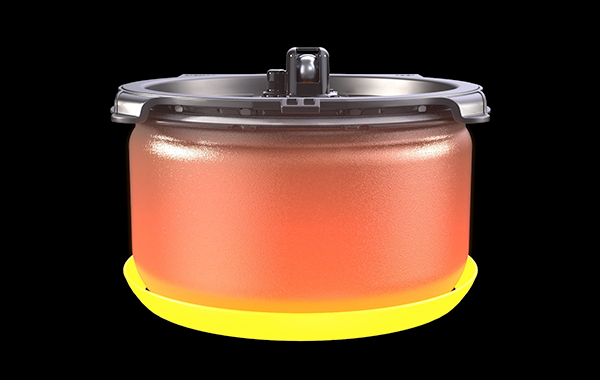 2. IH (induction heating) system
---
The IH coils are arranged to fully wrap the pot and recreate the strong heat of an open fire.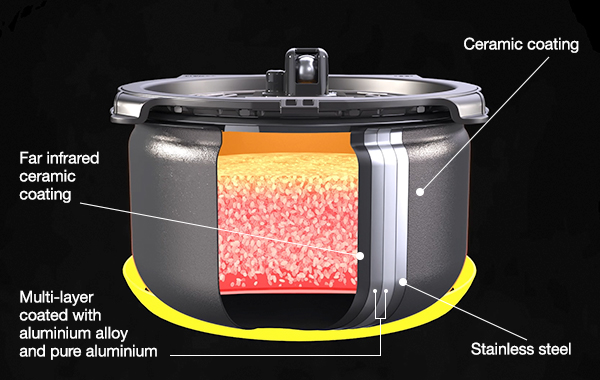 3. 3 layer ceramic coating inner pot (thickness 1.7mm)
---
Layers of different metals improve the heat diffusion. "IH" generates "high heat power" and the heat is transmitted quickly and directly to the rice, allowing each grain of rice to cook uniformly and fluffy.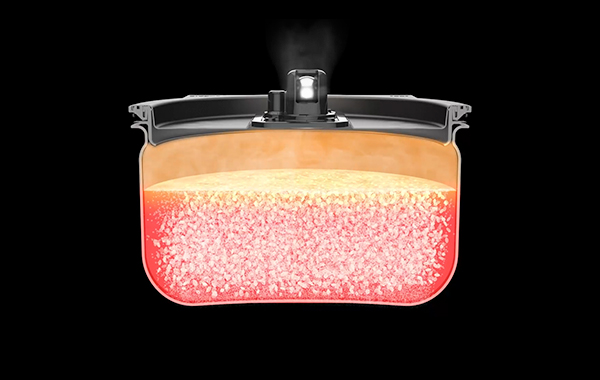 4. Heat storage property of ceramic coating
---
The "ceramic coating" on the outside of the pot improves heat storage. It keeps the high temperature and brings out the sweetness of the rice.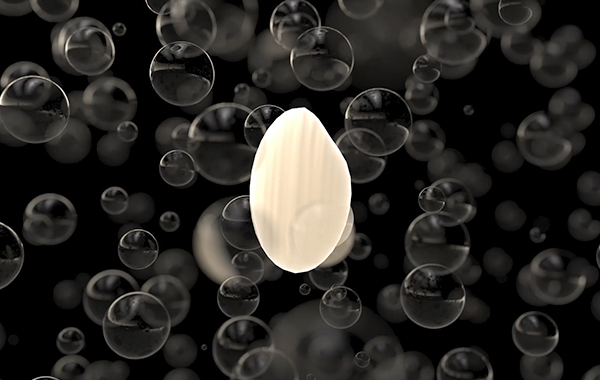 5. Bubbling from the far-infrared ceramic coating
---
Fine bubbles due to the "ceramic coating" on the inside of the pot cover the rice, bringing out its stickiness and elasticity. And far-infrared effect brings out the flavor of rice.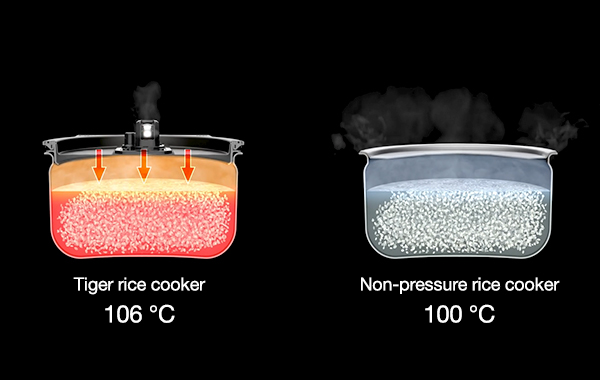 6. Pressure cooking
---
In contrast to rice cookers without pressure can only boil the water to 100℃, the Tiger's pressure rice cooker raises the temperature to 106℃ by applying the pressure around 1.25 atm with cooking.
High-temperature boiling more storongly brings out the sweetness of rice.
High-temperature boiling 1.25 atm: at least 106℃
*Temperature at the exterior bottom of the inner pot.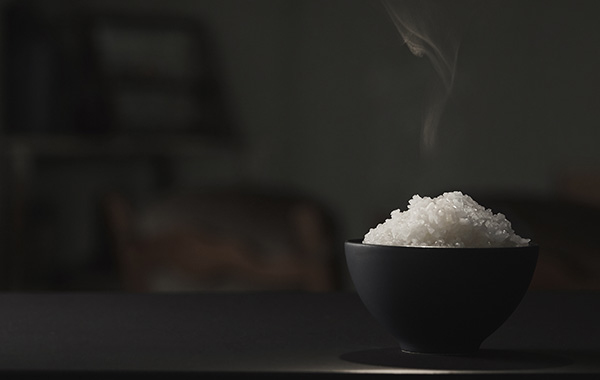 7. "Exp. Limited Cups" menu
---
"Exp. Limited Cups" menu enables to cook one bowl of rice (0.5 cup) around 15 minutes*1, and one cup around 17 minutes *2 in the shortest, and it allows to eat freshly-cooked rice even on busy days. "3 layer ceramic coating inner pot" has the infrared effect, heat storage property and multi-layered pot with well heat conductivity. These are unique functions and the heat is transmitted properly and effectively to the rice during the heating and steaming processes. Therefore, it realizes cooking rice with saving time.
*1 0.5 cup can only be cooked in 100 size
*2 When cooking one cup of plain rice in 100 size. Two cups of plain rice take approximately 20 minutes in 180 size. Room temperature is 23℃, water temperature is 23℃. Will slightly differ according to the type of rice, room temperature and water temperature.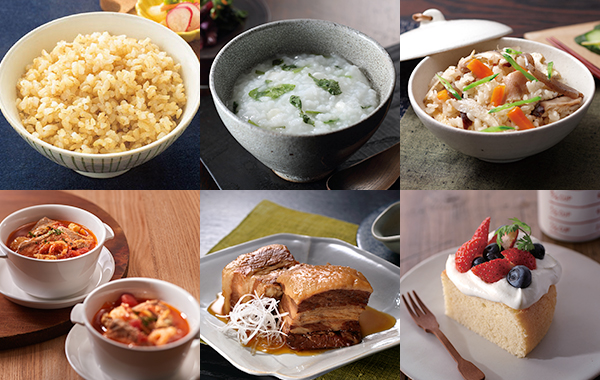 8. 20 cooking menus
---
Plain
Premium
Eco
Sushi
Quick
Exp. Limited Cups
Longgrain
Multigrain
Mixed
Sweet
Porridge
Brown Porridge
Brown
Brown GABA
Quick Cook
Slow Cook
Soup
Bread Fermentation
Bread Bake
Cake
Even with this model comes various menus to enjoy in different dining settings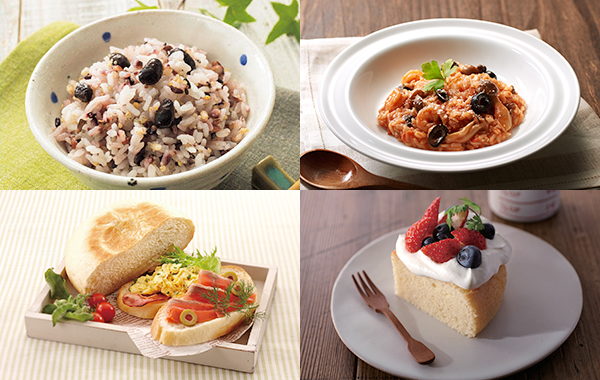 9. Laden with healthy, time saving and fun menus
---
One rice cooker has the potential to serve richly varied menus: healthy menu is ideal for cooking brown rice and mixed grains, time saving menu is suitable for busy times, fun menu is ideal for baking cakes, bread or making sushi, etc.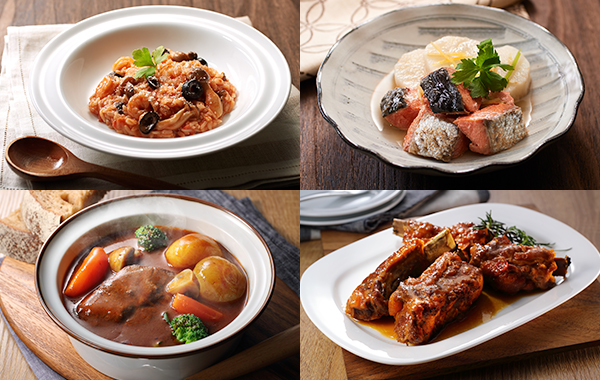 10. "Quick" cook & "Slow" cook
---
Quick Cook
After simmering at a heat near to boiling, cooking is over in an instance. Cooking time can be set by the minute between 1 and 30 minutes, so ideal for short cooking. Cooking is completed by simply placing the cut raw ingredients in the cooker and seasoning, so handy menus for busy weekdays.
Example: Risotto-style prawns and mushrooms with tomato cream sauce
Boiled sweet salted salmon and Chinese yam with Japanese flavor
Slow Cook
For the first 60 minutes it heats at a fairly high temperature, and after that the power lessens to control the steam and slowly simmer, so there is no worry of food breaking up while cooking or it boiling away. It can be used as a slow cooker with time settings ranging from 30 minutes to 360 minutes. At the weekend, leave the authentic simmered dishes to the rice cooker, and enjoy relaxed meals at home.
Example: Beef stew with filling shank meat
Spare ribs in orange marinade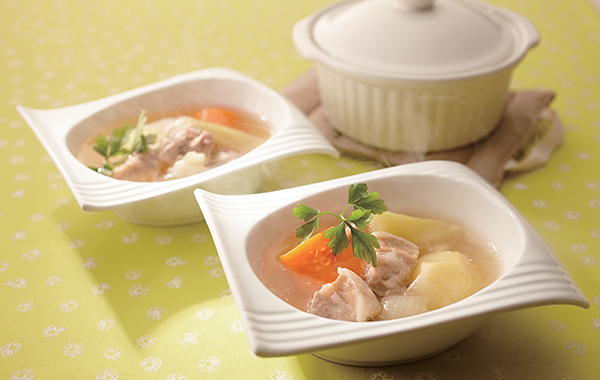 11. Soup
---
In the "soup" menu, pot-au-feu, burdock and Japanese yam soup, etc., are easy to make.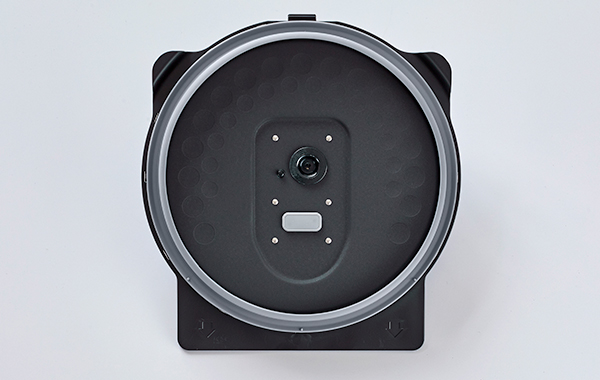 12. Glossy inner lid
---
The inner lid is processed for a hydrophilic effect. Water droplets are unlikely to form; during heating they quickly evaporate so unnecessary moisture is eliminated, while during the keep warm function, moisture creates a film that successfully maintains the temperature of the rice. It prevents dripping since water droplets are less likely to form.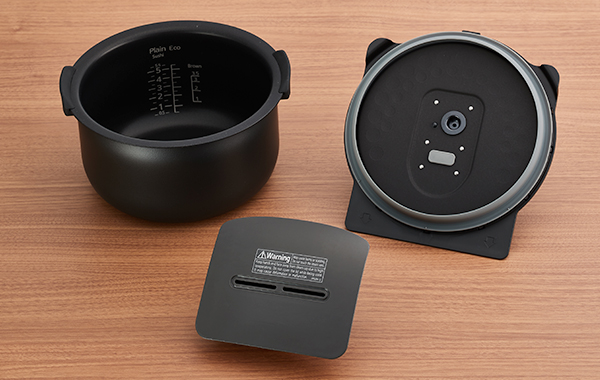 13. Easy to clean
---
Three parts to be cleaned
(1) Inner pot
(2) Inner lid
(3) Detachable steam cap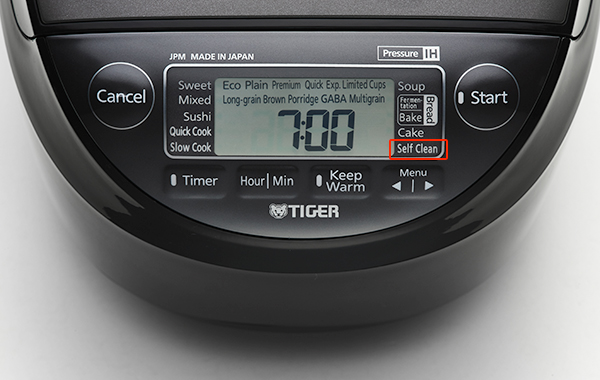 14. Selecting the Cleaning Menu ('Self Clean')
---
By pouring water into the inner pot and selecting the "Washing" menu after finishing cooking, the water will boil and remove any noticeable smells from cooking rice and dishes.
* There are cases where, according to the nature of the smell, it does not vanish completely.
15. Easy-to-clean frame embossing
---
Easy-to-clean embossed frame allows sticky foam to come off easily.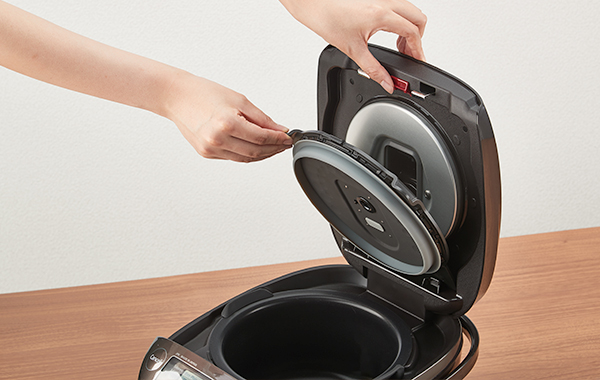 16. Detachable with simple one-touch operation
---
Inner lid can be detached with easy one-touch operation.
Product number
JPM-H18V
Color
Black<K>
Rated Voltage
220V
Rated Frequency
50Hz
Heating System
Pressure IH
Cooking and Warming Capacity (Plain Rice)
0.36-1.8L
2-10 Cups
Capacity
1.8L
Electric Rating
1210W
Size W×D×H (Approximate value)
28.8×40.7×24.4(cm)
Weight (Approximate value)
6.6kg
Producing Country
Japan