Rice Cooker
Sweet Potato with Chili Lime Sauce
Gluten Free
Synchro Cooking
Vegetarian
Get ready! This sweet potato with chili lime sauce will hit you in the mouth (in a good way of course). There's nothing better than root vegetable recipes with ALL the flavors!
Servings

3-4

Preparation

20 min

Cooking
Ingredients
1 large Sweet potato, peeled and cut into wedges
1 tsp Vegetable or grapeseed oil
½ tsp Chili oil, or more if you like it spicy!
1 Garlic clove, minced
2 Scallions, finely chopped
2 tbsp Fresh lime juice
1 tbsp Fish sauce
Directions
Prepare the rice and set in inner pot.
Place the vegetables, garlic, jalapeno pepper, butter and chili powder in the Tacook cooking plate and mix well. 
Close the lid and choose the [Synchro-Cooking] function. Press start.
When the food is cooked, transfer the vegetables to a bowl and top with lime juice, salt, and olive oil. Eat together with the rice.
AN EASY SWEET POTATO RECIPE WITH A THAI FLAVOR PROFILE
Sure, we love simple roasted sweet potatoes as much as the next guy. There's just something comforting wrapped up in the soft, buttery and sweet flesh of a sweet potato, no matter how it's cooked.
Well, we're also huge fans of the Thai flavor profile that manages to mix salty, spicy, sour and sweet together like it's no big deal. And we're here to tell you that those huge flavors work wonders with sweet potatoes.
In the chili lime sauce, there's a bit of slow-burn fire from chili oil melded with saline notes from fish sauce. Garlic delivers a pungent, earthy essence which is brightened considerably by pucker-worthy lime juice.
Scallions bring a garden-fresh bite to the whole dish. And we'd be remiss if we didn't mention the natural nutty sweetness the sweet potatoes deliver to the overall flavor.
It's not your typical sweet potato preparation (and of that we're super proud!).
Hey, not only did we play around with the flavor profile of these rice cooker sweet potatoes – we tweaked the cooking process as well. You're going to love how easy it is to make this easy sweet potato recipe with Thai sauce in your rice cooker!
HOW TO COOK SWEET POTATOES IN A RICE COOKER
When it comes to making sweet potatoes in a rice cooker, it's easier than you might think! And with your Tiger multifunctional rice cooker, you can even cook rice at the same time.
Simply add your rinsed rice and water to the inner pot – and then load your peeled sweet potato wedges into the Tacook cooking plate. When you select the Synchro-Cooking setting, your rice and sweet potatoes cook to perfection at the same time.
While that's going on, mix up the Southeast Asian style sauce and pour it over your sweet potatoes once they're cooked.
You and your family are going to love digging into dinner tonight!
Bon appetit😋
Products used in this recipe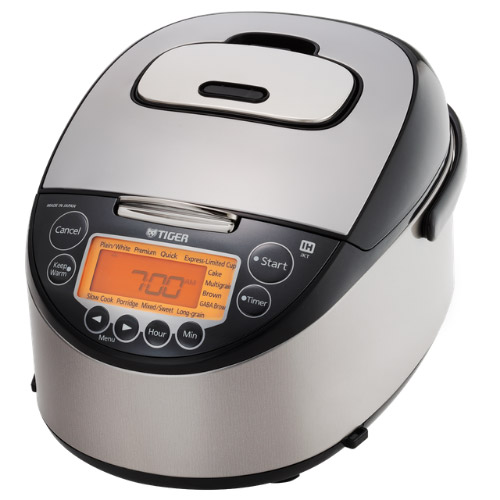 Induction Heating Rice Cooker JKT-D10U/18U
Made in Japan The TIGER JKT-D multi-functional induction heating (IH) electric rice cooker allows yo […]
LEARN MORE