Rice Cooker
Stuffed Bell Peppers
How great is it to look at a dinner plate loaded with colorful veggies and meat and think… mmm – you're going in my belly!?
Well, if you're like us, you think that's a pretty awesome moment indeed.
Make dinner at your house a colorful, savory and healthy affair with these meat and cheese loaded stuffed bell peppers.
Ready in the push of a button!
Servings

3

Preparation
Cooking
Ingredients
1/4 lb (100 g) Ground beef and pork
2 Green bell peppers (small)
1 Red bell pepper (small)
1/4 Onion (small)
1 tbsp Bread crumbs
1-1/2 tsp Milk
A pinch Salt and pepper
A pinch Nutmeg
1/2 cup (1 oz / 30 g) Shredded cheese
Flour as needed
1 tbsp Worcestershire sauce
2 tbsp Tomato ketchup
Mustard for flavor
Directions
Rinse the green and red bell peppers, cut them into halves and remove the seeds. If using large bell peppers, cut into fourths.
Chop the onions finely and soak bread crumbs in milk.
Mix the onions, soaked bread crumbs, salt, pepper, nutmeg and ground meat, and divide into 6 even portions.
Sprinkle flour on the meat and stuff into the cut bell peppers. Sprinkle shredded cheese on top.
Place the ingredients in the tacook cooking plate and washed rice and water in the inner pot and set in the rice cooker.
Set the cooking plate in the inner pot. Select the "Synchro-Cooking" menu and press the [Start/Rinse-free] key.
When cooking is complete, place the dish on a serving plate. Mix the ingredients of the sauce and serve on top.
ONE OF OUR FAVORITE RECIPES WITH GROUND BEEF
These yummy stuffed bell peppers are brimming with a savory mixture of ground beef and pork. Onions and milk-soaked bread crumbs keep the interior moist.
The whole things is topped with delicious ooey-gooey melted cheese.
You might just say these stuffed bell peppers have ALL the flavors.
But stuffed peppers aren't just a delicious dinner for you and the family – they also happen to be pretty dang healthy to boot!
BELL PEPPERS ARE GOOD FOR YOU
Aside from being delicious, green peppers and red peppers are just plain good for what ails ya.
Yep… bell peppers are loaded with Vitamin C, antioxidants – and are a wonderful source of vitamin B6 and folate.
Bonus: eating these colorful veggies is good for your eyesight. You see, bell peppers have a ton of vitamin A to help keep your peepers in tip top shape.
We like!
HOW TO MAKE STUFFED PEPPERS IN A RICE COOKER
It's not too much of a stretch that we're making these ground pork and beef stuffed peppers with rice in a rice cooker.
Your Tiger rice cooker comes equipped with a nifty Tacook cooking plate that allows you to cook your rice in the inner pot, while steaming a composed dish at the same time with the same heat source.
And, whether you feel like that's a bit of kitchen science or just plain magic, you can make this cheesy stuffed bell pepper recipe with the push of a button in your multicooker.
Easy AND delicious.
Dinner is served.
Enjoy!
Products used in this recipe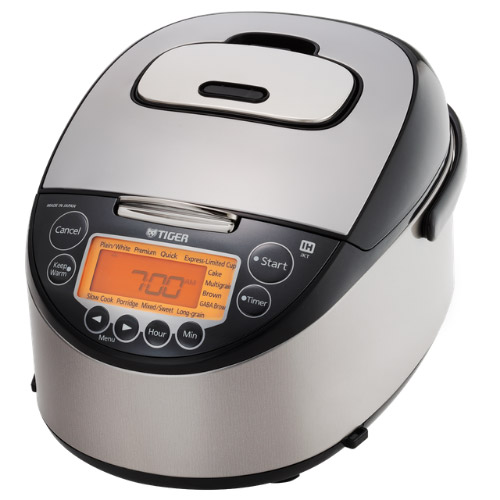 Induction Heating Rice Cooker JKT-D10U/18U
Made in Japan The TIGER JKT-D multi-functional induction heating (IH) electric rice cooker allows yo […]
LEARN MORE