Rice Cooker
Strawberry Jam
Your entire family will love sitting down to breakfast when this homemade strawberry jam is on the table. Only three ingredients – and ready in a flash!
Servings

3-4

Preparation

60 min

Cooking

60 min
Ingredients
1 ½ pound Strawberries, hulled and chopped in half
3/4 cup Sugar
2 tbsp Fresh lemon juice
Directions
Add the strawberries and sugar to the inner pot and leave for 1 hour. This will allow the strawberries to soften and let out some water.
Close the lid and set the [Slow Cook] function. Set the timer to 60 minutes and press Start.
Check on the jam a few times during the cooking process and give it a stir. 
When the cooking is done, transfer the jam into a blender and add the lemon juice. Pulse a few times until desired consistency. Transfer the jam into a jar and refrigerate.
THIS HOMEMADE STRAWBERRY JAM RECIPE IS SURE TO BRIGHTEN UP YOUR BREAKFAST TABLE
Toast, waffles or croissants?
Um, we'll take all three please! Breakfast and brunch are fantastic opportunities to indulge in breads and pastries. Since you've got all day to burn those calories, it's one of our favorite meals to pile our plates high.
And whether you're having a fluffy Belgian waffle, or sticking with a more sensible slice of 12-grain toast, there's nothing better than spreading fresh strawberry jam over the top before you take your first bite.
This rice cooker jam starts with ripe strawberries and only requires a bit of sugar and a couple tablespoons of fresh lemon juice. The result is a bright ruby red jam with both sweetness and tartness in the foreground.
Heck, we never thought it was possible to create jams that somehow tasted more like the fruit than just taking a bite from a fresh strawberry. But that's the beauty of making your own homemade jam from scratch. It's fresh in a way the store bought stuff aspires to.
Bonus: making jam in a rice cooker is about as easy as it gets in the kitchen!
HOW TO MAKE STRAWBERRY JAM IN A RICE COOKER
The key to this delicious homemade jam is macerating the strawberries. Now, while that may sound intimidating, it's a simple process of adding sugar to the fresh strawberries and letting them sit for about an hour or so.
The sugar draws liquid out of the strawberries and creates a syrup that is a sweetened essence of the fruit.
Once you've macerated your fresh strawberries, simply close the lid in your Tiger multifunctional rice cooker and use the Slow Cook function for an hour.
When the timer sounds off, all that's left is to pulse the cooked fruit in a food processor with a bit of lemon juice. The resulting jam is sweet, tart and ready to meet your favorite breakfast pastries.
It's going to be a great day!
Products used in this recipe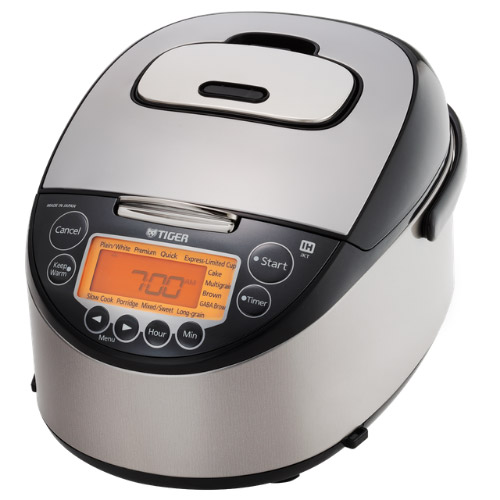 Induction Heating Rice Cooker JKT-D10U/18U
Made in Japan The TIGER JKT-D multi-functional induction heating (IH) electric rice cooker allows yo […]
LEARN MORE