Rice Cooker
Steamed Japanese Amberjack with Black Bean Sauce
Make this delicious Japanese amberjack with black bean sauce in your home kitchen with minimal fuss.
You'll love how easy it is to make in your rice cooker – and your diners will be blown away by the flavor!
Servings

2

Preparation
Cooking
Ingredients
2 fillet Japanese amberjack
2 inches (5cm) Shironegi (white leek)
3 to 4 Ginger slices (with skin)
Cilantro leaves for garnish
sesame oil for flavor
1 tbsp Sake (rice wine)
1/2 tsp Salt
A pinch Salt
1 tbsp Sake (rice wine)
A pinch Sesame
1 tsp Sugar
1/2 tbsp Soy sauce
1 tsp Garlic, finely chopped
10 Chinese black beans
(If Chinese black beans are not available, use 1/2 tbsp  black bean sauce)
Directions
Cut the Japanese amberjack into halves and season with salt and sake
Remove the green core from the shironegi (white leek), soak in water and then julienne into thin hair like strips.
Mix seasoning mixture.
Place the shironegi core, ginger, and amberjack in the tacook cooking plate cover with seasoning mixture.
Place the washed rice and water in the inner pot and set in the rice cooker.
Set the cooking plate in the inner pot. Select the "Synchro-Cooking" menu and press the [Start/Rinse-free] key.
When cooking is complete, place the dish on a serving plate. Drizzle sesame oil as desired. Serve the dish with thinly cut
shironegi (white leek) and cilantro leaves.
WHAT IS JAPANESE AMBERJACK?
Japanese amberjack is a fish native to the Pacific waters that run between Japan and Hawaii. And while it is commonly referred to as yellowtail, in Japan it is called hamachi.
Now, hamachi is one of our favorites to order at the sushi bar. But did you know that yellowtail is also wonderful in grilled and steamed fish recipes?
That's due to the somewhat high fat content of this fish – which produces flaky and delicate results when steamed.
Add a bit of Chinese influenced black bean sauce to those flaky, tender fish fillets and dinner is going to be EPIC!
Seriously, it's delicious.
And, aside from the amazing texture and assertive flavors in this Japanese fish recipe, you're going to LOVE how easy it is to prepare at home!
HOW TO STEAM HAMACHI IN A RICE COOKER
OK… You may not think of your rice cooker first when preparing a delicate fish recipe in your home kitchen. But we're here to change all that!
You see, your Tiger rice cooker doesn't just make perfect rice. It is a super versatile appliance when it comes to cooking all sorts of food.
For this steamed Japanese amberjack recipe, load the rinsed rice and water into the inner pot of your multi cooker like usual. Then just place all the elements for the fish in the Tacook cooking plate.
When you use the Synchro-Cooking setting, the heated vapor created by the cooking rice will steam your hamachi at the same time.
It's a little bit of magic – with a hefty dose of science!
And it makes dinner time a breeze when it comes to prep and clean up.
Itadakimasu!
Products used in this recipe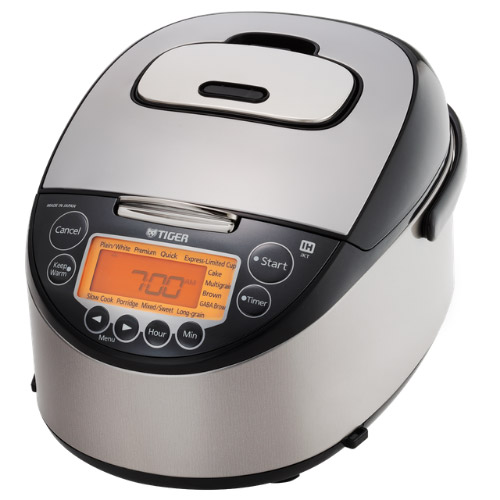 Induction Heating Rice Cooker JKT-D10U/18U
Made in Japan The TIGER JKT-D multi-functional induction heating (IH) electric rice cooker allows yo […]
LEARN MORE