Rice Cooker
Steamed Horse Mackerel with Cheese
Fish is just one of those wonder-foods. Not only is it delicious, it's loaded with protein and heart-healthy omega-3s.
But – hey – sometimes cooking fish at home can be sort of a messy and laborious undertaking, right!?
Well, we're here to tell you that this steamed mackerel with cabbage and potatoes ticks all the boxes on the flavor spectrum – and is super easy to cook.
Servings

2

Preparation
Cooking
Ingredients
3 fillets Horse mackerel (without bones)
Salt and pepper for flavor
Flour as needed
1 tbsp Tomato ketchup
3 sliced Cheese
2 Cabbage leaves
3 Cherry tomatoes
1 Potatoes
2 Black olives
1/2 Soup stock cube
Directions
Peel potatoes and cut into 1/4 inch (5 mm) slices. Cut cabbage into 1/2 inch (1 cm) slices.
Remove stems from cherry tomatoes and slice black olives.
Season the horse mackerel with salt and pepper and dredge with flour.
Place potatoes and cabbage on the tacook cooking plate. Season with the crushed soup stock cube and then put the cherry tomatoes, black olives and mackerel on top.
Place the cheese slices on the horse mackerel and then put tomato ketchup on top.
Place the washed rice and water in the inner pot and set in the rice cooker.
Set the cooking plate in the inner pot. Select the "Synchro-Cooking" menu and press the [Start/Rinse-free] key.
When cooking is complete, place the dish on a serving plate.
WHAT IS HORSE MACKEREL?
Now for this delicious steamed fish recipe, we're using horse mackerel. Known in Japanese as aji (あじ), these flavorful fish are part of the larger mackerel family.
Mackerel (saba, 鯖) is a great source of omega-3 fatty acids and is quite oily. The firm and flaky meat makes it the perfect fish for this hearty steamed mackerel with potatoes, cherry tomatoes, olives and healthy cabbage recipe. It's an ample meal you could easily place in the comfort-food recipe box.
And we think you're going to love how easy it is to make at home in your rice cooker!
HOW TO COOK MACKEREL IN A RICE COOKER
Whether you're using Japanese horse mackerel, or another fish from the mackerel family, the steps for this healthy and delicious recipe are super easy to follow.
OK – your rice cooker may not be the first appliance you think of when it comes to steaming fish. But once you make this hearty mackerel with potatoes and cheese in your Tiger multicooker, we think you'll return to it again and again😋
And that's because of the Tacook cooking plate.
You see, this cooking plate allows you to steam a composed dish and cook perfect rice at the same time, using the same heat source.
It's truly cooking with the press of a button!
And since you'll only be using one appliance to make all the elements of this yummy dinner, cleanup will be as easy as it gets.
Let's eat!
Products used in this recipe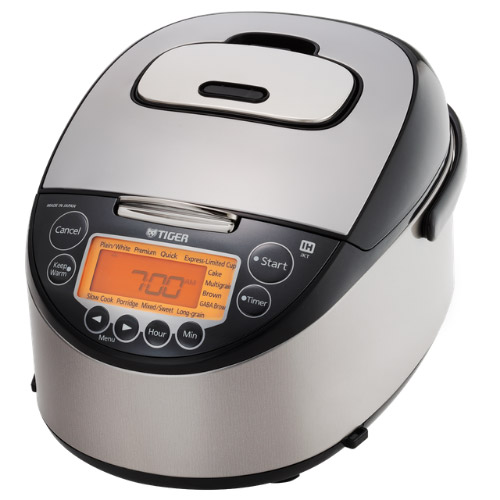 Induction Heating Rice Cooker JKT-D10U/18U
Made in Japan The TIGER JKT-D multi-functional induction heating (IH) electric rice cooker allows yo […]
LEARN MORE