Rice Cooker
Slow Cooker Mac and Cheese
We get an extra spring in our step when it's macaroni and cheese night. While it's not a conscious thing, it's there. A bounce that propels us homeward towards dinner.
And, it's no surprise we can't wait to get home from work when ooey gooey mac and cheese is on the menu.
Next time you're needing a little extra cheesy goodness at your place, give this delicious slow cooker mac and cheese recipe a shot in your rice cooker.
After a long day of adulting, you deserve an indulgent, home cooked meal that is full of flavor – with as few steps as possible!
Servings

2

Preparation

10 min

Cooking

40 min
Ingredients
2 cups elbow macaroni, dry
2 cups water
1 cup frozen green peas, thawed
1 small red bell pepper, diced
1 cup skim or fat free milk
8 ounces sharp cheddar cheese
1 teaspoon kosher salt
1 tablespoon soy sauce
1 teaspoon ground black pepper
Directions
Put macaroni, water, green peas and red bell pepper in rice cooker and close the lid.
Slow cook for 30 minutes.
Add milk, cheese, salt, soy sauce and pepper and stir.
Close and keep warm for 7-10 minutes before stirring again and serving.
THE EASIEST HOMEMADE MAC AND CHEESE
While most mac and cheese recipes could hardly be classified as super difficult, there is the big pot of boiling water to contend with – along with keeping an eye on your macaroni (and constantly testing it) so it doesn't overcook.
Difficult, no. Labor intensive? Kinda.
Well, with this easy mac and cheese recipe, you can let your Tiger multi cooker take care of the macaroni – and all the other ingredients for that matter!
Yep, this is as simple as it gets.
But, just because it's easy, doesn't mean it has to taste that way!
This savory, loaded mac and cheese gets an umami punch from a bit of soy sauce – and a healthy pop of color and texture from green peas and red pepper.
YUM!
HOW TO MAKE MAC AND CHEESE IN A RICE COOKER
The best part of this rice cooker mac and cheese recipe – aside from being delicious – is that you just toss your macaroni, veggies and water into the inner pot of your Tiger multi cooker and use the Slow Cook setting for 30 minutes.
Your macaroni and veggies will turn out perfectly.
Then, while your rice cooker is in Keep Warm mode, the magic really happens. Add your spices, cheese and milk, stir and close the lid. A few minutes later when you open and stir again, you'll have the most decadent, ooey gooey mac and cheese ready to plate up.
Check the video for step by step instructions.
It's a perfect recipe for the kids – AND the kid that lives in all of us, no matter how adult our lives may seem.
Bonus: when you make this rice cooker mac and cheese in the hot summer months, there's no need to boil water on the stove top. Your kitchen stays cool as a cucumber with your Tiger multi cooker. Win!
Products used in this recipe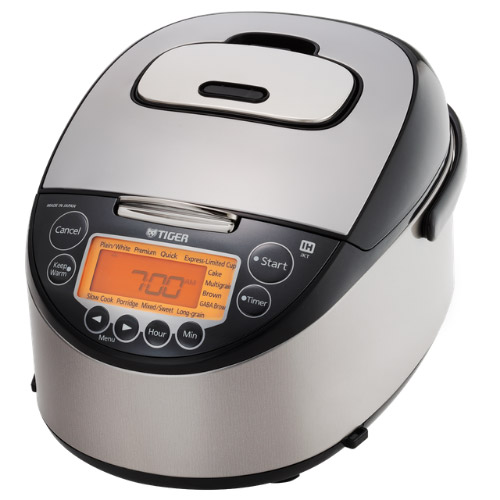 Induction Heating Rice Cooker JKT-D10U/18U
Made in Japan The TIGER JKT-D multi-functional induction heating (IH) electric rice cooker allows yo […]
LEARN MORE