Rice Cooker
Slow Cooker Chicken Ratatouille
Isn't it just the best when a dish that you savored on a balmy summer evening can easily make an appearance on the dinner table in frigid January as well?!
Well, this slow cooker chicken ratatouille is one of those season bending, yummy and easy dinner recipes.
You see, loaded with garden fresh veggies and savory chicken, it has the lightness you want in the summertime – and the full-on slow cooked flavors that hit the spot in the wintertime.
This is one slow cooker recipe you can whip up no matter the season.
Servings

3-4

Preparation

20 min

Cooking

60 min
Ingredients
1/2 Boneless, skinless chicken breast, cut into bite size chunks (3 oz or 1/2 cup)
1/2 Eggplant, cut into bite sized chunks (1 cup)
1/2 Zucchini, cut into half-inch slices (1/2 cup)
1/2 Green bell pepper, thinly sliced (1 cup)
1/2 Medium sweet onion, thinly sliced (1 cup)
1/4 tsp Minced garlic
2 Roma tomatoes, quartered and seeded (1 cup)
1/4 can Black olives, drained
1-1/2 tbsp Olive Oil
1/4 tsp Mediterranean dried oregano
1/4 tsp Salt for flavor
1/4 tsp Black pepper for flavor
1 tsp Fresh basil, sliced and sprinkled over the top before serving
2 cups Rice
Directions
Prepare all ingredients and place in inner pot. Place the inner pot in the rice cooker and heat for 60 minutes with the "Slow Cook" menu.
When cooking is complete, place the dish on a serving plate.
Cook 2 cups of rice in the rice cooker and also serve on the side.
WHAT IS RATATOUILLE?
Ratatouille is a French tomato based stew that also typically contains garlic, onions, zucchini and eggplant.
This stewed vegetable dish hails from Provence – in the southeastern corner of France.
Fun fact: a very liberal translation of ratatouille is 'to stir up'.
Now, while most ratatouille recipes are usually vegetarian, we've opted to add chicken, both for its savory flavor – and protein rich heft.
That said, if you're making this on Meatless-Monday – or generally follow a vegetarian diet, just omit the chicken and you're good to go!
We've also added black olives to this classic Mediterranean one pot meal. The savory pops of flavor they bring to the dinner table are unreal!
HOW TO MAKE RATATOUILLE IN A RICE COOKER
You're going to love making this easy ratatouille recipe at home because it's literally done with the press of a button!
Yep – while it may seem strange to make ratatouille in a rice cooker, that's exactly what we're doing here today! Maybe think of your Tiger rice cooker as a multi-cooker – because it can do so much in the kitchen.
Simply load all of the ingredients for your veggie loaded chicken ratatouille in the inner pot of your rice cooker – and then select the Slow Cook function for one hour.
No one has to know that the delicious French stew you just set on the dinner table was so easy to make. Your secret is safe with us, chef 😉
And you'll love the easy clean up after dinner!
Bon appétit!
Products used in this recipe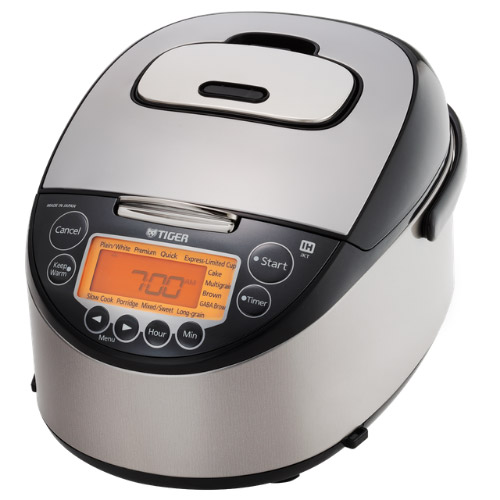 Induction Heating Rice Cooker JKT-D10U/18U
Made in Japan The TIGER JKT-D multi-functional induction heating (IH) electric rice cooker allows yo […]
LEARN MORE