Rice Cooker
Minestrone Soup + Basil Chicken
By now you may have noticed…
We're pretty big on those easy dinner recipes that feature multiple courses, all ready with the press of one single button!
They turn what might have been a long, arduous stint of cooking with multiple pots and pans in the kitchen – into a carefree and simple bit of prep (and even easier cleanup).
Well, this is one of the best easy chicken recipes to ever be paired with a healthy lentil minestrone soup.
And, it'll come as no surprise that you can totally make this basil chicken AND lentil soup in the same rice cooker.
So let's go!!
Servings

2-2

Preparation

15 min

Cooking

25 min
Ingredients
1/2 piece (5oz) chicken thigh
1 tbsp white wine
1/4 cup shredded cheese
1/4 potato
A dash of salt and pepper for garnish
Dried basil for garnish
2 tbsp onions (finely chopped)
1/8 cup carrots (small cubes)
1 tbsp lentils
1/2 piece bacon (sliced)
3.5 oz canned whole tomatoes
6.8 fl oz water
2 tsp bouillon powder
A dash of salt and pepper
Directions
Season the chicken thigh with salt, pepper, and white wine.
Cut the potato into 0.1 inch (3mm) thick slices.
Place the chicken and potato in the tacook cooking plate, and sprinkle it shredded cheese and dried basil.
Cut the onion and carrot into cubes. Cut the bacon into 0.4 inch (1cm) thick slices. Wash the lentils lightly.
Put the onion, carrot and bacon in the inner pot. Add whole tomatoes, water and bouillon powder and mix it with salt and pepper. Place inner pot in the rice cooker.
Place the cooking plate on the inner pot. Heat for 25 minutes using the [Stew・Soup] menu.
When cooking is completed, place each dish on the serving plate.
MINESTRONE SOUP… WITH LENTILS?
You bet!
You see, minestrone soup is a thick Italian vegetable soup commonly made of with a base of onions, carrots and tomatoes. And while you'll sometimes find certain recipes containing pasta or rice – almost all minestrone soup recipes call for the inclusion of beans.
And what better legume to use than the mighty lentil in this easy, healthy soup.
Lentils are loaded with protein, iron and folate – and are super low in calories. We like!
There's a wonderful hearty and smoky undertone to this rice cooker soup recipe from the inclusion of a bit of bacon. It really cranks the flavor dial to eleven!
A CHEESY CHICKEN RECIPE
Now, while your minestrone lentil soup cooks to perfection in the inner pot of your Tiger rice cooker, you can make this delicious cheese topped basil chicken recipe in the Tacook cooking plate at the same time.
Simply select the STEW • SOUP setting on your Tiger JAJ-A multicooker – and dinner will be ready in 25 short minutes!
The cheese topped chicken and potatoes are savory with a little garden fresh pop from the basil.
And your minestrone soup will be hearty and filling – yet light enough to adhere to your New Year's resolution to eat healthy.
Bon appétit!
Products used in this recipe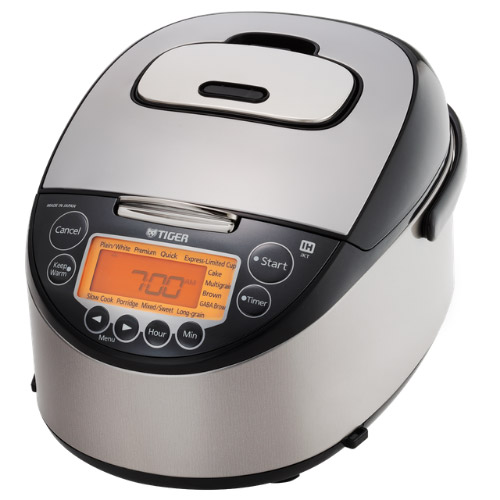 Induction Heating Rice Cooker JKT-D10U/18U
Made in Japan The TIGER JKT-D multi-functional induction heating (IH) electric rice cooker allows yo […]
LEARN MORE