Rice Cooker
Jujube and Chicken Fillet Rice
This hearty chicken and rice recipe is studded with savory wood ear mushrooms – along with the understated sweetness of goji berries and the tart pop of Chinese red dates. It's absolutely mouthwatering!
Servings

2

Preparation
Cooking
Ingredients
½ lbs Chicken thigh
½ oz Dried Jujube (Chinese date)
1/3 cup wood ear mushrooms (dried)
½ tbsp Goji berries (dried)
2-inch Ginger
¾ tbsp Soy sauce
½ tsp Sugar
½ tsp Sesame oil
½ tsp Corn starch
Salt for flavor
White pepper for flavor
Directions
Remove the skin of the chicken thigh and cut it into strips.
Clean the jujubes, wood ear mushrooms and goji berries and soak them in water.
Remove the kernels of the jujubes and cut them into strips and do the same to the wood ear mushrooms. Slice the ginger.
Evenly mix the chicken thigh and wood ear mushrooms with the condiments and ginger.
Load in the tacook  cooking plate with jujube and goji berries.
Put the washed rice and water in the inner pot and place it in the rice cooker.
Set the cooking plate in the inner pot. Select the [Synchro-Cooking] menu and press the [Start] key.
When cooking is complete, place the cooked rice in a serving bowl and top it off with the jujube and fillet.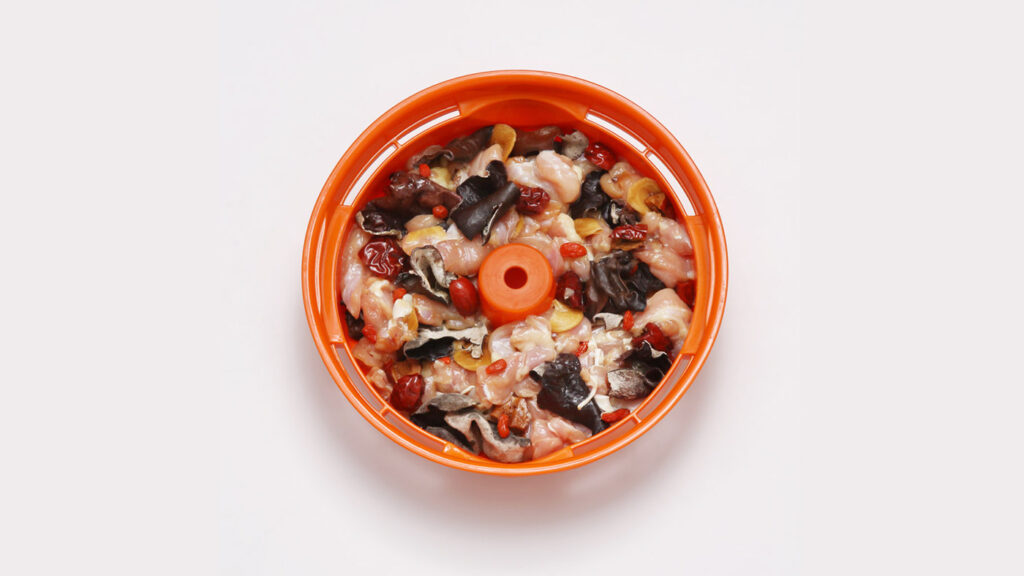 A SIMPLE CHICKEN RECIPE WITH AN EXOTIC INGREDIENTS LIST
We'd say it's pretty cool when an easy chicken and rice recipe can introduce some new ingredients to the dinner table. Because, as they say, variety is the spice of life.
And jujube and wood ear mushrooms elevate this delicious dish from an everyday chicken dinner idea to a dining event.
There's all the heartiness you expect when digging into a plate of chicken and rice – but there are little pops of unexpected flavor and texture. And we think you're going to love it!
WHAT IS JUJUBE?
Jujube is a Chinese red date that has the slightest sweet-sour flavor profile. Along with the goji berries used in this chicken and rice recipe, this stone fruit is the perfect addition of subtle sweetness in an otherwise savory dinner recipe.
WHAT ARE WOOD EAR MUSHROOMS?
Wood ear mushrooms are technically a black fungus. And unlike most traditional mushrooms, wood ear mushrooms don't have a spongy texture – and don't absorb a ton of water. Sold dry in most Asian grocery stores, these mushrooms are soaked prior to cooking – and take on a somewhat crunchy yet pliant consistency once rehydrated.
They're the perfect flavor and texture addition to this easy chicken recipe!
HOW TO MAKE CHICKEN AND RICE IN A RICE COOKER
Much like the preparation of this yummy Japanese oyakodon, you can totally prepare both the chicken and rice at the same time in your Tiger rice cooker.
And that's because of the tacook cooking plate that uses the vapor created by the cooking rice to steam your chicken and mushrooms.
Simply select the Synchro-Cooking setting – and you'll truly be cooking with the press of a button.
Enjoy! 🍲😋
Products used in this recipe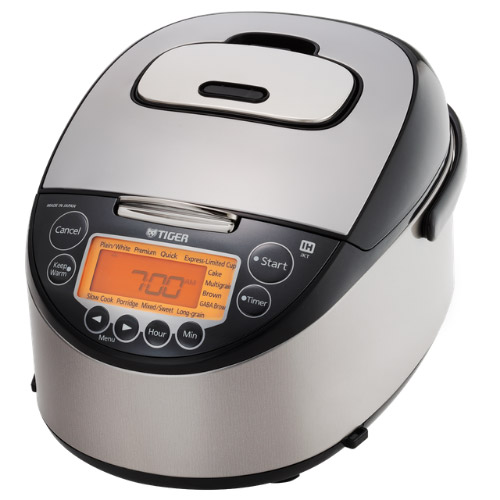 Induction Heating Rice Cooker JKT-D10U/18U
Made in Japan The TIGER JKT-D multi-functional induction heating (IH) electric rice cooker allows yo […]
LEARN MORE