Rice Cooker
Indian Coconut Soup
Loaded with sliced coconut, corn, Chinese dates and green radish this delicious Indian coconut soup is one of the more intriguing recipes we've ever savored at dinnertime. And it's so easy to make from scratch!
Servings

3-4

Preparation

20 min

Cooking

90 min
Ingredients
3 oz Indian coconut slice
2 medium sized Carrots
4 ½ oz Green radish
1/3 pcs Corn
½ oz Dehydrated fig
½ oz dried Jujube (Chinese date)
2 1/5 cups Water
Salt for flavor
Directions
Cut the carrot and the green radish into bite size pieces. Cut the corn into 2-inch wide se­ctions.
Insert ingredients other than salt into the inner pot. Set the inner pot in the rice cooker and select the [Slow Cook] menu. Set the heating time to 90 minutes and press the [Start] key.
When cooking is complete, season with salt and serve into a bowl.
COCONUT SOUP: ONE OF OUR FAVORITE INDIAN VEGETARIAN RECIPES
This delicious coconut and radish soup is a genre bending vegan soup recipe.
Because, sure, most people are familiar with coconut soup. However that's most likely in the form of the iconic Thai coconut soup tom kha.
And if you made us list our favorite Indian soup, it would probably be the very well known mulligatawny soup occupying the top spot.
So this Indian radish and coconut soup is a bit of an outlier in terms of popularity in the West. But it shouldn't be.
There's a light sweetness from the coconut slices, dried fig and jujube (Chinese dates) – as well as a garden freshness from corn and carrots.
But the real standout in this Indian soup is the green radish.
WHAT IS GREEN RADISH?
Green radish (or green meat radish) is an heirloom variety radish with a green/cream colored flesh. Popular in Chinese and Mexican cuisines, green radishes can be on the spicy side, are high in vitamin C – and, aside from being delicious pickled or stir fried, make an excellent addition to soups.
HOW TO MAKE SOUP IN A RICE COOKER
Your rice cooker may not be the first appliance you think of when making soup at home – but we'd like to change that.
You see, your Tiger rice cooker has a Slow Cook function that not only creates savory, warming comfort foods with the press of a button, it hides another super practical advantage over simmering on the stovetop.
And that advantage should come in handy during those hot summer months when the last thing you want to add to your already steamy kitchen is a pot of boiling soup over an open flame. That's right, your Tiger multicooker won't add ambient heat as it slow cooks this savory and sweet Indian coconut soup to perfection.
Your air conditioner – and of course your taste buds – thank you!
Products used in this recipe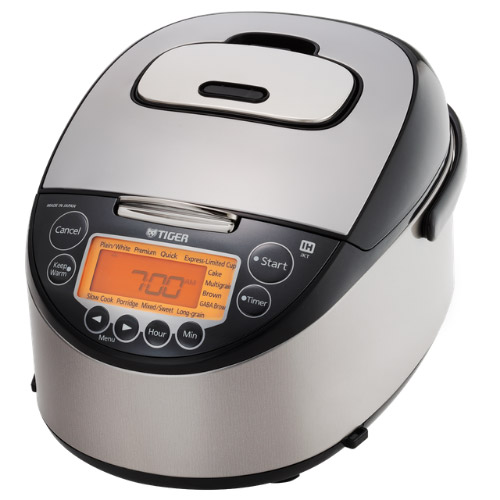 Induction Heating Rice Cooker JKT-D10U/18U
Made in Japan The TIGER JKT-D multi-functional induction heating (IH) electric rice cooker allows yo […]
LEARN MORE