Rice Cooker
Halloween Rice Pudding
Trick or treat, it's Halloween!
It's that time of the year when children dress up in their favorite characters and go from door to door to collect as much candy as they can.
And to make this day even more fun, we have three fun Halloween rice pudding recipes they can take to school to impress their friends! And good news for mom and dad – they are easy to make because we are using the Mixed Rice Setting on the Tiger Multi Cooker to whip up this dessert. This means all you have to do is add the ingredients to your multi cooker, press start and forget it!
For decorations, use pudding size cups and cover them with Halloween stickers or paper cutouts of monsters and ghosts (just like we did in the picture). Get your kids to help and enjoy some interactive family time together!
Servings

2

Preparation
Cooking
Ingredients
3 cups of sweet rice (supplied measuring cup)
Almond Milk
2 avocados
¾ Brown sugar (U.S. standard measuring cup)
1 chocolate bar (4.25 oz.)
4 clear cups (9 oz. each)
Directions
Rinse the sweet rice and place grains in inner pan of the rice cooker.
Add water only up to level 3 and then fill up to line 4 using almond milk by using mixed/sweet rice line indicated on the inner pan.
Use the mixed rice setting or sweet rice setting on other models and press Start key.
After the rice is cooked wait for it to cool
Place 18 ounces of cooked rice in a blender along with ½ cup (U.S. standard measuring cup) of brown sugar.
Blend until smooth an add the mixture to the rice cooker. Stir well and serve.
Place the avocados (peeled and pitted) and add 1 cup of almond milk and ¼ cup of brown sugar in a blender.
Blend until smooth.
Add 9 ounces of cooked rice and blend until smooth.
Add the mixture to the rice cooker and stir well. Serve.
Place 4.25 ounces of chocolate and ½ cup of almond milk in a blender.
Blend until smooth
Add 9 ounces of cooked rice and blend until smooth.
Add the mixture to the rice cooker and stir well. Serve.
Decorate the clear cups with preferred design and fill with rice pudding
Use whipping cream as topping
Cool pudding before placing in the refrigerator
For this rice pudding recipe we are substituting regular milk for almond milk to give the pudding a delicate sweetness layered with some nuttiness.
There are three flavors to choose from – regular which is sweet almond flavor, chocolate, and avocado.
The regular flavored version is done straight in the rice cooker and can be served as soon as the cooking process is done. However, we recommend taking the extra step to blend part of the rice in a blender. This makes the pudding super creamy and rich, even though it's virtually fat-free! From there you can change the flavor by mixing in a couple of avocados or breaking up a chocolate bar.
This is a fun and relatively healthy dessert you can serve not only for Halloween but all year round! You can also play with the flavors by blending some fresh strawberries or blueberries with the rice for a vibrant dessert your whole family will love.
This Halloween rice pudding recipe will keep stored in the fridge, sealed in an air tight container for up to 3-4 days.
Products used in this recipe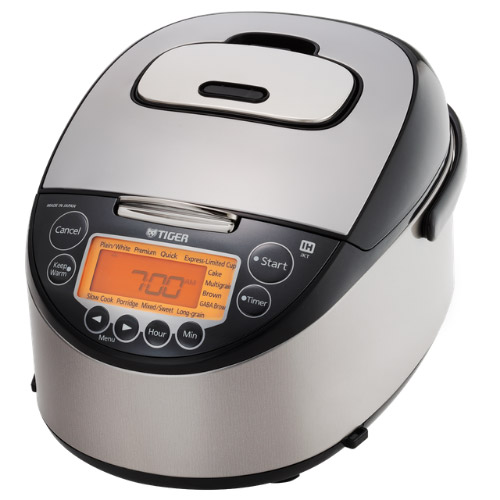 Induction Heating Rice Cooker JKT-D10U/18U
Made in Japan The TIGER JKT-D multi-functional induction heating (IH) electric rice cooker allows yo […]
LEARN MORE