Rice Cooker
Frittata with Rice
Gluten Free
Synchro Cooking
Everyone should have a few easy egg recipes in their back pocket.
Because there's just nothing better than breakfast for dinner. And, hey – you never know when a brunch emergency might strike!
Luckily, we have a delicious and easy frittata recipe you can make any time, day or night. It's one of those rare basic recipes that can pull double duty.
Rough day at work? Make this rustic and hearty frittata with rice for dinner and recharge those batteries.
Having friends over for brunch? Well, whip up this frittata and pour the mimosas!
Ingredients
4 large eggs
1/3 cup ham, diced
2 scallions, finely chopped
1/4 cup parmesan cheese shredded
1/4 small red bell pepper, finely chopped
1/2 tsp paprika
Pinch of salt & pepper
2-cups Rice (with supplied measuring cup)
Directions
In a bowl, mix egg with parmesan cheese, paprika, salt, and pepper.
Add ham, scallions, and red bell pepper to the bowl.
Pour mixture into the tacook cooking plate.
Put the washed rice and water in the inner pot, and set in the rice cooker with cooking plate above.
Select "Synchro-Cooking" menu and press the Start key.
When cooking is complete, place the dish on a serving plate. Serve with your desired toppings. (Ex. cheese, parsley, tomatoes, etc.)
SO, WHAT IS A FRITTATA?
At its core, a frittata is an Italian omelette. However, what sets a frittata apart from a typical omelette are two specific things:
The fillings in a frittata (like cheese, ham, veggies, etc.) are mixed in and cooked with the eggs – rather than folded into the center of an omelette.
A traditional frittata, which translates to fried in Italian, is normally started in a pan on the stovetop – and finished inside the oven.
Think of a frittata as an Italian version of a Spanish tortilla española. Or, better yet, a crustless quiche.
But today, we're breaking rule number one. Yep – forget the stovetop/oven combo. We're making our frittata in a rice cooker.
And it's delicious!
HOW TO MAKE A FRITTATA IN A RICE COOKER
Now for the easy part.
This rice cooker frittata can be made in any Tiger multi cooker that comes with a Tacook plate. Bonus: you can steam your rice at the same time!
Simply place your rinsed rice and water in the inner pot of your multi cooker – and load the egg mixture into the Tacook plate. Select the Syncro-Cooking setting and press Start.
Both your rice and delicate frittata will be cooked to perfection – minus any and all guesswork.
It's the easy-factor that makes this frittata with rice recipe one of our favorite rice cooker recipes. But we hope it's the savory flavor and perfect texture that make it your new go-to egg recipe!
Buon appetito!
Products used in this recipe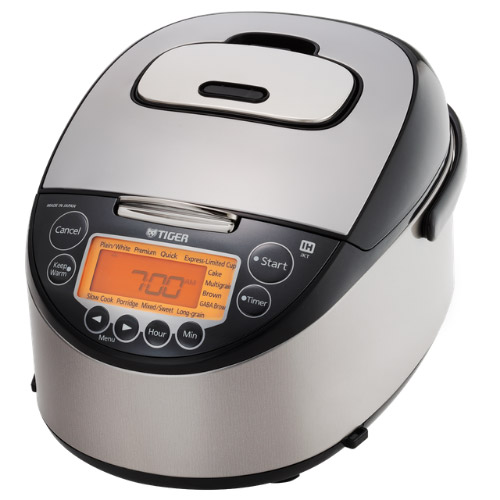 Induction Heating Rice Cooker JKT-D10U/18U
Made in Japan The TIGER JKT-D multi-functional induction heating (IH) electric rice cooker allows yo […]
LEARN MORE