Rice Cooker
Eggplant Shumai (Dumplings)
From gyoza to perogies to shumai, it's fair to say that dumplings are pretty spectacular parcels of deliciousness.
Hey… if it were up to us, dumplings would be their own food group!
And if pure yumminess is any indicator, we think you're going to be super-fans of these genre bending pork and eggplant shumai.
Let's eat!
Servings

2

Preparation
Cooking
Ingredients
2 cups (supplied measuring cup) of white rice
2 Eggplant
1/2 lbs Ground pork
1/4 Shironegi (white leek) stalk
12 Green peas
Corn starch for flavor
Salt for flavor
Soy sauce mixed with Chinese mustard for flavor
1/2 tsp Grated ginger
2 tsp Soy sauce
1 tsp Sugar 1 teaspoon
1/3 tsp Salt
1 tsp Sesame oil
Directions
Slice the eggplants lengthwise into 1/8 inch slices. Set aside the 6 nicest slices and then chop the others. Cut the 6 slices lengthwise into halves, sprinkle some salt and leave for a while to dehydrate.
Chop the shironegi (white leek) finely, and then mix well with the ground pork, chopped eggplant and seasoning mixture. Shape into 12 meat balls.
Dredge the surface of the sliced eggplants with corn starch and firmly wrap the meat balls. Place a green pea on the top of each dumpling.
Place the dumplings in the tacook cooking plate. Mix a small amount of corn starch with water and pour over dumplings
Put the washed rice and water in the inner pot and place in the rice cooker.
Set the cooking plate in the inner pot. Select the [Synchro-Cooking] menu and press the [Start] key.
When cooking is complete, place the dish on a serving plate. Serve with soy sauce and Chinese mustard.
WHAT IS SHUMAI?
Shumai are traditional Chinese dumplings.
And although fillings can differ from recipe to recipe, these dim sum favorites are typically made with a savory pork and shrimp filling – and are wrapped with a super thin dough and steamed.
Now, while you'll find filling variations of shumai recipes at your favorite Chinese dimsum restaurant, it may surprise you that shumai are ubiquitous on menus all across Asia… from Vietnam to Japan.
Fun fact: In Shanghai, you'd likely hear these shrimp and pork dumplings referred to as SHAOMAI – while in Tokyo, the pronunciation is closer to SHUUMAI.
Well, we stepped outside the box when it comes to these genre bending dumplings.
You see, for these eggplant shumai – we've done away with the traditional dumpling wrapper and have opted for something delicious and altogether healthier.
Instead of the usual dough wrapper, we're using sliced eggplant to act as the delicious exterior for this pork dumpling recipe.
We think you and your family are going to LOVE these steamed shumai!
And we're pretty sure you're going to have fun making them as well.
HOW TO MAKE SHUMAI IN A RICE COOKER
Making shumai in a rice cooker may sound strange at first. But the more you think about it, the more sense it starts to make.
You see, traditional shumai are steamed in bamboo baskets.
Well, when using the Tacook cooking plate in your Tiger rice cooker, it's the vapor from cooking rice in the inner pot below that steams your food.
So it only makes sense that we'd use that steam to cook these savory ground pork loaded eggplant shumai.
These delicious dumplings are going to be a hit when you set them on the table.
Better make extra!
Products used in this recipe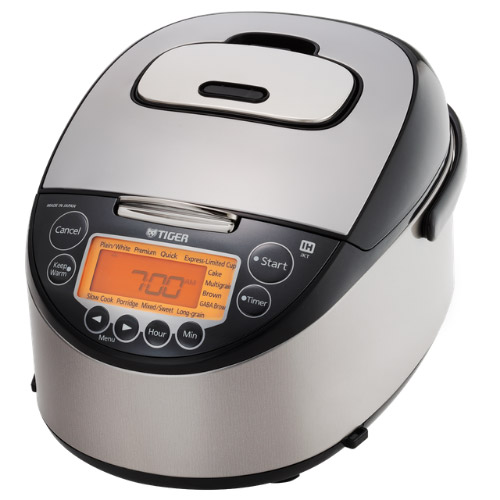 Induction Heating Rice Cooker JKT-D10U/18U
Made in Japan The TIGER JKT-D multi-functional induction heating (IH) electric rice cooker allows yo […]
LEARN MORE