Rice Cooker
Creamed Chicken and Kabocha Squash
Gluten Free
Synchro Cooking
Yummy Japanese comfort food for a chilly day! Tender pieces of chicken and kabocha squash simmered in a creamy, buttery sauce and served with a side of rice. We love this creamed chicken dish so much we lick the plate clean every time we make it!
Servings

2

Preparation
Cooking
Ingredients
1/3 lbs Chicken thigh
1/2 cup (1/4 lbs) Kabocha squash (Japanese pumpkin), pumpkin or butternut squash
1/4 cup Heavy cream
1 clove Garlic
1/2 tbsp Butter
Salt, according to taste
Directions
Cut the chicken in bite-size pieces. Slice the kabocha (Japanese pumpkin) and finely chop the garlic. Season the chicken with salt. Place the chicken and pumpkin alternately on the tacook cooking plate.
Pour the heavy cream evenly, add the butter and sprinkle the garlic over the ingredients. Add the butter and sprinkle with the chopped garlic.
Place the washed rice and water in the inner pot and set in the rice cooker.
Set the cooking plate in the inner pot. Select the "Synchro-Cooking" menu and press the [Start/Rinse-free] key.
When cooking is complete, place on the serving plate.
A Kid-Friendly Dinner Made Easy
This creamed chicken and kabocha squash stew is proof that good food can be made easily and quickly. Here at Tiger, we understand that mom and dad have busy schedules, so we've asked our in-house chefs to create a family meal that take less than 15 minutes to prep.
The list of ingredients is also very short for this dish – only six are needed:
Chicken
Kabocha squash
Heavy cream
Butter
Garlic
Salt
Most of the ingredients for this recipe are easy to find at your local supermarket.
What is Kabocha Squash?
Kabocha squash is a Japanese type of winter squash that looks like a small pumpkin. Its texture is similar to a sweet potato and the flavor ranges from very sweet to bland like a Russet potato.
Having trouble finding kabocha squash?
No biggie! Just use pumpkin or butternut squash instead.
How to Make Creamed Chicken in a Rice Cooker
In Japan, creamed chicken (which is called cream stew) is a very popular dish that's served at home and in family style restaurants. It usually comes with a side of white rice which is the equivalent to biscuits in America.
For this recipe, we are using the Synchro-Cooking setting so we can simultaneously cook the rice and creamed chicken. Prepare the rice as you normally would and place in the inner pot.
Add all the ingredients for the creamed chicken stew in the Tacook cooking plate, place it on top of the inner pot and close the lid.
Press start and that's it, you are done!
Let your Tiger multi-cooker do the rest, you can go relax now.
Products used in this recipe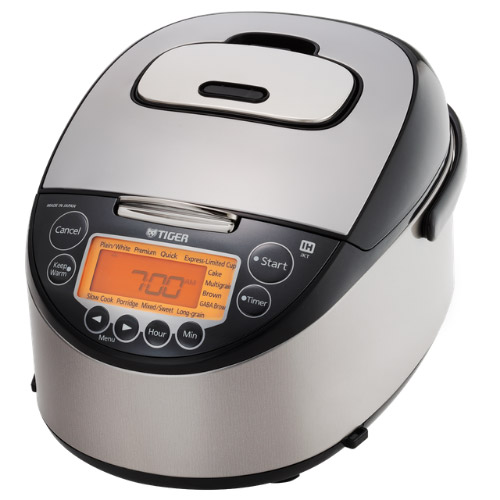 Induction Heating Rice Cooker JKT-D10U/18U
Made in Japan The TIGER JKT-D multi-functional induction heating (IH) electric rice cooker allows yo […]
LEARN MORE