Rice Cooker
Coconut Rice Recipe
Sometimes a simple rice recipe can make all the difference at dinnertime. You see, adding a subtle flavor element to Jasmine rice can elevate the overall tenor of the meal.
And that's exactly what this coconut rice recipe does each and every time we prepare it!
It's a delicious accompaniment served alongside a perfectly steamed fish with ginger, or a delectable Asian stir fry – or even as half of this Caribbean rice and beans recipe.
In fact, if you've tried the perfectly soft and lightly sweet perfection of coconut rice before, we'd wager you're likely craving it right now. And, if you haven't tried it before… CODE-RED: we should probably remedy that sooner than later! 😋
Ingredients
2 cups jasmine rice
One can (14 ounces) coconut milk
1 1/2 cups water
3 tablespoons shredded coconut
1 teaspoon Kosher salt
Toasted coconut for garnish
Directions
Put the washed jasmine rice, coconut milk, water, shredded coconut and salt in the inner pan and stir. Set in the rice cooker.
Select the [Sweet] menu and press the [Start] key.
Gently fluff the coconut rice using your rice paddle before serving. Garnish with toasted coconut and serve.
THE PERFECT RICE SIDE DISH
This Jasmine rice dish, lightly perfumed by coconut milk and shredded coconut, is the ubiquitous side dish you'll find on the menu labeled as Indian or Hawaiian or Thai coconut rice. Now there may be slight variations from culture to culture, however the basic architecture is here.
And, while it may sound exotic and tough to make at home, it's super easy!
Are you ready to make one of our favorite coconut milk recipes of all time in your home kitchen? This simple coconut rice may end up being your new food obsession too!
HOW TO MAKE COCONUT RICE
It only makes sense that we would make this slightly sticky and not-too-sweet coconut rice in a rice cooker. After all… rice is sort of our thing!
And all you need to do is substitute a bit of unsweetened coconut milk for some of the water you'd normally use when cooking rice (check the recipe for exact measurements). Add a bit of shredded coconut before cooking as well.
Use the Sweet setting on your rice cooker – and you and your family will be eating perfect coconut rice in no time.
Top your cooked rice with toasted coconut if you want to take the coconut flavor even further.
Next level nom!🍚
Products used in this recipe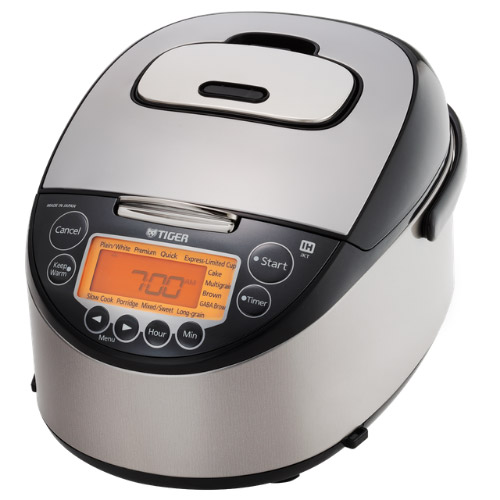 Induction Heating Rice Cooker JKT-D10U/18U
Made in Japan The TIGER JKT-D multi-functional induction heating (IH) electric rice cooker allows yo […]
LEARN MORE