Rice Cooker
Breakfast Wheat Berries
Add a little get-up-and-go to your morning breakfast routine with this sweet and nutty breakfast wheat berries recipe. You can easily whip up these whole grains in your rice cooker!
Servings

3-4

Preparation

60 min

Cooking

60 min
Ingredients
1 ½ cup Hard wheat berries
1 cup Yogurt
Fresh strawberries
Fresh mint leaves
¼ cup Honey
Directions
Soak the wheat berries in water for 1 hour before using. 
Drain well and add them to the rice cooker inner pot along with 2 cups water.
Close the lid and choose the [Slow Cook] function and set the timer to 60 minutes. Press Start.
When the wheat berries are cooked, scoop one cup and place it in a bowl. Top with ¼ cup yogurt, some fresh strawberries, mint, and 1 tbsp honey.
Do the same for the remaining wheat berry. Serve.
THIS BREAKFAST WHEAT BERRIES RECIPE WILL HELP YOU POWER THROUGH YOUR MORNING
Sometimes, once the morning coffee wears off, our bodies can be left hanging until lunchtime rolls around. Ugh.
Well thankfully that's not the case with this filling and hearty breakfast recipe! Wheat berries have a toothsome bite and are a great source of energy.
We're topping our wheat berries with creamy yogurt and fresh strawberries. Honey delivers an understated sweetness to the mix – while freshly torn mint leaves add an element of freshness and a pop of vergent color.
Let's take a closer look at the humble wheat berry.
WHAT ARE WHEAT BERRIES?
A wheat berry (or wheatberry) is the wheat grain at its most fundamental. The wheat kernel has an inedible husk that is removed – but that's where the processing ends.
Everything that's left of the grain (the germ, bran and endosperm) is edible. These chewy and nutty whole grain kernels work well in both sweet and savory preparations and are super full of fiber.
Best part: it's very easy to cook wheat berries in your rice cooker!
HOW TO COOK WHEAT BERRIES IN A RICE COOKER
First, it's a good idea to soak your wheat berries in water for an hour before cooking them.
Once soaked, drain them and place into the inner pot of your Tiger multifunctional rice cooker.
60 minutes of cooking time using the Slow Cook setting should be enough to achieve the perfect texture.
Btw… your rice cooker also has a timer you can set to start the cooking process automatically before you wake up for the day – so they're ready when your alarm goes off. Easy, right!?
Once cooked, top with your yogurt, fruit, honey and mint and dig in.
It's gonna be a great day!
Products used in this recipe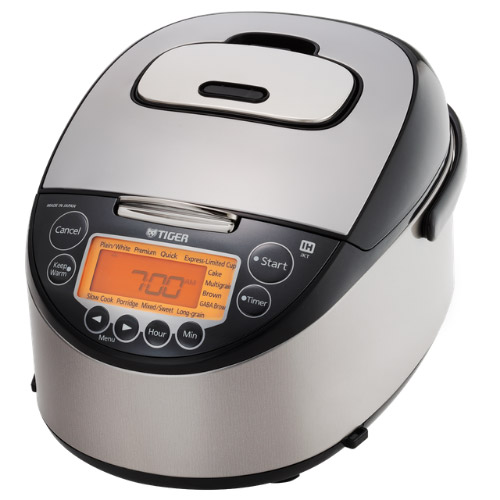 Induction Heating Rice Cooker JKT-D10U/18U
Made in Japan The TIGER JKT-D multi-functional induction heating (IH) electric rice cooker allows yo […]
LEARN MORE