Electric Skillet
Lemon Nabe (Hot Pot)
How do you warm up on a cold day?
Well, if you're anything like us, the sound of cracking open a few cans of cider around a simmering pot of meat, seafood and veggies bubbling away in a savory and tangy broth sounds pretty dang good!
Good news friends… this lemon nabe recipe is the perfect warming concoction to enjoy a hearty and healthy dinner with your besties!
Servings

3-4

Preparation

20 min

Cooking

15 min
Ingredients
2 Lemons, thinly sliced
4-5 Shrimps, thawed
1 lbs boneless, and skinless chicken thigh
4 Shitake mushrooms
7 oz Shirataki (konnyaku noodles)
5-6 Kabu (turnip)
4-6 bundle of shungiku (garland chrysanthemum)
5 cup of chicken broth
4 tbsp miso
3 tbsp of sesame seeds
1 tbsp Mirin (Japanese sweet sake)
1 tbsp Japanese sake
2 tbsp Soy Sauce
Directions
Cut shrimp, chicken and shungiku into bite-size pieces. Cut the edges of the shitake mushrooms and the kabu in half
Mix ingredients for soup broth separately
Place shrimp and chicken first the deep pan and set to HIGH. Cook the protein and then place the vegetables and shirataki noodles
Insert the soup broth in the deep pan and place the sliced lemons neatly on top.
Place cover on pan and boil. Once boiled, simmer on medium heat for 15 minutes or until ingredients are cooked.
WHAT IS NABE?
Nabe (also called hot pot, shabu shabu, nabemono, 鍋) are the simmered Japanese soups and stews that keep us warm and satisfied when temperatures dip.
And while this shrimp and lemon loaded nabe recipe uses primarily Japanese ingredients, many Asian cultures have their own versions of nabe. Yep, there's Korean hot pot, Chinese hot pot – and a savory Mongolian version that we can't get enough of.
These communal one-pot-meals are typically served in the center of the dinner table with a clay pot on top of a portable, gas powered stove.
Well, electricity to the rescue!
You see, with a Tiger electric skillet, you can plug in and start cooking immediately – no gas canisters needed.
Bonus: aside from the obvious simmering capabilities, you can use your electric skillet to sear meats and veggies before adding broth. Or you can jettison the soup element and use it as an indoor grill to make delicious Japanese yakiniku (BBQ).
It's a pretty nifty tool to have when the snow is coming down outside and you have mouths to feed, beer to drink and stories to tell!
LEMON HOT POT… YOUR NEW WINTER FOOD OBSESSION
Lemon not only brings a bright and tart flavor to this savory miso based broth, it's loaded with vitamin C. Perfect if you're trying to ward off a winter cold or already have a case of the sniffles.
Fun fact: in the Japanese Katakana syllabary, 'lemon' is written レモン.
The tangy flavors of citrus provide a perfect counterbalance to the more earthy, umami richness that miso paste delivers. It's truly a one-two-punch of deliciousness!
So break out the electric skillet, sit down to a warming, communal dinner with family and friends – and keep the winter chill at bay!
Products used in this recipe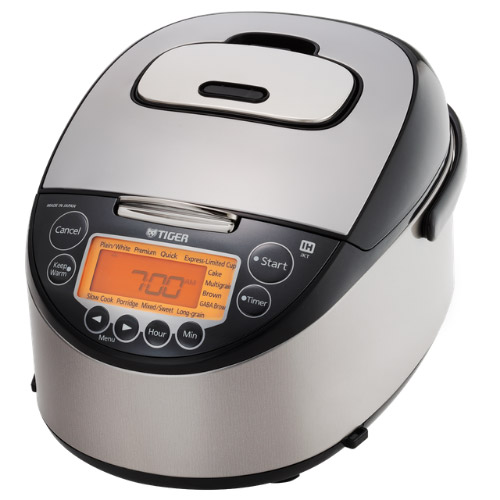 Induction Heating Rice Cooker JKT-D10U/18U
Made in Japan The TIGER JKT-D multi-functional induction heating (IH) electric rice cooker allows yo […]
LEARN MORE