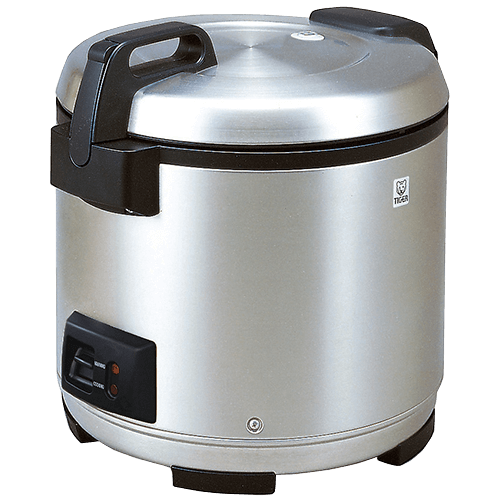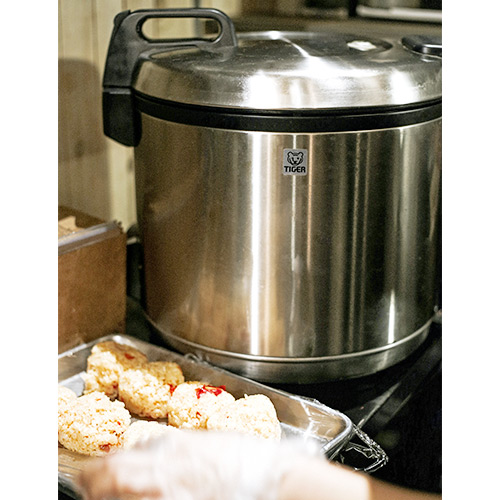 Discontinued Products
JNO-A36U
The Tiger JNO-A36U is the perfect commercial electric rice cooker and warmer for any sized restaurant. It has a capacity of 20 cups dry rice (40 cups cooked) and its stainless steel body makes it durable even against the roughest restaurant conditions. The thick 1.8mm inner pot helps distribute heat evenly and the silicon mat included with the unit prevents the rice from burning on the bottom. The attached moisture collector is a convenient way to remove condensation from the rice, keeping it evenly fluffy.
Cooking rice with it is very simple – add rice and then water up to the indicated water mark in the inner pot, place the inner pot in the rice cooker and press the lever into Cooking mode. After the rice finishes cooking, it will automatically switch to the keep warm mode for the rice to be left warm up to 12 hours for convenient cooking. Product includes an extra-large rice spatula, removable power cord and a 6 oz. measuring cup used to measure rice.
Product number
JNO-A36U
Color
Stainless Black (XB)
Capacity
3.6L (20cups)
Size W×D×H (Approximate value)
W14.2 x D16.8 x H15.1 (inch)
W36.0 x D42.6 x H38.3 (cm)
Limited Warranty on Electric Products
Tiger Corporation warrants TIGER's electric products purchased in the United States to be free from any defects in workmanship 1 year from the date of original purchase. With the proof of the original purchase date, Tiger representative will authorize the return of the product to repair defects in parts or workmanship.
This limited warranty is valid for U.S. and Canadian residents only, and for products with 120V.
For service in Canada and Hawaii, please contact our customer service for more information.