Tips
10 Easy Ways to Flavor Rice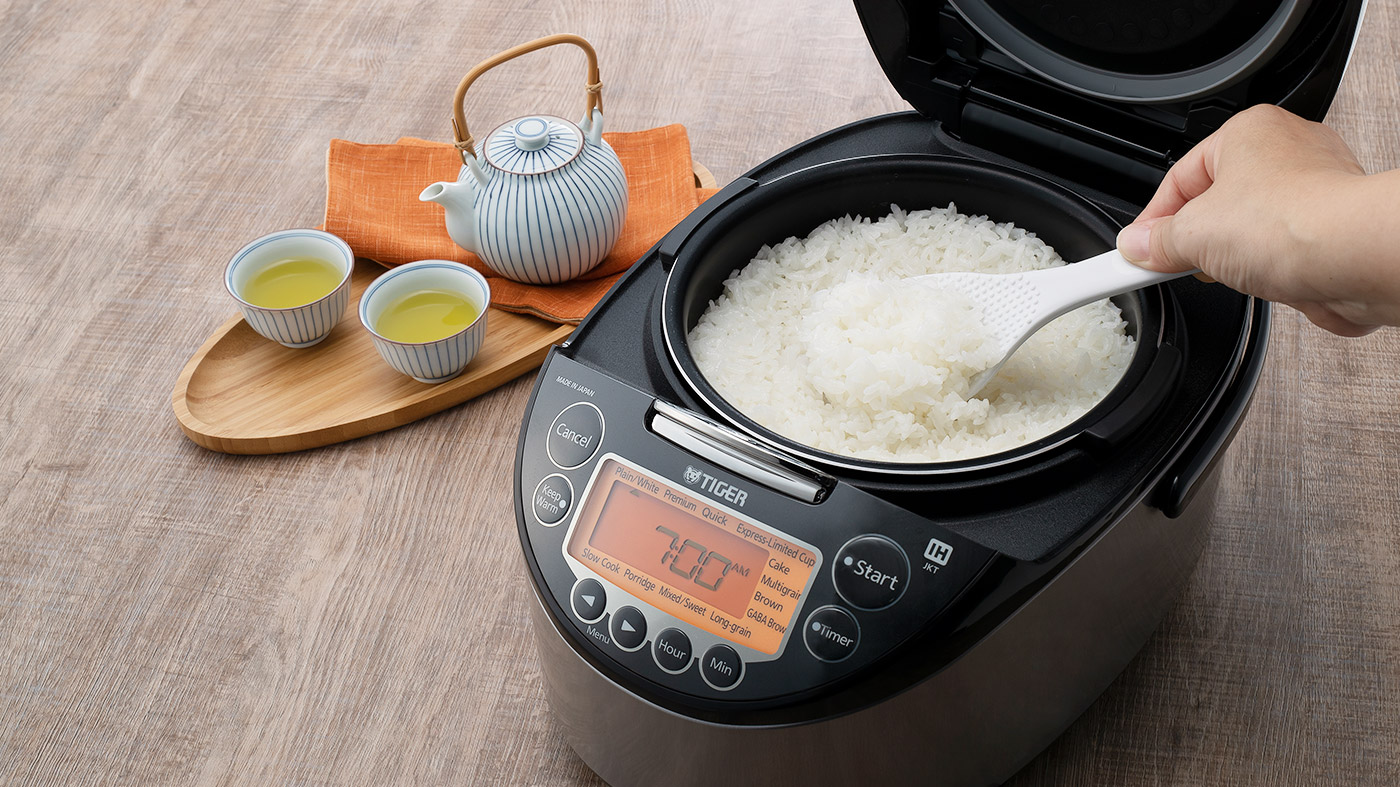 Many of us have very busy lives. Between taking care of our kids and working full time jobs, our schedules allow for little time in the kitchen. The thought of buying pre-packaged foods or ordering in seems like an attractive option more often than not. But here at Tiger, we believe that a homemade meal doesn't have to be complicated in order to taste good and be healthy.
Plus, cooking at home is usually a whole lot easier on the wallet!
So today we are going to show you quick and easy ways to serve Japanese rice by using simple ingredients to flavor it. These quick flavor boosters will make dinner more enjoyable for your family, and easier on you, the family chef!
Here are 10 easy ways to jazz up Japanese rice in your Tiger rice cooker.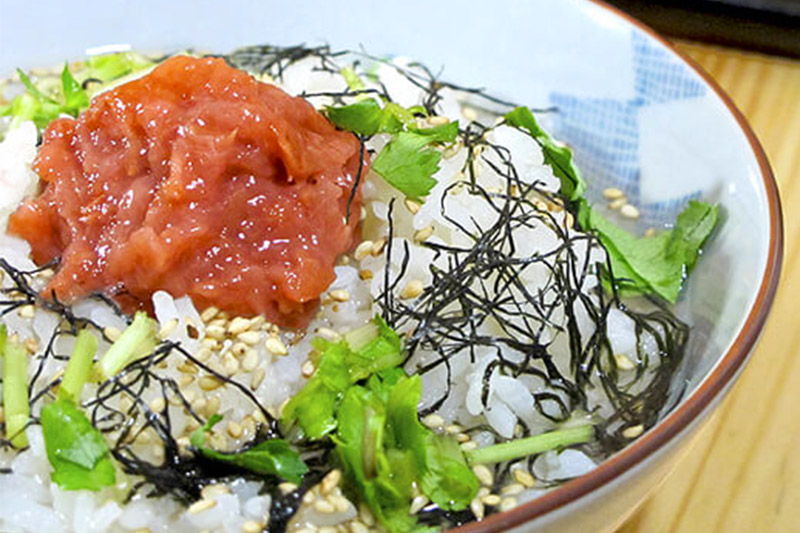 5 Classic Japanese Ways to Flavor Japanese Rice
Ume Ochazuke – Photo by Pickled Plum >
1. Furikake
Furikake is a seasoning made of dry ingredients such as egg, salmon, seaweed, sesame, salt and wasabi. There are many different combinations available and kids absolutely love this! No additional cooking other than making rice is needed since furikake comes ready to serve in packets. Just sprinkle it on top of rice and enjoy!
2. Bonito Flakes (Katsuobushi)
Bonito flakes are thinly shaved pieces of dried skipjack tuna. It's often used as a soup based for dashi or as a topping for various traditional Japanese dishes. Bonito flakes can also be served as a filling for onigiri (rice balls), or can be added to rice with a little soy sauce.
3. Ochazuke
A very traditional Japanese way to serve leftover rice is by making ochazuke. With ocha meaning tea in Japanese, ochazuke is basically tea poured on top of steamed rice along with ingredients such as grilled fish or umeboshi (pickled plum). It's usually served after a meal, right before dessert, or in place of dessert. Ochazuke is one of Japan's most beloved comfort foods.
4. Raw Egg
Tamago kake gohan (卵かけご飯), is a simple of dish of raw egg that's added to warm rice and whipped with chopstick until it's frothy and smooth. Despite using two hefty ingredients, the combination of rice and egg is surprisingly light! Break a raw egg on top of a bowl of warm Japanese rice, drizzle a little soy sauce, whip and enjoy!
5. Soy Sauce and Mayonnaise
The quintessential lazy meal for Japanese rice lovers! Japanese people love their mayonnaise, that's a fact. And what happens when you add mayonnaise and soy sauce to Japanese rice is something you will not want to miss. It's like eating spicy tuna rolls minus the fish – though you could easily add canned tuna and call it a day!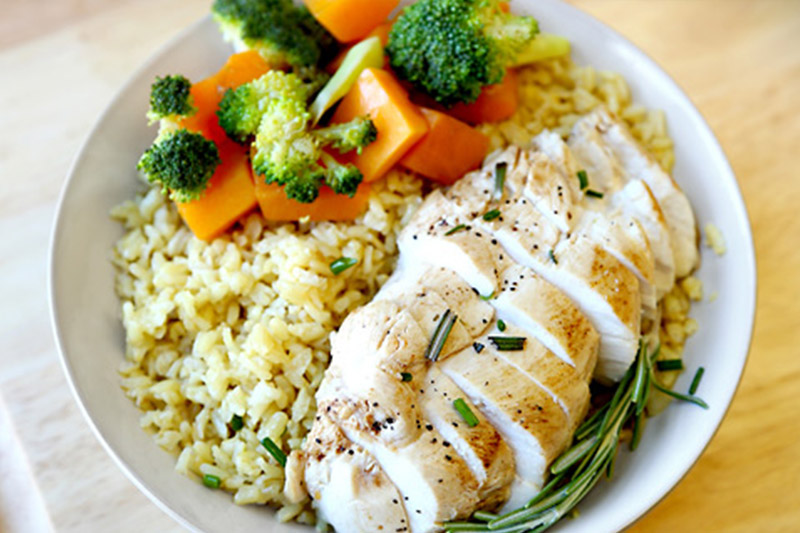 5 Western Ways to Flavor Japanese Rice
Chicken with Rice and vegetables >
1. Truffle Butter
Wait, what? Truffle butter!?
Yes!
Not only does this luxurious butter add creaminess and depth of flavor to the rice, the earthy aroma makes it hard to resist. The good thing is that you only need to add about 1/3 teaspoon on top of steamed rice to scent and flavor your rice. Add a pinch of salt to round up the dish. Are you drooling yet?
2. Cilantro and Lime
If you are looking for something light with a cleansing palate, try adding lime juice and chopped cilantro. You can serve the rice as a side or with chicken or shrimp, or as part of a Mexican meal.
3. Tomatoes
One of our favorite ways to flavor rice because it pairs with just about anything. Add rice and water to your rice cooker and top with 1-2 tomatoes. If you want more flavor, add some chopped garlic and a pinch of salt. Press start and wait until your rice is cooked. Open the lid, use your rice paddle to break the tomatoes and gently fold them into the rice. So yummy!
Or if you want something even tastier, try our delicious clam and tomato rice recipe.
4. Olive Oil and Fresh Herbs
French Japanese rice is très délicieux! Start by cooking your rice in your Tiger rice cooker and when it's done, add 1-2 tablespoons olive oil and a mix of fresh herbs such as thyme, oregano, basil, tarragon and/or sage. Season with salt and pepper and serve with your favorite protein. Bon appétit!
5. Broth and Your Favorite Vegetables
And last but not least, flavor your rice with chicken or vegetable broth and a mix of your favorite veggies. Add rice, broth and about 1-2 cups of chopped vegetables such as broccoli, celery, onions, and carrots, and stir. Close the lid, choose the Mixed setting on your Tiger rice cooker menu and press start. This is one seriously hearty and healthy meal!