Top Interview

Spreading joyous harmony throughout the world.
Tiger Corporation celebrates its 100th anniversary.
This would not have been possible without the cooperation from our customers,
business partners, employees, and local residents. We want to express our deepest gratitude to everyone.

Greetings
I would like to express what Tiger Corporation should be and what Tiger Corporation is aiming for in the next 50 to 100 years and beyond.
President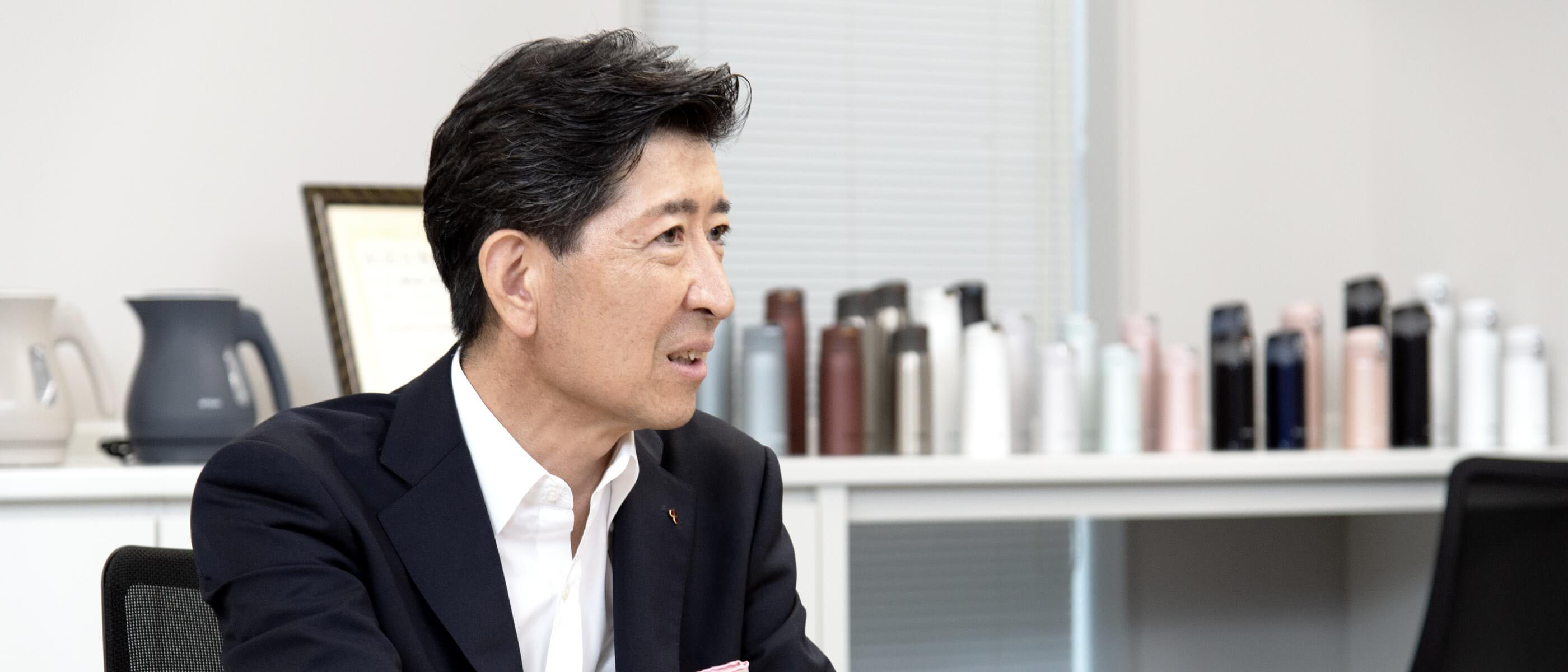 Yoshisato Kikuchi
Joined the Tiger Corporation after graduating from the Faculty of Business Administration at Konan University in 1987.
He was appointed Director in 1997 and then appointed President in April 1999. He also holds a position as Chief Director of All Japan Vacuum Bottle Association, etc.
Looking back on 100 years

What do you think about Tiger Corporation's 100-year history?
In 1923, my grandfather, Takenori Kikuchi, founded Torajirushi (Tiger) Vacuum Bottle Company. Only four people, mainly family members, started with the company. When the Great Kanto Earthquake struck that year, none of Tiger's glass vacuum bottles were destroyed. These glass vacuum bottles rapidly gained reputation in the Kanto region, and then spread across the whole country. In addition, through creative ingenuity and sincere craftsmanship, the vacuum bottles, which were once luxury items, have spread to ordinary households as everyday items. My father, Yoshito Kikuchi, took over the business from my grandfather and developed a wide range of cooking home appliances such as rice cookers and electric pots. He achieved a business expansion that could be called the "second founding." In 1999, I took over the business as the third generation owner.
Our products are mainly for households, which are necessities for everyday life. The household appliance industry was said to be relatively unaffected by the economy fluctuations. However, since the beginning of the 21st century, demand has been increasingly influenced by diverse factors, such as the long lifespans of products, the declining birthrate, and the aging population, as well as the globalization of the market economy.
In addition, there have been many issues such as the epidemic of COVID-19, global warming, and international conflicts. I feel that we are going through a tough time that people have never experienced before. Despite these changes, Tiger's basic approach to manufacturing remains unchanged. We will continue to create products that are loved by our customers and take on the challenges of making further progress.
The never changing spirit
during the change of times

What is the philosophy behind the manufacturing of Tiger Corporation products?
Our company's philosophy has 32 items including "gratitude to benefits," "best quality," and "cleaning and tidy." These were established by Takenori Kikuchi in 1948. My grandfather, Takenori Kikuchi, was not able to complete higher elementary school because he had to support his family. He later launched a business with no funds and connections. Due to this background, I believe half of our company's philosophy is regarding "family precepts" for later generations. All of the precepts are correct, but some people may have difficulties accepting some of these. When we celebrated our 90th anniversary, we reanalyzed the philosophy that we have inherited since our founding and reconstructed it into a new philosophy of "Value," "Mission," and "Vision" in a more modern way.
The origin of the Tiger Corporation was Takenori's yearning for family gathering, "I want to drink warm tea like what my mother brewed," which was envisioned during his apprenticeship. Our desire to spread joyous harmony to our customers throughout the world is our "Value" and is expressed in the following words: "Creativity with a focus on substance" and "Reliability with complete transparency." The second philosophy is "Mission." We expressed the mission as "continue to create new dining standards with ideas that bring warmth and comfort." The "Vision" derived from "Value" and "Mission" is "to spread joyous harmony throughout the world." We would like to expand the value of our products and services to achieve this "Vision." We wanted to redefine our value, mission, and future so that we would not lose our original purpose as we progressed. This would lead to a leap beyond our 100th anniversary.
Products created by being close
to people's lifestyles and "temperature"

Tiger Corporation has produced a variety of products. What do you think about its intrinsic value as a manufacturer?
Our company's technology is based on "temperature." "Vacuum insulation technology" that keeps hot and cold without using electricity is our main technology. The other technology is "thermal control technology" that uses electricity to control temperature. By using these two technologies and sometimes combining them, we have created a new added value.
One of the products that represents "Creativity with a focus on substance" is our electric rice warmer "Takitate," which was released in 1970 and revolutionized the Japanese dining table. "Takitate" is one of our rice cooker brands that has been sold for over 50 years. In 2006, the IH rice cooker "Takitate" with an earthenware pot was released. It was based on the idea that the only way to bring out the true flavor of rice is to combine an earthenware pot and an IH rice cooker. We repeatedly performed trial and error to cook fragrant rice by solving technical issues one by one. As a result, we achieved high heating power that could not be achieved with conventional rice cookers. It took three years to develop.
Also, a joint development with JAXA in 2018 was a very important accomplishment for us. We developed and manufactured a compact recovery capsule with a double insulated vacuum container that was installed in the space station's spacecraft "Kounotori 7" and achieved the first unmanned return to the earth in Japan. We are proud of our company's highly-evaluated unique technology of double insulated vacuum.
In terms of "Reliability with complete transparency," it is very important that our products can be used safely for a long time. For example, our electric kettles and pots that boil water are developed with top priority on safety and security. We have adopted a structure that prevents hot water leakage when it is tipped over and prevents emitting high temperature steam. We are also practicing easy maintenance for rice cookers. We see products from customers' points of view and pay close attention to further improvement of after-sales services that eliminates anxiety and inconvenience.
We want to deliver Tiger products to be used in people's ordinary lifestyle. What we value is to continue to create products that are loved in everyday life. Based on this corporate philosophy, we value people and nurture our business. This belief will never change.
We want to remain as a manufacturer
that contributes to solving social issues

How will Tiger Corporation address the role expected as a company?
ESG and SDGs that are currently popular are the guidelines we already had from the beginning. We always wanted to contribute to society by embodying them.
In 2020, as an initiative of social issues such as human rights, health, and environment, we declared that we would not use regulated minerals mined in conflict areas, which would serve as a source of funding for armed groups, when manufacturing vacuum-insulated bottles. Based on this policy, we have set "four pledges" to our society: "No conflict minerals," "No fluorine" (no use of fluorine coating with high environmental impact), "Yes our own factories" (guarantees quality that protects customers' health through production at our own factory), and "No plastic waste" (reduce PET bottles by using own bottles). We are promoting this as a "sustainable action."
From 2021, we have started a circular economy initiative to collect and recycle used stainless steel bottles together with Kameoka City in Kyoto. Shops who agree with us are also participating in this activity. These are not limited to Tiger products, but also other manufacturers' products as well.
Our company has also started the "No PET bottles in the company" guideline. Even though PET bottles are recycled after collection, the recycling rate in Japan is still low. We have eliminated all trash cans used to collect PET bottles and instead, have placed free soft drink machines within the company. All employees use their own bottles.
Regarding the social issue of environmental conservation, the 3Rs (Reduce, Reuse, Recycle) have become more noticeable. I feel that the market requires high-quality "genuine" products more than ever before.
When we receive feedbacks from customers who have been using our products for a long time and hear them say, "I want to have it repaired and continue using it," it is blessing as customers recognize our product quality.
It is the market custom that new products are needed to be introduced on a regular basis for refreshment, and that the prices of old products decline over time. However, we would like to make efforts to manufacture high-quality products that can be used for a long time where customers find it valuable even if they cost a little more. When a product finally reaches the end of its life, it will be recycled, but we expect that the product life to be even longer in the future.
We have taken the time to enhance our inventory of repair parts to 10 years, which is double the industry standard of 5 years (6 years for some products) for customers to use our products longer. We even keep molds for certain products just in case. This is time-consuming and costly, and can be against the usual business practice that aims for immediate profit. We cannot achieve this without the cooperation from our partner companies and we believe that it is our mission and our pleasure as a manufacturer to meet expectations as much as possible.
Pursue an attractive future
with valuable work

What do you think about the future for Tiger Corporation?
In the future, globalization will accelerate in all fields and selling only in the domestic market would not be realistic. We need people who can create value and challenge manufacturing with a global vision. Work styles that are not limited to one company will be common even more
Since the Japanese land is not very large with a few natural resources, "people" is the source. As a core principle of a manufacturer, it is especially important to train as many people as possible to be skillful. Due to this, we established the Public Interest Incorporated Foundation "Tiger Scholarship Foundation" in 1997.
The founder, Takenori Kikuchi, was only able to graduate from elementary school under the old system due to his financial difficulties. However, he studied hard and learned design techniques. Takenori's blueprints were said to be perfect. As of today, there are many students who have the desire and ability to learn technology, but have financial issues. As a company that was founded and grew in Osaka, we want to contribute back to the local community by supporting graduate students who are learning engineering in Osaka.
If there is an environment where young people can concentrate on learning and creating new technologies, it will surely lead our country to a bright future.
In this way, we will do our utmost not only to deliver good products, but also to develop human resources through corporate activities.

Please give a message to customers who use Tiger products.
We have been doing our best for 100 years since our foundation and continue to move forward. To respond to the patronage of our customers over the years, we will keep our "Value," "Mission," and "Vision" even in an ever-changing environment.
We will create a team with a stronger will that can empathize with this philosophy. I believe that this is the condition that Tiger will continue to exist in the future.
「Do Hot! Do Cool!」
"The heart running hot. The mind constantly cool,"
"Warm and Cool, in every sense of word"
――We will continue to run for the next 100 years.
Nothing will be greater than our customers understanding our concept of values and aspirations, and being satisfied with the products and services we offer.
We continue to create new dining standards with ideas that bring warmth and comfort as we spread joyous harmony throughout the world.
We will continue to provide products to our customers that focus on
"Creativity based on substance."
Beyond 100 years, and to the next 100 years.
Please look forward to the future of Tiger Corporation.